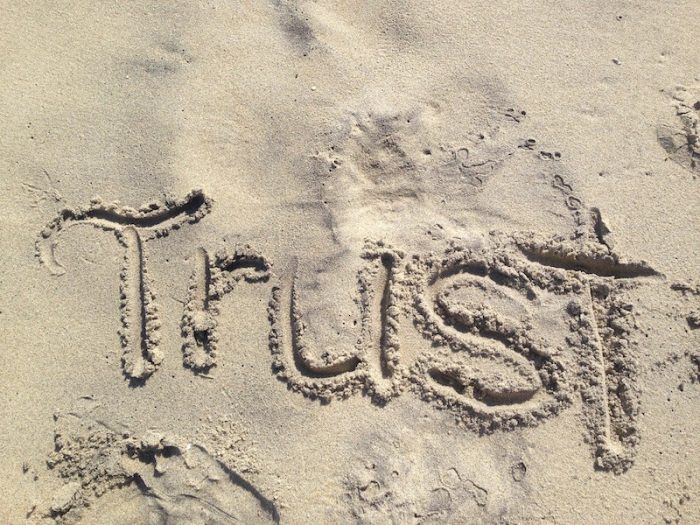 The First In A Five-Part Series On Trust
In nearly every consulting, coaching, or mastermind group that I have facilitated, the question of trust takes front-and-center as a topic of conversation. Either the groups share a high level of trust and confidence in each other, or more often, have very low or no trust in their colleagues or their leaders.
Before an organization can hope to become a high-performing organization or before leaders can hope to be high-performance leaders, trust has to be addressed as a basic shared value.
No trust, no progress.
Many management books, seminars, and programs offer insights into how leaders can develop trust within their organizations. But I think we need to step even further back and begin with a definition of just what we mean by trust. In his seminal book Management: Tasks, Responsibilities, Practices, Peter Drucker listed trust as the first responsibility of the manager. Borrowing the Hippocratic Oath of the Greek physician: primum non nocere—"Above all, not knowingly to do harm," Drucker noted that employees must "trust the professional [manager] not knowingly to do him harm." In his book, On Becoming a Leader, Warren Bennis described trust as a product of leadership that cannot be acquired but must be earned. "It is given by co-workers and followers, and without it, the leader can't function." In the Law of Solid Ground in John C. Maxwell's book, The 21 Irrefutable Laws of Leadership, Maxwell asserted that trust is the foundation of leadership.
Trust and the resulting culture of trust is one where individuals have confidence in and reliance on individuals and groups to do the right thing: to be fair, truthful, honorable and/or able.
The consistent theme in all discussions of trust—"It begins with you"—is certainly valid, as leaders must model trust and set an example for their people. Success depends on a personal campaign of inner reflection, values assessment, and relational intelligence. Training can be effective and rewarding, but much of the focus often stops there.
Leaders develop trust (rely on others to do the right thing) after observing people's character and behavior over time and gaining confidence in them.
 Bennis stated that there are four characteristics displayed by leaders that generate and sustain trust:
Constancy – Leaders never knowingly create surprises for their followers. They provide steady, clear guidance.

Congruity – Actions speak louder than words. What leaders do should at all times be consistent with what they say.

Reliability– When the spaghetti hits the fan, the leader shows up to support and back their followers.

Integrity – Commitments, and promises are always honored. Always.
Trust, in fact, is the most potent tool in a leader's arsenal, asserted JetBlue Airways Chairman Joel Peterson in The 10 Laws of Trust: Building the Bonds That Make a Business Great (AMACOM, 2016). Trusted leaders are more productive, profitable and prosperous. Their people are more engaged, morale and loyalty soar, and the overall work ethic is enviable. The organization sees lower turnover, waste, and inefficiency.
But trust is not limited to the executive suite. While we're often led to believe that trustworthy behavior will permeate the work environment like ripples in a pond, this trickle-down theory is overly simplistic. As Gallup studies reveal, employees trust their co-workers even less than their leaders. Organizations cannot reach their full potential until leaders establish a culture where employees trust their coworkers. Leaders may require assistance from a professional coach to achieve this goal.
What do you think? How do you define a culture of trust? What has been your experience with trust at work?