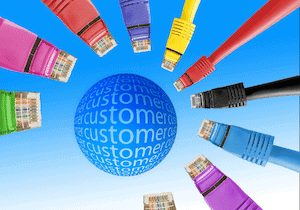 Organizations are having to adapt to changing human behavior. The digitization of everything gives consumers greater power and increases competition. Businesses must use digital channels to engage with their customers, maintain relevance, and drive the conversation. Financial companies need to constantly pursue innovation in order to gain a competitive edge. As technology change accelerates exponentially and new digital platforms and devices emerge, companies need to strive to keep pace with the change. Many businesses face the challenge of losing control over customer relationships. There is a growing need to engage digitally with customers as well as employees. It starts with assessing your current understanding of technology and looking at the bigger picture of what digital engagement means to your business.
Understanding Today's Consumer
Digital transformation starts with understanding your consumers, leading to fundamental changes in your firm that revolutionize the customer experience. Many financial consumers want omni-channel services. They want services built around their spending and wealth-building goals. They want to see financial advisors as people and have more control over the relationship.
Connecting on the Consumer Level
There are many ways to connect with consumers that enhance the traditional face-to-face interaction. The keys to success are showing up, being consistent, and adding value. People are looking for reasons to trust or distrust you. By providing free information, you are showing future clients that you are worth trusting with their hard-earned money.
Social media: Financial firms should have a social media strategy in place. Focus on delivering consistent meaningful content to your followers. Create a marketing strategy that encourages unique posts that add value and encourage customers to seek out your website. You don't have to be on every social media site, but you need to be engaged and present on the platforms that you do choose. Refrain from only posting advertisements. Give information away for free. It gets customers thinking about topics, and they are more likely to seek out your advice in the future.
Develop cross-channel engagement models that combine to deliver a more valuable experience overall. Set up automated reminders and scheduling for quarterly meetings. This provides customers with a reminder and links them to a calendar so they can take control of the date and time of the meeting. They feel more satisfied and the advisor saves time.
Visual content: When it comes to marketing, content is king. Visual marketing is a great way to have a direct impact on your business. Effectively connect with prospective clients by incorporating video and live streaming to your social media strategy. This visual storytelling gives advisors a way to add a human element to their marketing. Typically, it leads to increased engagement and can drive leads.
YouTube is a wonderful channel for visual marketing. Post consistent videos that add value and leave viewers wanting more. Videos about the stock market can educate consumers while helping them gauge a firm's knowledge on the topic. As consumers engage with the content, they will formulate questions and seek out advisors to answer their questions and help them manage their financial portfolios.
Big data: This is simply large data sets that firms can analyze in order to generate insights into how to structure and manage their operations. Financial advisors can use big data to strengthen relationships with current clients and to connect with new ones. Advisors are able to create a more holistic view clients' needs. This allows them to deliver services more efficiently and improve client experiences. Providing improved experiences and superior services drives higher retention rates.
Surveys are a great way to collect data on clients. The information firms collect doesn't necessarily all have to relate to finances. Questions about a person's favorite drink and communication preferences allow an advisor to provide a more personal service. When a client visits the office, the person's favorite drink should be available.
Today's consumer is living in an ever more digitized world. It is important that your firm keep up with the pace of change. Face-to-face meetings should not be the only point of contact your firm has with clients. Augment their experience by providing meaningful content on several social media channels. Use YouTube to add a human element. Talk to your clients and encourage surveys, so your firm can provide a unique and personal experience for each customer.