Me: "Something's wrong with me."
You: "What's wrong with you?"
Me: "I guess it's just all the tags, webinars, leadership articles, new world this and that, zoom groups, invitations to listen to podcasts."
You: "Okay then take some time for yourself and practice self-care."
( "You" refers to my circle, my pals, the folks I can actually pick up the phone and call.  Thank you.)
So I was riding my Fellaton this morning.  Yep, it's a Fellaton.  You've heard of a Peloton; well I call my road bike that now sits on top of my "JetFluid Pro Bike Trainer" a Fellaton.  It's not fancy, has no technology, and no monitor for me to watch some flat-abbed indoor-cycling instructor that could have been me had I been born a decade or so later saying shit like, "Work those glutes! Do you want jelly or do you want jam?!?  Nope, I taught old school spin for 19- years before group fitness instructors became the Rock Stars of the Lululemon Limelight.  Anyway, I'm not training for anything and certainly would not use the words "jet, jelly or jam" with anything I am physically doing on my Fellaton or anywhere else for that matter unless it applies to the speed with which I move to the guest room when I am awakened by my partner's snoring, "feeling like jelly, I  jet to the guest room so I can get my sleep jam back on."  I am, however; inclined to use the word "jet' in conjunction with the velocity of my creative ideas and euphonies that dance through my mind most of the time including while riding on my Fellaton.
Over the past month or so, when I am not excusing myself from a Zoom breakout room as soon as I feel a rise in cortisol after someone goes off-topic down the rabbit hole of great unknown to speculate how much longer the quarantine will last and any other COVID-19 information that I would prefer to receive from my preferred news source during my designated news consumption time, I've spent a lot of my days in the space of creativity and my creative jam tends to be of a humorous nature.  I think funny thoughts, write quirky stories, and create whimsical and amusing collage art.
Essentially, I live in Shelleyland.  Shelleyland is fun a place.  And, no, I don't typically refer to myself in the third person, it just seems to be the right description for the place I live. It's like a playroom. Living in Shelleyland involves quite a bit of enjoyment.
I really love and embrace the myriad of thoughts like tiny molecules attaching together to form the idea, like an object, energy, stars… Oh, I don't know…It's like the thought becomes a visceral sensation that I just need to bring to life. I love to pour through my vintage magazine collection looking for a muse and I find the process of both cutting and writing to be very cathartic and mindful. The taking shape part, whether it be story or collage is when the endorphins really start flying!  What puts this entire endeavor over the top is knowing that if I can sense into the joy, somebody else will as well.
You, "Then what do you do with your stuff?"
Me, "Well, I put it out there."
You, "Well that's great!  Isn't it?"
Okay, so now here's where I get to the part of what's wrong with me and in saying this, I'm not sure I have the answer but I may just figure it out while writing this story.  I had one diagnosis come to mind on the Fellaton this morning and I think is accurate.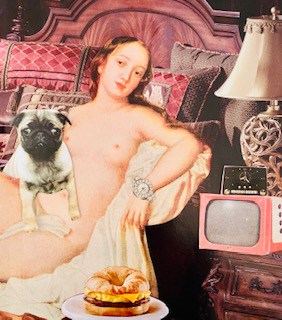 Perhaps it's kind of like middle-age sex.  After sex, I'm like, "Okay, thanks. I'm good. See ya in a week or two."  Later in my morning meditation, another thought came to mind, maybe I'm like a bird who flies so high I have to go back in my nest to rest for a bit.  The point is I have diagnosed myself with "Engagement Fatigue" and I believe, breakout room cortisol aside, it comes from the endorphins that go bananas during the creative process that are just too overstimulating to sustain.  Once I "put it out there" the energy flows back to a level of homeostasis.  I don't typically give myself a break from that high energy to remain in homeostasis when I put the pressure on myself to respond as soon as possible because when I do respond, I am brought back to that high energy level perhaps too quickly.  It's kind of like I share my quirky, funny stuff, it causes people to release endorphins and that is so beautiful but I don't want to have sex again.
I think in order to bring this full circle, I will continue the metaphor from the previous paragraph and now as I type, I like you are wondering, will it be the star, the bird, or middle age sex?  Here it goes, I am a middle-age bird star who has just had sex, I suffer from engagement fatigue so if you like this story, okay, thanks. I'm good. See ya in a week or two.
Well, maybe later.  I love you