We continue our wonderful and strange adventure into the world of populist politics with a look at creativity applied to political campaigning.  Please refer to "Elected" for the story of how we stood a stuffed cat for election as a counterpoint to populist politics in the UK.
As an aside, the concept has caught on and a dead cat stood for local elections in France recently.
The UCAT party was set up as a disruptive influence in order to disturb the two-party binary politics system in the UK and make space for others to gain votes.  When campaigning on the streets, I made sure that we never gained any votes for Stan the Cat, rather than to divert votes away from the prevailing party in order to offer other mainstream parties more of a chance of getting elected.  Although the concept of standing a cat for election was of course novel and satirical in the best Monty Python tradition, our campaigning was traditional in so far that we attended the election hustings, developed a full manifesto and went knocking on doors to persuade voters to think again about the prevailing wisdom.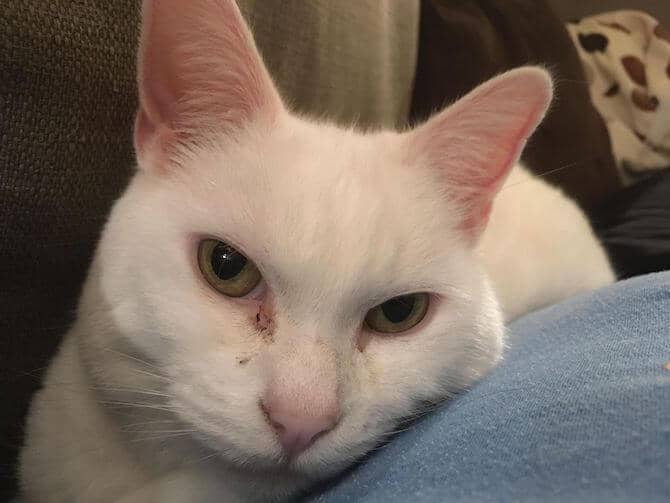 To my surprise and, in spite of my insistence that nobody should vote for Stan, we actually secured more votes than the Christian People's Alliance Party!  I set off on the doorstep armed with my pitch.  This interaction is typical of what happened:
I knocked on a door and it opened.  I started to say "Hello, I'm Peter Cook, standing as an MPS for election in Parliament … "  As soon as the word election was mentioned, the man started to close the door in my face.  What do I do I thought?  He looked quite aggressive so it may have been wise to let him close the door and walk away.  Instead, as the door was closing, I shouted through the crack "I'm standing a cat for election".  The door opened again.  The man spent ages telling me that he had never voted in his life but insisted on voting for my dead cat, in spite of my protestations to make an informed choice.  This was mirrored on the street.  If I asked people a question about Boris Johnson or Brexit I usually got an answer that began with the words Jeremy Corbyn.  Clearly, hatred is a stronger emotion than love in UK politics at this time.
Somewhat surprisingly in a world informed by fake news, lies and social media interference in the political process, people would rather vote for a dead cat than a live politician. …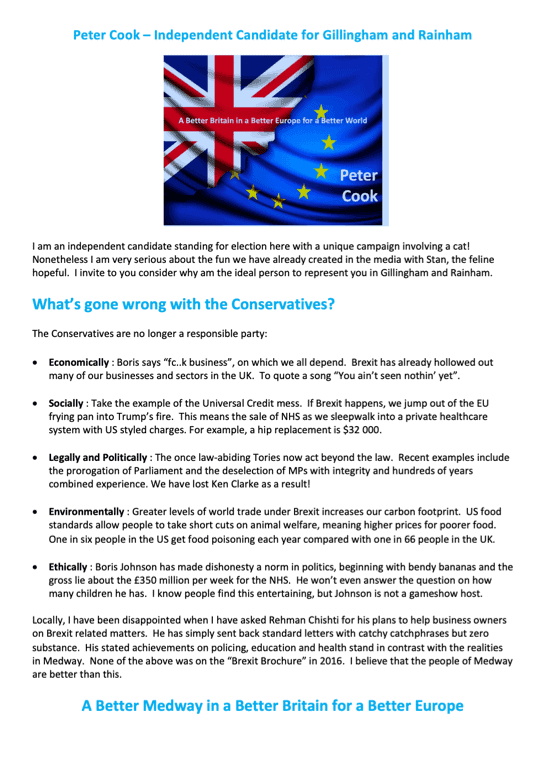 Election hustings are a place where you can pitch your arguments to an engaged group of people.  This differs from random doorstep work.  I was pleased to be complemented on my "Catifesto" and the way in which I put my arguments forward by a party representative of the prevailing party, who told me I was the best candidate on the stage, even when set against their own MP.  However, no one likes a smartass and the MP resented this greatly, as I assassinated his arguments in front of his loyal following.  On election night, he exploited a press interview I made, which was cut to create a warped impression of what I said.  The MP Rehman Chishti reported me to the Chief Police Commissioner.  Sadly, this did not work in his favour as the police found that he had wasted their time, coming round to see me in order to set the matter straight.
We were arrested with Stan the Cat on the London M25 Arterial Motorway in Essex by a policeman in a "Brexit Rage" who asked us to remove our "Bollocks to Brexit" signage from our Mini Cooper ON the motorway. After I dialled emergency services, he had to retract his attack on the owner of the car.  In case you are unsure of the law, the word Bollocks was tested in a famous case of the Sex Pistols versus Her Majesty the Queen, where it was determined to be vulgar but not offensive.  To my surprise, the Officer did not know or care about the law despite my several patient attempts to explain it to him.  Furthermore, the Officer put his and our lives at risk by asking us to break the law by making changes to the sign on the busiest motorway in Britain.  I thought quickly about the matter and made a one-minute video describing the problem.  Unfortunately for Essex Police, the Tweet got picked up by 250 000 people and we were contacted by the BBC about the matter.  This was clearly a matter that the Police Officer forgot he was on duty, deciding that the law was unimportant.
Clearly, these examples illustrate just how divisive and divided the UK has become under our Brexit experiment.  I confess that being arrested had never been on my bucket list of things to do in my life!
In our final instalment we will look at how we did and the transferable lessons from this uniquely creative strategy.