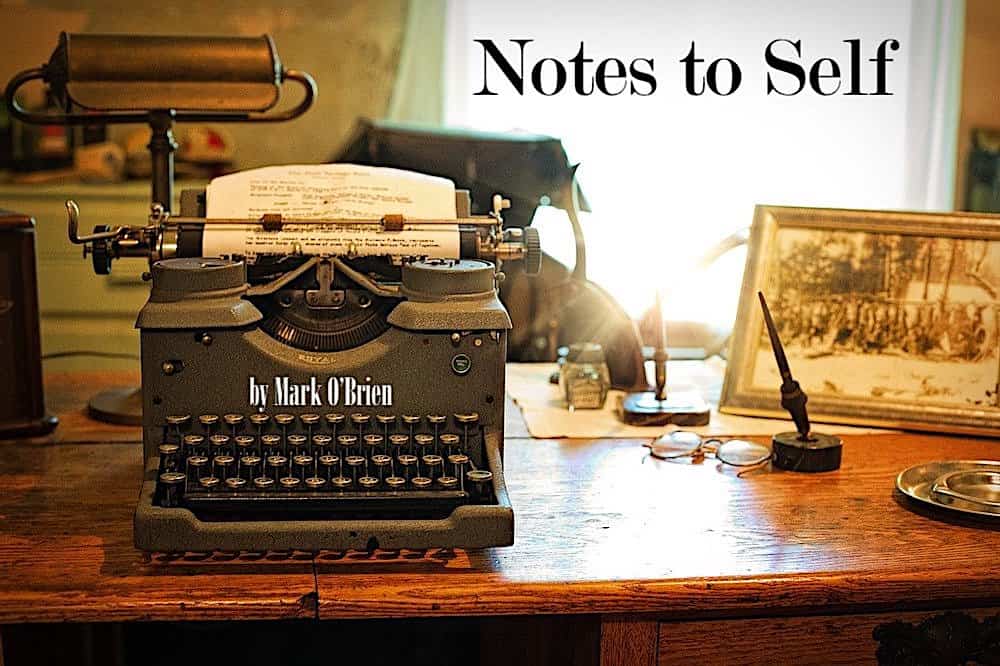 The first thing I need to do every morning is to sit and write something, just to find out how I am, to get a feel for how I fit in the world that day. The first thing our dog, Eddie, needs to do every morning is to walk the loop that comprises our community, just to find out how things are in his world, to see who might be up, out, and about that day.
The other morning, during his morning constitutional, Eddie was walking in the mode that compels Anne and me to call him Mr. Pokey. (Anne can sometimes get Eddie to move along by speaking to him in Italian. He's particularly responsive to, "Andiamo.") He was taking his time, sniffing just about everything, strategically marking his turf, and checking to see if any of the soft touches were out in the neighborhood to give him treats and water, as they're wont to do.
Rather than trying to hustle Eddie along, I decided to let him do his thing, at his own pace. I pulled out my phone, checked my LinkedIn app, and found a podcast from my wonderful friend, Diane Wyzga, part of her weekly Wednesday series, Stories From Women Who Walk. The title of the story I listened to as Eddie poked along was, "Story Walking the Labyrinth". This is part of what I heard:
Decades of story and communication coaching work have taught me that walking is the best way to draw a story out of ourselves or someone else. Where you walk doesn't matter. All that matters is you walk and listen out the story that wants to be heard.
Since I sensed Eddie might be experiencing a little Sniffer Fatigue, I asked him if he'd like to give his beak a break and tell me a story. He said he would. And he did.
He told me how he was abandoned in Cherokee County, North Carolina. He told me how he'd come to have his tail broken, how he'd spent weeks out in the elements, how he'd foraged for food and hidden what he could find until he could eat it in solitude and safety.
He told me about being rescued by the Cherokee County Humane Society. He told me how he'd been packed into a crate, how his crate had been packed into a truck with dozens of others, how he'd endured the long ride from North Carolina to Connecticut, and how he'd arrived at the Connecticut Humane Society location in Newington, Connecticut, road-weary but undaunted.
He told me that, due to severe malnutrition, the veterinary staff at the Connecticut Human Society had performed a dental procedure on him that cost him eight teeth. He told me about being neutered and getting the little tattoo on his belly that indicates he'd been neutered (as if his missing parts wouldn't be enough evidence). He told me about being chipped, so he'd never be lost again. He told me that, before Anne and I adopted him, he'd received the best care and the most kindness he'd ever experienced while he was in Newington.
He told me the reason he'd fought so hard to stay awake during his first night with us was that he was afraid if he let himself doze off, we'd be gone when he woke up. He told me he trembled violently when we first started taking him in the car with us because he thought we were going to ditch him again. He told me the reason he used to circle to his left around his food bowl when we fed him, all the time looking over his right shoulder, is that he was afraid he'd get beaten while he was eating. He told me the reason he loves Sammy so much is that he never thought he'd have a big brother, and he doesn't care if his brother's a cat.
He apologized for the cookies we find hidden in deep-pile bathmats, behind cushions on the sofa, and in piles of dirty laundry if we happen to put the laundry down before it goes in the washing machine. He apologized for the strip of dried beef he'd left under our son Sean's pillow after Sean's recent visit to Connecticut. And he promised he'd always find and eat every one of the treats he hides, as long as we promised to always understand why he hides them.
When he finished his story and I picked him up, he didn't ask me why I was crying. He doesn't have time to wonder about such things. He has too many broken tales left to tell.
Thank you for reminding me to listen to him, Diane.