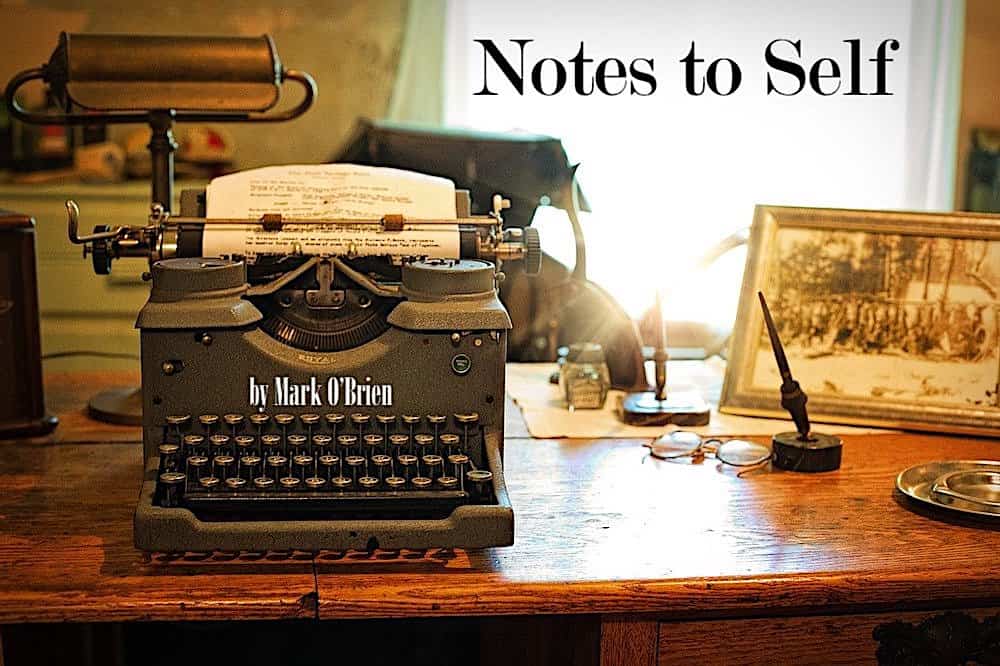 When I was in high school, my father had a cabinet made for me at a local trade school. It was made to accommodate the old Zenith portable stereo record player that sat on top of it. And the inside had vertical dividers to keep my collection of LPs arranged in whatever order happened to move me at any given moment. I recently came across an album in that cabinet, which is now squirreled away in my basement, that yanked me back to memories of a man who passed away 13 years ago but whose personal and musical influences on me abide. In all likelihood, you've heard of neither him nor his music.
His name was Bill Chinnock. He was a product of the music scene of Asbury Park, New Jersey. (He was Bruce Springsteen before Bruce Springsteen was Bruce Springsteen. And Danny Federici, Vinny "Mad Dog" Lopez, Garry Tallent, David Sancious, and others were part of Bill's band before joining Springsteen's E Street Band. Bill's life and career later took him to New York City, Nashville, and Portland, Maine). Bill took his own life on March 7th, 2007, after a long, excruciating siege of Lyme Disease and ten days after losing his mother. He was 59 years old.
I met Bill in 1977, at the Silver Bullet in Moodus, Connecticut, a club in which my band played every Thursday night. He played the Bullet several Friday and Saturday nights before moving up to more prominent Connecticut venues like New Haven's Toad's Place. In fact, I was with Bill at the Silver Bullet on his 30th birthday — November 12, 1977. We always had wonderful conversations about the business and about Bill's growth as a performer and a musician. During one of our visits, I mentioned how much his guitar playing had improved. He said he'd honed his songwriting to a point at which he was happy with it. So, he'd turned his attention to his guitar chops.
The Story
Bill met legendary producer and talent scout, John Hammond, in 1974. Hammond suggested he work on his songwriting. So, Bill left the Jersey shore and moved to Maine, refining his craft while continuing to perform and record. In 1978, he was signed by Atlantic Records, recording and releasing the album, Badlands. (Ironically, Bill's album was released just ahead of Bruce Springsteen's Darkness on the Edge of Town, which otherwise would have been called Badlands.)
Bill then began recording a second album for Atlantic, Dime Store Heroes. According to this short documentary, he was unhappy with the producers in the studio. So, he went and talked to the executive who was the head of the label. Bill convinced the exec to pay for building him a studio in Maine, in which Bill would finish the album and produce it himself. The exec did. And Bill did. When Bill brought the tapes to Atlantic, the exec told him Atlantic would distribute the album, but Bill should put it out on his own label, North Country Records. Then they released him from his contract, succumbing, no doubt, to the entertainment industry's unwillingness to promote anyone and anything it can't tidily and comfortably pigeonhole. (See Gatton, Danny.)
It's always been hard for me to imagine that Atlantic wouldn't have wanted Dime Store Heroes in its catalog. If the label hadn't considered anything else, it should have been proud to have a song like "Baptized on 47th Street" in its holdings. After a stark intro comprising just piano and saxophone, Bill sings this poetry:
There's a baby crying
Twilight in a four-dollar room
In a garden of wallpaper flowers and roses and lilac perfume.
Later in the same song, he sings the line, "There's the wrong kind of laughter on 47th Street."
"Queen of the Lower East Side" is also worth the price of admission. In it, Bill sings:
And in the hobo jungles, I learned the truth in the eyes of the old men.
They cried, "America, you never intended me to win."
Then, in that amazing voice, he wails all the angst and frustration of the American Dream unrealized.
In the '80s, Bill moved to Nashville, still searching for the recognition that eluded him. He recorded two albums there: 1985's independent release, Rock & Roll Cowboy, and the 1987 CBS Records release, Learning to Survive in The Modern Age, which featured the single, "Somewhere In The Night." Bill won an Emmy for "Somewhere In The Night" when it was used in a daytime soap opera. He later recorded a chart-topping duet with Roberta Flack, "Hold on to Love", which was used as the theme for another soap, The Guiding Light.
The Legacy
In his live performances, Bill Chinnock owned the stage, stalking it with passion and fury, prowling it with the grace and authority of a cat, fully in command of his band, every member of which was attentive to his every move and cue. And he owned every member of every audience with his easy charm and his charismatic energy. When he played the Silver Bullet, I'd be there Friday and Saturday nights. When he played Toad's Place, I was in the front row. The wonder of his presence never diminished.
Aside from the fact that I've seen very few people commanded a stage or an audience the way Bill did (B.B. King is the only one who comes to mind), his was (in my humble estimation) THE definitive reading of the Hoagy Carmichael classic "Georgia On My Mind" (with apologies to Brother Ray). And anyone who never heard "Something for Everybody" in live performance (with the inimitable Sam Hall on tenor sax) missed a thing of beauty and wonder.
I still have the Atlantic Records release of Badlands on vinyl. In 2019, Bill's original recording of Badlands on North Country Records was released on CD. I have that, too. You can find it and read the history of the project here. I recently ordered Dime Store Heroes and Out on the Borderline (a 1992 release) on CD. And you can find Bill in the Music Museum of New England and in numerous videos on YouTube. We can only hope the Music Gods may someday draw the attention to Bill's music it's always deserved.
Bill's spirit and his music will never leave us. But I'll leave the last words in this post to Bill, from "Queen of the Lower East Side":
Dreams die hard for the bold and the wild.