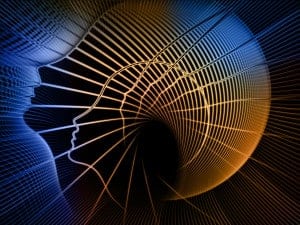 by Rebecca D. Pitocco, Guest Contributor
[su_dropcap style="flat"]M[/su_dropcap]Y FAVORITE METHOD in art making, and something I have practiced for the past fifteen years, is a process called automatic drawing. Other names I have heard for it are "free drawing", "open drawing", and 'drawing from the subconscious'. In fact, all artists start with automatism because most people begin drawing and painting before developing our speech centers and critical thinking skills. We start with a line or a shape and go from there. This, in its essence, is what my personal work is about. I do not make a plan, which erases all hesitation and allows for a continual and meditative session of expression. Many famous artists have used this method for their work including Salvador Dali, Max Ernst, and Francis Bacon. This is however considered a modern, new age technique because it is only in recent history that abstraction in art gained acceptance.
This process is really the only reason I create art. I have never had an interest in selling or promoting my work. I simply like how it makes me feel. I can work on a piece automatically for hours and end my session feeling so relaxed. It is my form of meditation and reflection. I also really enjoy the little surprises that occur. How one shape leads to another connected by various lines turning into something unexpected. Most often, I go into this process without a plan, but I have experimented with themes such as analyzing a dream, drawing while half asleep, and while under the light influence of alcohol. I've also experimented with restricting my materials to simplify the tools and challenge myself. Recently I have been working on surfaces larger than me and it's really reduced my limitations and warranted a more developed expressionism.
Automatic drawings do not always represent anything specific, in fact mine rarely do. Yet there are times when I end up drawing something representing realism but I don't even realize what I've done until the end of the creative session. This is how some believe surrealism art began. Surrealism is often a combination of drawing from the subconscious and dawning with a focus; hence, a dual between the sincere reality and the creative imaginary. This is and probably will always be my style of drawing. It's all about the meditative effect for me. One thing I have noticed is that I rely on music to keep me working. Thus, music has an integral role in the process I use to create these automatic drawings. I listen to a variety of music while creating, and it can have an effect on the outcome. Most of the time I'm listening to classical music, and the majority of my work is fluid and soft. Viewers have described my artwork as seductive, relaxing, and surprisingly dangerous.
This method of art making is centuries old. Most people explore this as young children and some fall in love with it. I am lucky to live in a period of time that abstract art is accepted by the majority. I don't think its going away anytime soon , as more and more people have discovered the benefits of creating without worry of failure or the fear of making a "mistake". It is my belief that mistakes in abstract art can always be turned into something beautiful and unexpected, rendering a new understanding.
Work Cited:
"Automatism in ArtAutomatic Drawing, Frottage, Decalcomania, Action Painting." Automatism in Art: Definition, History, Characteristics, Surrealist Techniques. N.p., n.d. Web. 08 Apr. 2015.
[message type="custom" width="100%" start_color="#F0F0F0 " end_color="#F0F0F0 " border="#BBBBBB" color="#333333″] Editor's Note: Rebecca D. Pitocco is a Guest Contributor and a Student at Appalachian State University pursuing a BFA in Studio Art.[/message]