The movie Flashdance, about a Pittsburgh woman who worked as a welder by day and an exotic dancer at night with dreams of ballet school, came out in the Spring of my junior year in high school.  I was so captivated by Jennifer Beals as the main character Alex and inherently knew what I wanted to do post-high school graduation.  I decided to go to welding school.  Perhaps not what you were expecting? Neither were my parents.
I am the last of 8 children and the first one my parents could afford to send to college. Honestly, I am not sure they could actually "afford" it; however, both of my parents were children of the depression and determined to see the baby of the family earn her degree. So, the conversation with my parents about welding school was quick, one-sided, and thus began the search for the "perfect" college for me.
In 1983, we had to call the schools, talk with an actual person, and schedule our tour date.  I visited 3 campuses, John Carroll University, The University of Akron, and Bowling Green State University (BG).  The first 2 I went with a friend and my parents attended BG with me.
When touring the campus at BG, someone had asked our guide about the current male to female ratio to which she replied, "At BG, there are 4 females for every 1 male".   Much to my teen horror, I heard my father announce "Application please. This is where my daughter is going," Of course, all the other girl dads who were present chuckled.
Next step in this process, which was all new to our family, was attending freshman orientation.  Since my dad was not able to take off work, it was decided that just my mother would accompany me on the overnight adventure.
As the youngest of 14 children, my mom was a proud high school graduate who I sensed had secretly longed for her missed opportunity of a higher education.  Through me, she was able to fulfill that dream vicariously.
She also was diagnosed with multiple sclerosis when I was in elementary school.  Although she put up a strong and brave front, my mother dealt with a lot and walked with a slight limp.  I remember thinking, selfishly, what a challenge this orientation would be and the overall difficulty of getting around because of her condition.
Just as I expected, my mom and I moved slowly around campus doing our best to navigate the day's schedule and the vast flat surroundings. By the time we had reached the math and science building to take my math placement test, I was late.
My mom hugged me, sat down on a nearby bench, and shouted "good luck" as I ran off to enter the building.  I immediately saw signs directing me to the appropriate testing room. As I pulled the heavy, steel door open it made a super loud noise, almost like a groan, causing the 300+ kids taking the exam to pause and look back at me.
The proctor yelled out "Does anyone have a seat for this young lady?"  Just then, a guy with scruffy hair, cut-off jean shorts, and a faded blue t-shirt stood up and replied "Yo babe. Right here."
I moved through the room quickly to get to my newfound friend and seat savior Rich. When the math placement test was completed, I thanked him profusely and said see you in the fall!
When I found my mom, we laughed and laughed as I recounted the "search for a seat" in the exam story.  In that moment, as I stepped out of my own little-world-self and looked over at the pure joy in her face, I realized just how much this collegiate orientation experience meant to her.  Yes, she was proud of me but also so happy that she was able to spend some time enjoying a college campus.
With that in mind, I suggested we take the long way back to the dorm we were staying in.  We strolled past the red brick buildings and white-painted sorority houses with my mother taking it all in, one slow step at a time.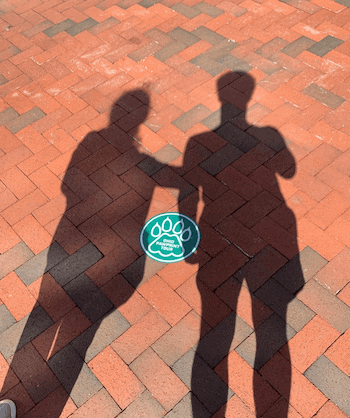 A couple of months ago, I, too, shared this same experience with my youngest for his college orientation.  As he and I walked along the red brick pathways of his future school, I stopped and noticed our shadows.  And remembered the slow, similar walk I took with my mother so many years ago.