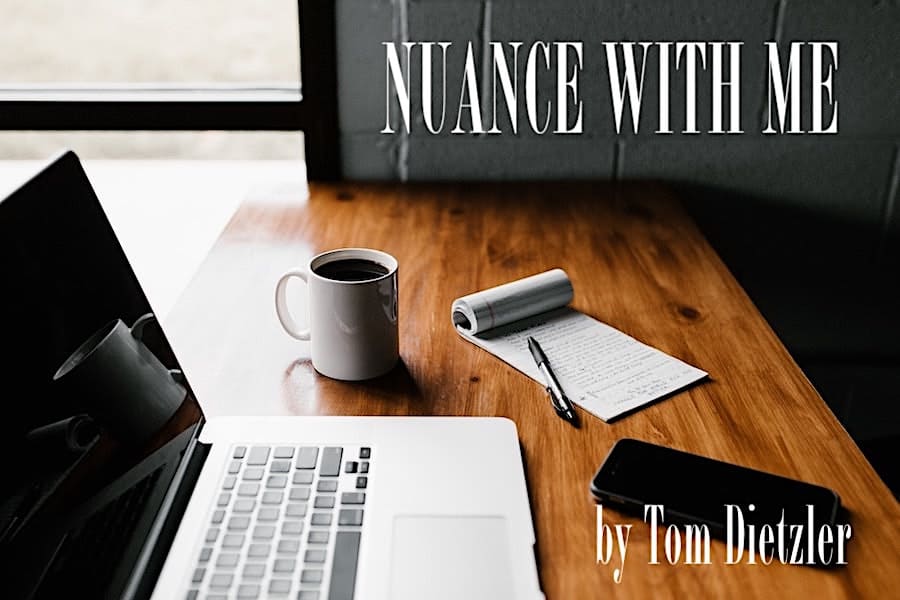 The old saw about the dash on one's tombstone is pretty cliché. It's been used and turned around and we all get the image that is tossed around. There are two dates on the tombstone, the first is our birth, the second is the day of our demise. That's pretty straightforward.
I've been reminded of another aspect of it lately. Allow me the opportunity to torture this analogy a bit further. I am asking for your forbearance and flexibility for one reason. I get to wax philosophical now, as I am a newly minted grandpa. Our little peach pie Naomi Lyncoln (Lyncoln is her middle name, which my daughter got from one of her cousins, who tragically passed away in a car accident in 2016) is one month old now. So I have to start piling up all kinds of witticisms, wisdom, and stuff she can tell her friends: "My Grandpa Tom says…" and then you can add some pearl of wisdom that makes very little sense but I always used it because I liked how it sounded. Something like "It beats getting poked in the eye with a dull stick." I didn't make that up, but I do like saying it.
Back to the dash. When I look back at how long it took for Naomi to get here versus how quickly her first month has breezed by, I see new wrinkles in the dash being the placeholders for our lives. Now granted, my daughter's last four months of pregnancy, which ended with Naomi's birth on July 3, took place during this wretched pandemic. We would've watched time turn into the glacial creep anyway, but those four months turned into seemingly endless stretches of time. I saw a meme on social media the other day "March was one of my least favorite decades." Hear hear…
As we checked our phones, we also fell in love simultaneously, as that little person was introduced to us with her picture and the vital stats of her name, time of birth, and all the little details that we will forever remember.
We had a small getaway planned for the day that she was born. Our daughter is a labor/delivery nurse, so she was able to choreograph much of the birthing sequence with the help of people that she works with. Her due date was July 9, but she put herself on the "induction list" for the third, and so it happened that day. We were an hour away, and kept our plans, as due to our friend COVID, only her husband was allowed in the hospital for the birth and the entire time that they were in the hospital. We were on the 11th hole of the round that we played that day, Rhonda had just teed off and then we heard her phone chirp, and mine ding, almost simultaneously, and we looked at each other. As we checked our phones, we also fell in love simultaneously, as that little person was introduced to us with her picture and the vital stats of her name, time of birth, and all the little details that we will forever remember.
So that's what will come before the dash for Naomi. We get to emblazon that day in hearts forever. And our hearts still race every time we get text notifications because we are on a steady diet of daily pictures of her. We have held her and been with her, and we are hopelessly overjoyed with any and all reports of the littlest of details. Her dash is off to a lovely start.
For the glacial pace of the months of March to July, we were also slapped by the frenetic "poof" that July was. We continued to work, got out to golf periodically, saw some friends, and got our daily Naomi updates. Toward the end of the month, we had a little mini getaway again. We drove to one of our friends' cottage on a lake about 90 minutes north of here and spent about eight hours on their pontoon boat just talking, swimming, fishing, and abusing our livers. Time stopped again. It was such an achingly lovely way to spend a 90-degree day, on the water, rekindling friendships, laughing at ridiculous things, enjoying the simple pleasures of nature, and letting go of all things, all concerns, and the things that will hasten the second date after the dash.
The next day, we shared breakfast and conversation. And then four games of cribbage, which for the life of me will never be repeated. Why? The guys won all four games. That never happens. With our 24-hour respite over, we packed up and headed 45 minutes away to some other friends of ours house for more R & R. They have a beautiful home on a lake, and we just sat on their porch overlooking the lake and started to breathe again. Another pontoon ride around a much larger lake, and then we retired to the house for a nice meal and a silly game which caused uproarious laughter, to the point that all four of us nearly stopped breathing.
Then the phone rang. We were just about to start another round of the game. Rhonda's mom, 95 years old and in frail health, had fallen. They had to transport her to the hospital. No visible injuries, she was back in her assisted care unit within a couple of hours. Another jarring reminder that someone else's second date after their dash is imminent.
None of this is lost on me. We're fighting with my parents because they moved last week to an apartment, out of their senior living apartment. They have an apartment now. No pool, no long corridors to walk the winter doldrums away, no coterie of neighbors who are of similar age and life experience. They've dashed through life and are survivors. My parents are within weeks of their 72nd wedding anniversary – and instead of celebrating them and it, we are left sad and resigned to the fact that my dad would rather try to appease my mom's unappeasable depression than listen to the counsel of his kids.
We spend so much of our dash time dashing. I love Sarah Elkin's 30 seconds of calm initiative because we all need to do that for ourselves.
I have heard people talk about the number of things that they hope don't come back after the pandemic. Pick your panicked destination, but I'd like to think more of us will hunker down and stay put instead of finding multiple places to rush off to.
This past Sunday, my wife sat for more than three hours as Naomi slept in her arms. Time stopped. A little life laid upon her grandma and found peace in the total love that comes in a moment of scarce quiet and joy.
So the circle is kind of full now. Our granddaughter is a reminder to us that we'll be leaving the stage in time. Our parents are on hand on yet, but the examples in front of us show that dignity and happy endings are not always in the cards. My mom said that she wants their ending to be like "The Notebook" where the aged couple closes their eyes together and wake up in heaven. It's just not that way. I'm going to hold Naomi's hand and try to help to see that life is a gift and that as long as we're here, we can thankful for it.
I'd have to make it to my late 90's to hit 72 years of marriage. It's not a goal. I love what my parents have been all of their lives, to us kids, and to a couple succeeding generations. That they aren't going quietly into this good night should not color our opinions totally to the negative. We have to navigate these waters. It's just hard sometimes. Dashes are like that.