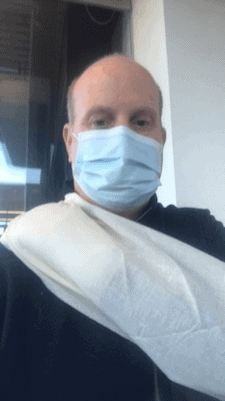 I am writing this post with one hand, my dominant right hand, after breaking my wedding ring finger on my left hand in 3 places recently whist training my dog!
This was very unexpected!
After two excellent 10m stays using the training lead, a less excellent situation followed as Winnie the Poo chased two other puppies and in a matter of moments, wrapped the lead around my finger and ….. crack!
We really are in the moment human beings, never forget that!  Proper sliding doors moment (good film if you never seen it)
Reflections
The immediate lesson I took from this was don't try and do too much on my own!  I wrote about that here, however, a deeper, more reflective inquiry emerged later that day and the following day.
If I lost the use of my left hand indefinitely, how would:
My workplace react?
My friends react?
My family react?
Society react?
What if I lived alone?
What if I had little access to support?
I am so lucky and grateful to my wife Jackie for driving me to the hospital and supporting me with my healing, I would guess that we don't all have that luxury.
Disability Inclusion
I am reminded of the incredible work of Debra Ruh founder of Ruh Global Impact who kindly joined me on the Have Courage summit in Q1 2019 who is a tireless activist for disability inclusion rights. Her book Inclusion Branding is an essential read for anyone genuinely interested in making the world more inclusive.
The stats that I forget about too often, to be honest, yet should be in front of all inclusive organisational design include:
One billion people, or 15% of the world's population, experience some form of disability, and disability prevalence is higher for developing countries. One-fifth of the estimated global total, or between 110 million and 190 million people, experience significant disabilities. That is 1 in 7 people have or will have a disability in their lifetime
According to the Office for National Statistics, the employment rate for those with disabilities was 50.7%  from April – June 2018 (81.1% for people without disabilities) so if workplaces make changes so that they are more inclusive, the whole economy would benefit
The Office for National Statistics found people with disabilities have an unemployment rate of 8.7% (the unemployment rate for people without disabilities is 3.4%)
A major reflective question that I am sitting in right now is:
Q -> If I was looking to apply for my job as-is today, with the same experience and same value to offer, but I had only one arm and not both arms, would I get the job?
Honestly, I do not know what the answer would be.
Insightful people / organisations to follow/engage with
I was very grateful to join Debra on her Human Potential at Work show in 2019 and I wanted to offer some additional, interesting people to follow in case you wished to better understand the importance of the disability inclusion conversation:
I was very grateful that Toby joined me on the Value through Vulnerability podcast previously which can be accessed here
Inspiring disability activist and change maker
The Valuable 500 is a business to business initiative catalysing the influence of large private-sector corporations in national and international markets
Antonio is social media evangelist at Atos and co-host of the diverse and inspiring AXS chat on Twitter
Personal learning
The reality of my current situation is that for an unknown and unspecified period of time:
I can no longer do the washing up which I did without a second thought 24 hours ago
My wardrobe has shrunk to 10% usefulness over the past 24 hours as so few of my clothes I can fit my hand through
I can no longer use a knife and fork, my wife is having to cut up my food for me
Going to the toilet is a whole new experience!
I am using my teeth for actions I had never dreamed of! And my nose!
Everything, as in everything, takes exponentially longer but that is not all bad; I am eating and savouring my food more and embodying the activities more that I am involved in, more consciously
I can type quite quickly and pretty accurately with one finger!
Important personal reflections
Whilst I am a strong advocate for diversity, equity and inclusion, I have struggled to be as much of a voice as I would like for disability inclusion and I do not why – I am keen to dive into AXS chat again on Tuesday evenings
My self-worth and humanity have not diminished
My mind works as it did 24 hours ago -> one arm or two arms, my thinking creates my experience of life in the moment
My ideas and beliefs in a more inclusive and equitable world are even more reinforced as I take these lessons
What next?
I hope that these musings offer you some value and may I invite you to reflect next time you see someone with a visible disability, eat your food or put on your clothes, remember that we are equally human and equally of value regardless of the bodily parts or functions that we have.
We need to design work and society to truly represent full inclusion and I am moved to broaden and remind myself to focus on disability as part of diversity, equity, and inclusion.
DEI, I assert, needs to be part of its own function alongside recruitment and sustainability but more to follow on that ……………