"Don't blame it on the sunshine, the moonlight, or on good times." Instead, the late Michael Jackson urged: "blame it on the boogie".
When it comes to unethical behavior at work the song should go;
"Don't blame it on the employee, blame it on job insecurity."
Growing evidence suggests job insecurity can be an important driver of unethical employee behavior.  Corporate scandals of the previous decades triggered much new research.  Yet the big question remains: why do people behave in unethical ways in business?
A new study in the latest Business Ethical Quarterly suggests it may all come down to two factors. First, does the employee feel "embedded" in their job?  Second, what is their degree of personal adaptability?
Embedded individuals feel well-connected to their company. This strong attachment though increases the chances they will suffer from emotional exhaustion. This may stem from pressure to perform, hard to reach goals, and a desire to show loyalty at almost any cost. People who suffer from emotional exhaustion are less able to handle ethical challenges.
In contrast, adaptable employees are more likely to view job insecurity as a potential opportunity. For example, to find a new job, or start their own venture. They're less likely to suffer from emotional exhaustion and more likely to avoid unethical practices.
This well-researched study tries to unravel how job insecurity saps people's ability to make good ethical decisions. Beyond this study, real life examples seem to support this conclusion.
For example, Wells Fargo staff were under serious pressure to meet sales goals every day. There was an industry culture of pressure and fear—generating emotional exhaustion. This helped drive low-wage employees to become willing to rip off customers.
Low bank wages were also an incentive to behave in unethical ways. People didn't fear being fired for overzealous selling. Instead, they worried about losing their job for not meeting sales targets.
Wells Fargo staff concluded it was more important to sell than treat the bank's customers well. Uncertainty in Wells Fargo and the need to preserve jobs, drained employees' emotional reserves. It undermined their natural tendency to be ethical and adapt. Instead, some 5000 staff responded to the management pressure by resorting to mass unethical behavior.
Implications
Employees in many companies suffer from job insecurity. According to an ILO report, around three out four of the world's workers live in economic insecurity. Job security has fallen even in the industrialised European countries, and Canada.
For example, more than 3,000 workers aged between 20 and 60 were interviewed in 2012 for the UK Skills and Employment survey.  It revealed increased insecurity and fear among all types of employees, with those in the public sector as worried about work as those in the private sector.
Job security varies widely across nations – see table. Concern with security and benefits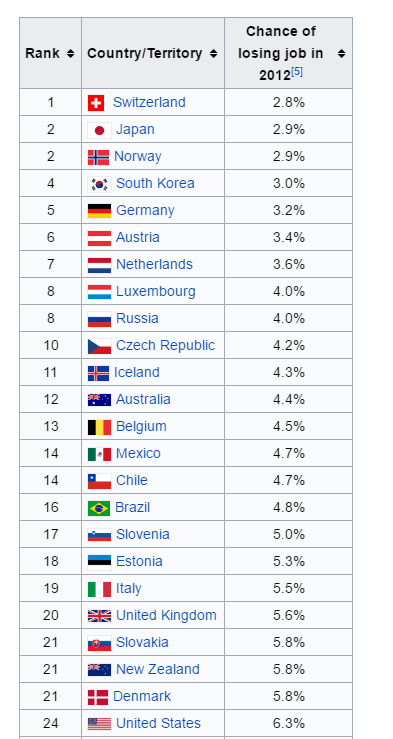 matter to employees. For example, while most want job security, more than half (65%) feel their current job already has it.
Best practice insight and technology company CEB found  43% of workers are unhappy with the stability their employers and jobs provide. The result was a drop in employee satisfaction or engagement. This may create emotional exhaustion which contributes to corruption levels; and lack of concern about unethical behavior.
Among the known causes of job insecurity are:
More flexible employment and short term contracts
Globalisation–less down-sizing, outsourcing
Reduced regulation of the labor market
Retreat on unemployment benefits
Growth of personal debt
Weakening of trade unions
We also need to know far more about the health consequences of these trends and how to alter them.
Those with job confidence feel more able to speak up about unethical practices. Certainty about one's job reduces fears of retaliation or of upsetting those in power.  And while most Americans for instance, don't feel threatened in their jobs, many say their jobs feel less secure than in the past.
Around over half (60% ) of employed Americans say it's unlikely they'll lose their job in the next 12 months. Even so, a segment of U.S. workers feel a high degree of vulnerability. The extent depends on their level of education. These job uncertainty trends all contribute to factors generating emotional exhaustion, with a potential impact on unethical behavior. When emotional exhaustion prevails strict measures to promote compliance seem unlikely to deter unethical behaviors.  
Invasion of the robots and AI
Robots already exist in large numbers in most Western and advanced nations. Many more are on the way—souped-up by artificial intelligence (AI). Their eventual impact remains unclear–will they, for instance, further accelerate levels of employee job uncertainty and therefore indirectly promote unethical behavior?
The more serious the perceived threat to jobs, the more employee fear it will generate. Along with emotional exhaustion.  Robots could soon be taking the blame for people's unethical behavior. So far, the robots are in the clear, but for how long?
Few U.S. workers currently believe technology will replace their jobs.  Most (80%) appear to think their own jobs will still exist in their current forms in the same form in 50 year's time. This view is almost bound to be wrong. In the future, any firm offering job security may start to gain a clear competitive advantage. It will attract and keep hold of talent.
Ethical Alarm bells
Lady Bracknell "To lose one parent, Mr. Worthing, may be regarded as a misfortune; to lose both looks like carelessness. –Lady Bracknell from Importance of being Ernest.
Like the parents Lady Bracknell complains about, some companies are just plain careless. They keep losing valuable employees and never properly count the cost. All firms lose talent. Sometimes though, staff departures can act as an ethical alarm bell—one demanding remedial action. For example, an unethical climate within an organization reduces job satisfaction. It also increases frustration among employees. The effect can be to increase employee turnover and recruitment costs.
This seems to be happening at ride-sharing Uber, facing a stream of senior staff losses. It combines with a toxic brew of ethical malpractices. From sexism, harassment, disrespecting staff or accusations of stealing other's software. The recent departure Uber's Rachel Whetstone is therefore significant. She was recruited as head of public policy and communications from Google. She arrived to instill stronger corporate discipline.
Instead, Rachel found herself battling a culture highly hostile to women. One that included a failure to deal with sexual harassment allegations. Her vote to quit came less than a month after the company's president Jeff Jones also resigned. He had only joined a few months earlier in 2016, to head up its ride-sharing business.  His vote to leave stemmed from a culture clash:
"The beliefs and approach to leadership that have guided my career are inconsistent with what I saw and experienced at Uber, and I can no longer continue as president of the ride sharing business."
Meanwhile, other senior leaders in departments who oversaw marketing, engineering, research and product development also voted with their feet. No wonder this firm attracts adverse articles and headlines aplenty. Including: "Has Uber's day of reckoning arrived?"
Well has it? Does the dismal history of unethical practices, plus the loss of key staff add up to a $70 bn company on the skids? Not perhaps in the short term. But the signs of rot are all too apparent.
Talent though is replaceable, albeit at a cost—see panel. below: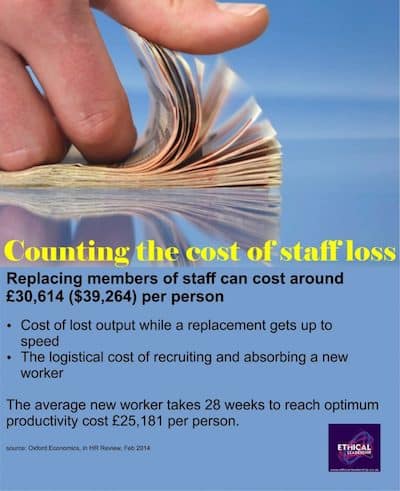 The other side of the attrition coin, namely low rates of staff turnover doesn't always signal good news. They may be hiding unethical practices. Employees sometimes stay with a firm because its unethical practices reward them financially or in some other way.
Lack of staff turnover can also mean expensive benefits for senior employees. A workforce loaded with high seniority often means a higher overall employee cost.
So staff loss may sometimes be beneficial. Especially when it leads to the right individuals leaving. It can help produce a more agile company, one better able to adapt to a fast-changing business environment. It's one thing to lose a highly valued, high-performing employee. Quite another to lose a disgruntled, underperforming employee with outdated skills.
What matters is not the rate of staff turnover, but who leaves, who stays and why.
What all this means!
First, this study confirms previous findings. More job insecurity tends to increase peoples' levels of emotional exhaustion.
Second, emotional exhaustion can lead to people engaging in unethical behavior.
Third adaptable employees suffer less from emotional exhaustion. They cope by seeing any potential job loss as more of an opportunity. This adaptability means they are less likely to engage in unethical behaviors.
Fourth, faced with job insecurity those who are less adaptable are more likely to suffer more from emotional exhaustion. In turn, this makes them more likely to engage in unethical behavior.
Given these findings, an informed compliance officer should consider knocking on the door of HR to ask
"What's our people's level of job security?"
"I'm worried that may lead  them to behave unethically."
---
Sources:
Jenkin, Millennials want to work for employers committed to values and ethics. Guardian May 2015

T. Fox, Does Culture Matter at Uber? March 22, 2017, by SCCE

R. Waters, Uber's head of communications Rachel Whetstone resigns. FT April 2017

L. Pierce, Unethical Demand, and Employee Turnover, Olin Business School, Washington University in St. Louis, May 2013

E. Lawler III, Rethinking Employee Turnover. Forbes, Jul 21, 2015

Job insecurity and health: A study of 16 European countries, Social Science and Medicine 2010 Mar

R.. Hastings, Job Security and Benefits Most valued by Employees, Society for Human Resource Management, Jun 28, 2010

El-Husseini, How Important Is It For Employees To Feel Secure In Their Job? Graduate Discovery September 16, 2016

Scott, 92% feel job security is important, Employee Benefits, 30th June 2016
The State of American Jobs, Pew Research Centre, October 2016
Lawrence, et al, Exploring the Impact of Job Insecurity on Employees' Unethical Behavior, Business Ethics Quarterly, Jan 2017
Psychological empowerment, job insecurity and employee engagement, Journal of Industrial Psychology, 2010 No 1
Johnson, Banks Used Low Wages, Job Insecurity To Force Employees To Commit Fraud, Huffington Post, 09/20/2016
Wells Fargo exec was fired for not scamming N.J. customers, lawsuit says, NJ.com, April 17, 2017
Smith and J. Anderson, AI, Robotics, and the Future of Jobs, Pew Research Centre, August 2014