We were relieved to remove our now-christened walking boots and relax while we enjoyed a pilgrim's three-course dinner, accompanied by local wine. Before settling down for the night, we attended to my feet by popping whatever blisters we could and soaking my feet in the bathtub for as long as possible. We spent a challenging night in an unfamiliar bed. Both of my feet burned without ceasing. But by morning, the pain had given way to a gorgeous sunrise, and we knew a world of discovery lay ahead. We dressed my feet as best we could, and off we went again.
I walked gingerly now and with the help of a collapsible walking stick I'd originally intended to use climbing hills along the trail. Throughout the day, we discovered not only amazing scenery, steeped in history and legend but also the simple pleasures of life stripped back to the essentials. As the hours went by, we strolled through several small villages, ultimately taking a break about four miles into our journey, driven not by a need for rest or snacks but because I felt that my feet were on fire. I came upon a stone bench on the outskirts of the village and took the opportunity to pull off my boots and explore the condition of my feet.
There I sat. Boots off. Feet exposed. What now? What's next? Where do we go from here? Would I disappoint her?
These tough questions arose swiftly when I discovered that the previous day's blisters had now morphed into scarlet bubbles covering the soles of both feet—festering, multiplying blisters. It became glaringly obvious I simply couldn't put my boots back on. In fact, it looked like I was on the precipice of ending my trip, just ten miles into our long-planned, 205-mile adventure.
As my wife approached on the road from the village, she saw me look up from inspecting my feet. She said later that she'd never witnessed such an overwhelming look of anguish and despair. We both realized that tough choices lay ahead. The most obvious and likely best choice would be to terminate our journey right there and then. We knew we could hire a taxi from the village to drive us back to where this junket began. Even getting my socks back on would be a test of my pain threshold. My feet were well beyond band-aid solutions. We knew that I couldn't keep walking in my "ideal" boots but finding alternative footwear in the village seemed nearly impossible because of my exceptionally large shoe size.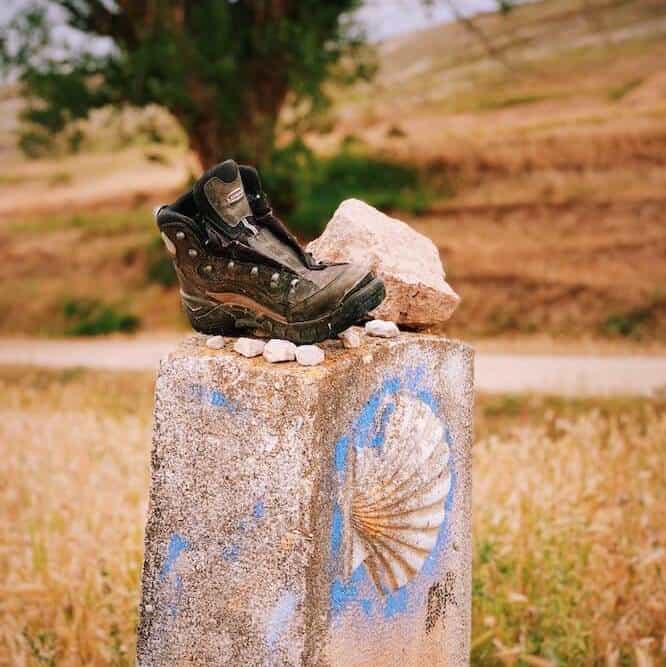 Not one to give up hope, my wife decided to venture back into the local hamlet in search of anything resembling a shoe store. Although I appreciated her noble effort, any steps forward, regardless of what covered my feet, were going to be torment and potentially dangerous to my health. So, there I sat, pondering the smartest and most logical choice— retreat—and weighing it against the years of anticipation, planning, and excitement that had gone into this bucket-list adventure.
I couldn't let her down. I couldn't let us down. There had to be a way.
What I needed at this point was a purpose to go on. At the end of the Camino de Santiago, many pilgrims are asked, "What was the reason for your walk?" The answers people give are as individual as they are varied. Some do it for spiritual renewal, and others to escape their daily life and reconnect with nature. Some are looking for a challenge, or for exercise, or to explore a different culture. Our original reason had been a combination of all of the above, I suppose, ultimately centered on three words: escape, unplug, and renew. But now I would need to dig deeper, to find some personal goal to propel me forward over the remaining 195 miles.
This was the time to fall upon my faith and beg for Divine intervention. And that's when thoughts of my sister Dee came into my consciousness.
My beloved sister, one of seven siblings, had passed away too young, just nine years earlier, following a long illness. She was an amazing woman who embraced her faith and loved her family until the end. I decided, then and there, that my reason for conquering my pain and completing the pilgrimage would be to honor my sister. I would "do it for Dee." The instant I made this decision, my wife came strolling back from the village with news: She had discovered just one small shoe shop, about a half-mile down the road. I would have to join her, so the proprietor could do his best to find something that would fit my inflamed feet. Without new footwear, my journey for Dee would be over before it started.
I hobbled into the village, now with help from both of our walking sticks, sharing my newfound inspiration with my wife along the way. The shopkeeper, who spoke no English, understood at a glance that there was no point in measuring my feet. He just needed to locate the largest shoes in his shop. Hoping for the best, he rummaged through his inventory. There were no size-thirteen shoes to be found; his largest were size ten. But then he remembered the only pair of sandals in his shop, which perched in the window display. He slid the sandals onto my feet in one last effort to solve our problem. And it worked! They fit, but only because of the long, adjustable Velcro straps. These sandals would be able to expand to whatever width I needed to snugly hold my feet in place, without putting any pressure on my damaged skin.