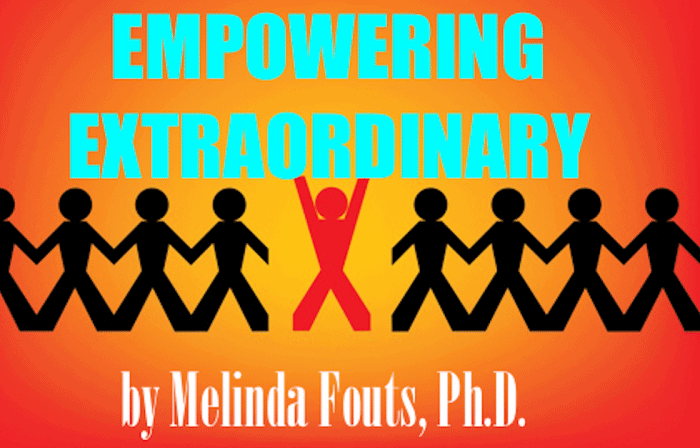 The other day, a CEO I coach was dismayed by the lack of gratefulness his son displayed when he opened his gifts. The son told his father that he wanted the latest and most expensive pair of sneakers made by Nike and these gifts were not good enough. Shaking his head in sadness, my client asked me, "how do I teach my 10-year-old son to be grateful for what he receives?"
Instead of answering this question, I chose a different tactic. I decided that his son has the malady of many of our youth. The illness I am speaking of is a belief that they do not have to work for what they receive and that they expect to be given whatever they want. So our session turned into an exploration of helping his child develop an entrepreneurial mindset, which could ultimately open the door to being gracious for whatever he receives because he learned to work hard and earn his own way.
My client was interested yet skeptical. He looked at me asking, "Can you really teach your child the skills to become an entrepreneur?" The answer is yes. It is just a matter of how. I began by sharing with him my own story because stories are a good way to teach, piquing interest in both children and adults.
When I was five, I asked my father if I could have such and such, (I cannot recall what I wanted). He replied, "Well, what are you going to do to earn the money to purchase it?" I stared at him, and my mind became fired up trying to think of what it was I could do to make money. I was at a loss but kept trying to think of something.
One Saturday evening, I was sitting on the counter watching my father shine his shoes as he did every Saturday night. While he was rubbing, and brushing, I asked him if he could teach me how to shine his shoes. While teaching me, I asked him, "Will you pay me to shine your shoes every Saturday night?" He said yes, 25 cents a pair. I bargained with him and from that night on, I was paid 50 cents a pair.
Lesson and step number one: the first step towards becoming an entrepreneur is to be observant and see a need or a way to lessen a burden.   The second malaise afflicting most children hinders step one. They have their eyes downward with their noses in their smartphones playing games or texting rather than looking around and observing their surroundings, preventing them from finding a need.
The next story I shared was about another clients' son who at the age of 10 began a dog walking business. His child wanted something rather expensive and my client told his son to find a way to earn it much like my father. Working with our children, we need them to struggle to come up with an idea themselves first and if at a loss, make suggestions that can help lead them to an idea. Children can create naturally and freely and challenging them to come up with their own solution exercises creative thinking.
In working with this son, it seemed everyone in the neighborhood had a dog. The child put up signs on every corner, offering dog-walking services. He made it easy by having his name and number written on the edge of his ad so that people could tear it off. His endeavor started off slow. He had to use some innovative thinking on how to acquire more business. He started asking for referrals. While building trust and respect, he then inquired if his current clients would like for him to let the dog out during the day and check on their food and water.
This youngster grew his business and services to such a degree that he opened a checking account and with the card reader, began taking credit cards making it easy for his clients to pay. A year later, his father told me that his son never asked for much, instead, he enjoyed earning money and being self-sufficient to purchase items he wanted or needed.
At the same time, this young entrepreneur declined many invitations to play-dates because of his successful endeavor. Becoming successful requires commitment, discipline, letting go of wants, and involves some form of suffering. The online dictionary defines suffering as the bearing of pain, inconvenience, or loss; pain endured; distress; suffering by want or by wrongs.
From these stories, we can outline the steps to cultivate an entrepreneurial mindset in our children:
Questions fire up the creative mind. Challenge your child. Ask them what they can do to earn money for the items they want.

Give guidance on becoming observant so they can discover a need.

Instead of telling the child what to do, let them try to come up with an idea themselves. Let them struggle.

If at a loss, lead them to an idea. We need their minds to be fired up and creative. Innovative thinking starts from a blank sheet, pondering, listening, observing, and waiting for inspiration.

Teach them patience, encouraging more creative thinking to grow the business.

Allow them to endure some form of suffering through discipline and being committed.

Be encouraging and celebrate their successes.
We need to look at the origin of the two maladies that I have mentioned. As with any illness, there is a source and that source is the adults. From my perspective, the adults can prevent these afflictions by engaging more with children, sparking their active imagination and innovative thinking. Shifting their focus away from their smartphones enables them to be observant, moving them in the direction towards success and being self-sufficient. When they can think on their own and learn to work hard, then gratitude should naturally fall into place.
Contact me today for a complimentary one and a half hour powerful coaching session. And remember, Success Starts With You.
Please share your thoughts and comments to deepen the exploration of this topic. Thank you.