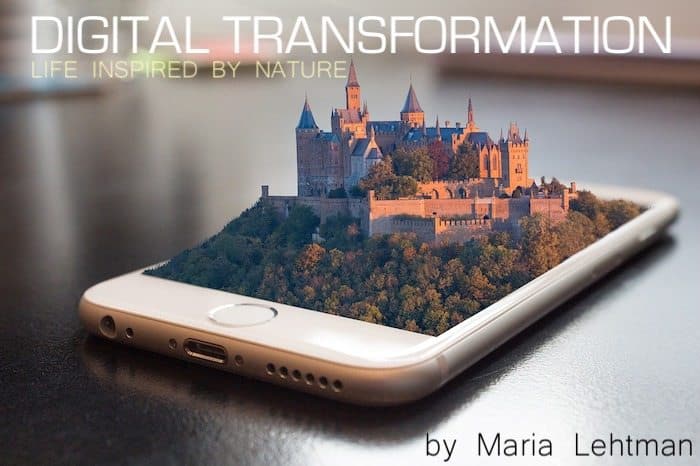 Digital Future
Humankind has a knack for creating and innovating for profit. I have yet to see an innovation that starts 'green' from a greenfield before seeing the smoking skyline.
~ Maria Lehtman
Are the tables turning East on cryptocurrency and blockchain leaderboard? According to PwC's research interviewing 600 executives (14 nations), 30% of the respondents say that China would become the world leader in blockchain development by 2023. What are some critical environmental challenges on cryptocurrency that we have yet to resolve before the concept is even regulated? Moreover, why should we care?
Questions around cryptocurrency
Financial services are leading the blockchain development and adaption. Looking at the PwC 600 research released in August 2018 Financial services has the pole position with 46% adaptation leaving the shared second position (with 12% each) with Industrial Products and Manufacturing and Energy and Utilities.
The global market is only 'global' by name, without consensus and agreement on regulations and standards for cryptocurrency and blockchain.
From the blockchain's ecological standpoint, it would seem that digitalized finance is the spearhead leaving others to play the fiddle. Who carries the consequences? What are the ramifications of launching cryptocurrencies on a global scale? The digital currency ideology is based on bringing a common digital solution to the global market. The global market is only 'global' by name, without consensus and agreement on regulations and standards for cryptocurrency and blockchain. Whenever the economies are not sharing a standard view, an opportunity for both positive and negative impact remains. Putting the actual business and regulatory issues aside this is what peaks my interest:
How much and what does cryptocurrency consume?
The environmental impact of cryptocurrency
"The Bitcoin network consumes more energy than 82% of countries on earth."
~ Bitcoin Green
Outsourcing to more efficient energy generation models has not mitigated the power-hungry cryptocurrencies' impact on our resources.
Transferring from physical to digital currencies seems like an environmental move. However, since the innovators of free energy are still out there fighting for existence, cryptocurrency mining remains anything but a metaphor. As an example, when China initially started Bitcoin mining, it was powered mostly by coal plants in-country. The mining operations have since been moving to countries using cleaner energy. Outsourcing to more efficient energy generation models has not mitigated the power-hungry cryptocurrencies' impact on our resources. According to an article in Joule by Alex de Vries, the Bitcoin network electricity consumption may grow from 2.55 gigawatts to 7.67 gigawatts in the future. In country terms, this compares moving from an Ireland-size (3.1 gigawatts) demand to Austria-size demand (8.2 gigawatts). The energy consumption increase could happen already during 2018.
Total energy consumed by the BTC network in one year could power 6,585,585 homes for an entire year.
Mining cryptocurrency is dependent on how much computational power is available vs. how much is computational power is in the network. As an example, the average cost to mine one bitcoin in 2017 ranged from $4'000 to $6'000, with an increasing trend. In reality, mining is done with blocks of coins (1 block equals 12.5 bitcoins). Due to the cost in time and resources cryptocurrency miners are using specialized hardware designed for the purpose (like ASICs) for faster processing. To keep up with the race, smaller miners are pooling their resources.
There are several critical issues in defining the energy requirements for cryptocurrency mining. As an example: mining companies are not volunteering insight into their consumption statistics, and no one can estimate the potential future trend. Blockchain does offer a view into marginal costs, however, considering who provides the initial data and how it is produced and evaluated may or may not give accurate information.
Governments and companies are mainly considering energy costs, electricity as the main issue. Recognizing that governments in the future utilize cryptocurrency on a global scale, all the other computing elements are also relevant. The latter would include, e.g., hardware and software upgrades, replacements and the speed of technology reaching the end of life. (The article in Joul estimates Antminer S9 Expected Lifetime to be 1-2 years.)
Considering the challenges – how does the market look from an environmental point of view?
Cryptocurrency may soon rival climate change in environmental impact
"The cryptocurrency uses as much CO2 a year as 1m transatlantic flights. We need to take it seriously as a climate threat."
~ The Guardian
Alex Hern offers a comparison in The Guardian that "Cryptocurrency uses as much CO2 a year as 1 million transatlantic flights." The more competition in the mining market the more electricity, energy, and resources will be consumed.
Once the cat is out of the bag, there is no putting it back. According to a contributor in Forbes Magazine Bitcoin price (ca. $7.2k in August 2018) would surpass $100,000 per Bitcoin by the year 2022. Competition on the market will be fierce, and there are no signs of the trend slowing down in the coming years. Digital currency is gradually taking over the local bills and bank notes. (Perhaps not so unfamiliar turn looking at the abandonment of the Gold Standard in the U.S. 1933 with a full disconnection in 1971).
Green digital currency options are rising to the opportunity. One of the industry examples dedicated to global green energy production is GEAR. In the whitepaper released in August 2018, GEAR Token positions as the world's first closed loop green energy and renewables investment token. On the GEAR whitepaper (and video) Larry King, GEAR Advisory Board, positions company's green concept in following words: "Progression will only come when humankind gives back to the earth. The GEAR Token will incubate and nurture the environment by reducing the need for conventional fossil fuels from our day to day lives – and will further promote and fund Green Energy Projects and Renewables research …"
Several other companies are promoting the green methodology in utilizing blockchain technology and digital currencies, such as Bitcoin Green and EverGreenCoin. Brooklyn Microgrid (BMG) has developed an interesting peer-to-peer concept for a communal energy network for local marketplaces. Households already equipped with solar panels can sell their excess solar panel energy to their neighbors through a phone app and earn credits. A blockchain platform (EXERGY) powers the BMG solution which allows local energy transactions through an online marketplace.
While the search for sustainable and renewable energy continues, I will watch with interest how many of the green initiatives can and want to live up to the ethical challenge. We have brave new digital economies to build. Establishing them in the smoking ashes of an environmental crisis should not be anyone's primary agenda no matter what technology field they represent.
"If you look at the various strategies available for dealing with new technology, sticking your head in the sand is not the most plausible strategy."
~ Ralph Merkle
Sources:
TNV ǀ China expected to become global blockchain superpower by 2023 ǀ https://thenextweb.com/hardfork/2018/08/28/china-blockchain-superpower-2023/
PwC ǀ Blockchain is here. What's your next move? @PwC ǀ https://www.pwc.com/gx/en/issues/blockchain/blockchain-in-business.html
DigitalTrends ǀ How much energy does Bitcoin mining require? Experts are unsure ǀ
https://www.digitaltrends.com/cool-tech/bitcoin-mining-energy/
Joule ǀ Bitcoin's Growing Energy Problem ǀ
https://www.cell.com/joule/fulltext/S2542-4351(18)30177-6
Capital Coin ǀ How Long Does It Take To Mine a Bitcoin? https://captainaltcoin.com/how-long-to-mine-one-bitcoin/
Bitcoin ecology ǀ Quantifying and modeling the long-term dynamics of the cryptocurrency market ǀ
https://pdfs.semanticscholar.org/187c/ae499cdb676c9d3166b88550827358fb87d1.pdf
The Guardian ǀ Bitcoin's energy usage is huge – we can't afford to ignore it (Alex Hern) ǀ
https://www.theguardian.com/technology/2018/jan/17/bitcoin-electricity-usage-huge-climate-cryptocurrency
Forbes ǀ 10 Predictions For The Next 5 Years Of Crypto (Noah Jessop) ǀ
https://www.forbes.com/sites/noahjessop/2017/12/01/10-predictions-for-the-next-5-years-of-crypto/#59f34428a40d
Green Bitcoin ǀ https://www.savebitcoin.io/
GEAR ǀ https://geartoken.io/
GEAR Whitepaper 2018 ǀ https://geartoken.docsend.com/view/yskvm5i
EverGreenCoin ǀ https://evergreencoin.org/
Brooklyn Microgrid ǀ http://brooklynmicrogrid.com/