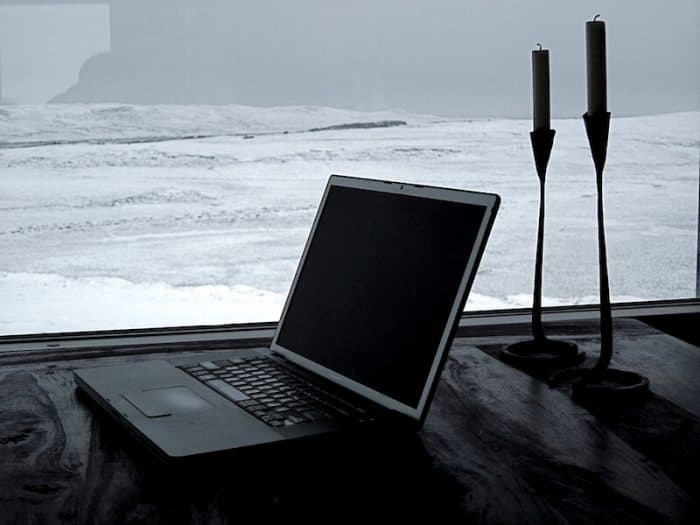 Source: Alan Levine
If winter is making you feel stuck in a rut, perhaps you're in need of a little creative restoration. Luckily, snow and cold seasonal weather is good for brainstorming and creative uses of time, indoors. Oftentimes, writers and artists come up with some of their best creations and ideas during cold-weather months—simply because the darkness is conducive to a range of emotions and turning inward.
During your extra time, think about the things that inspire you. If you're excited by the idea of climbing up a mountain, think of some content you could create for your site that might scratch that itch. The act of scaling a mountain is a potentially powerful metaphor for many goals. How can you tie your business into that idea, somehow? Finding a way to tie your passions into your day-to-day business can bring a sense of wonder into your daily grind, allowing you a bit more engagement than you might ordinarily find, upon arriving at the office.
There are some people, however, who manage to find a way to wrangle their passions into a business model. Take, for example, Ed and Tina Hoffman's business, Hoffman Books, based out of Columbus, Ohio. The Hoffmans sell rare, used, and out-of-print books—both in person and online. They have so many books that they have to keep much of them in storage units, just to be able to handle them all. In addition to selling their books out of a physical location, they also have a website—a veritable requirement, in this age of digital e-commerce and online sales. Ed Hoffman compares the sleuthing for new-old books to a treasure hunt; he clearly gets a lot of enjoyment from the endeavor of hunting down the most hard-to-find and unique books out there.
Perhaps this is one key to business success, then: keeping the playfulness factor intact, and making sure there is an element of fun in the day-to-day routine of running a small business. According to Intuit, happy people are more productive and build better teams because they enjoy their jobs and each other's company, to boot. Furthermore, many creative ideas that can be applied to business are originally found outside the office, so don't discount walking meetings or team outings to help jolt the brainstorming impetus among co-workers.
Marcel Schwantes offers up a few different ways to tap into what's called divergent thinking, which is another term for aptitude at creativity and problem solving, which apparently comes more easily if the brain's right temporal lobe is easily accessible. There are a number of creativity challenges like riddles and alternative uses tests that are supposed to test for divergent thinking. However, common habits like sleep and laughter also help, so be sure to get plenty of rest—perhaps after a light-hearted dinner with friends or a funny movie. Schwantes cites Mark Beeman's research that found twenty percent more puzzles were solved by students who had just watched a comedic movie or routine, as opposed to those who had watched scary or boring videos, beforehand.
There's something to this idea of having fun, as opposed to pure focus, in order to be productive. Try stepping away from the task at hand, for a while, to see if your subconscious was able to do any of the work, while you weren't thinking about it. If the answers still aren't quite there, after switching gears for a bit, take a cue from the websites of other organizations or campaigns that are in the same vein of what you're hoping to achieve. You might also try brainstorming with coworkers to see if the addition of multiple viewpoints and different ideas help stimulate brilliant breakthrough ideas. If none of those strategies work, try going for a walk or sleeping on it, to see if time helps generate some of the work in your brain's subconscious, while you're not looking.
One activity that is always potentially good for business is creating some content for your website blog. However, what if you don't know what to write about? To overcome writer's block, you could try walking around the block—as suggested before for other productivity roadblocks—or you might simply start freewriting. It may help to have a few important keywords handy, as you write, or look up your competitor's website and use their content as a jumping-off point to get you thinking about the kinds of topics you might explore, but differently, on your site.
After doing this, try timing yourself for twenty-five minutes to see what you come up with, and then take a five-minute break after every stretch of writing—otherwise known as the Pomodoro Technique, which has been shown to increase productivity. Another roadblock you may be encountering is the pressure to create material that is stunningly original, when you might be just as successful recycling a previous piece of writing and turning it into something new and different. Lastly, try switching up your writing location or medium; if you ordinarily compose your blog content from your office computer, try relocating to a café using pen and paper.
If creativity seems elusive, in your place of work, consider taking steps to cultivate a creative workplace culture: if you're on the management team, for example, encourage employees to question assumptions, take risks, do research, experiment, and explore a number of different ideas. Also, encouraging collaboration and fun among co-workers creates an environment ripe for creativity. Remember, also, to encourage dissent and a diversity of opinions and perspectives.
I'll end with the reminder that productivity comes in strange forms: sometimes the most surefire way to achieve a goal is via a circuitous route. You may not always expect to find the answer to your quandary while on a walk through the neighborhood park or while freewriting, but the best ideas often come to you while you're not actively seeking them out.
Have you stumbled across a business idea or content piece when you weren't expecting it? What are some of your favorite ways to tap into creativity, in the workplace? Share your thoughts in the comments section, below!