My mission in this lifetime is to be the conduit through which we create a new narrative among all peoples to ensure our future.  In doing so, as I invite you to that future, one YOU create and which honours every human being, we need to step away from the past completely.
This world pandemic has stopped everything we previously knew…and although extremely tragic maybe we needed a serious 'red card' call out by our overburdened earth planet.
If you believe we can reframe, start again, change our world, it begins with the thoughts we think and words we say, and values we hold dear, then join me in #magicalconversations. These are with honest emotions, no judgements; sharing experiences and listening, with no anger; and finally allowing the seeds of hope to grow new knowledge for how we live, the nature of social integrity, and the best economic ecosystems that bring abundance and balanced healthy living.
You may know my story, but let me remind you to know that I live in the USA, age 71 I was born in London UK, lived my life until 62 with no knowledge that I would meet my American Jim in 2011 in Budapest at a conference I didn't want to go to! Since then I married him in a Little White Chapel, Elvis walked me down the aisle!  We then encountered major health issues (his) which sent us into a tailspin and moved the boundaries due to immigration. We had to travel to find refuge from such, and this led to living and working in Malaysia for 4 years. Now USA 3 years and currently in Las Vegas, in lockdown COVID19 and unable to reach my family in the UK.  I have a green card, am free to travel and cannot. These experiences have given me rich fuel for pursuing my dream and my legacy; to ripple Magical Conversations that overcome division and fighting, and seed real synergy for all in#WorldHarmony.
Without YOU on zoom, my life would be unbearable, without my frequent presentations and group sessions onscreen, I would not be able to BREATHE LIFE into my message. I am passionate and totally devoted to my legacy to bring REAL SYNERGY into everyday existence.
Here I share my core passion however #itstimetoact. The next step is to WRITE the narrative, SPEAK the narrative, LIVE the narrative. It is not I who create the narrative.  I am the conduit, the servant to the followers, the guide to #ValuingDifferences.  I offer my service to humanity through my work on #GenderDynamicsIntelligence – and I will never stop until #worldharmony is measured in abundant goodwill among humanity.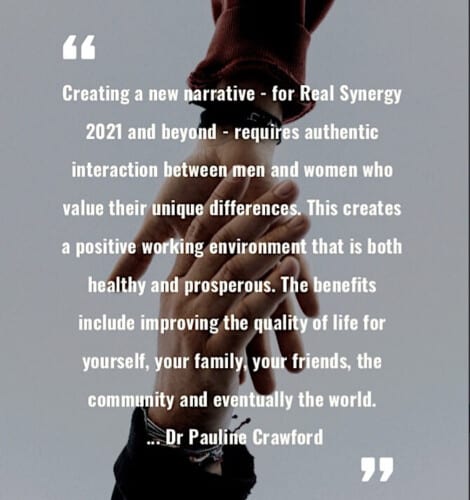 The Narrative must be created by YOU, owned by YOU, loved by YOU… it will take much compassion, trust, respect, gratitude, and fortitude. We need to LISTEN carefully, deeply, and thoroughly; SHARE wisely and with thought, and CARE for the growth we create together.
My parents were the best role model for REAL SYNERGY between male and female. Married in 1939, with a world war starting, my father was a gentleman, a "Philosopher" a thinking feeling man, a man who never raised his fist yet was highly respected by his peers and never doubted for his ability to lead…. my mother a "Magician", a strong-minded loving woman, bright and caring, sparkling with care for humanity and never walked over. Their balanced relationship marriage lasted 62 years until my father passed aged 91. The "give and take" between them, their synergy which I experienced in my childhood with them and adult life too, although lived in a traditional setting, was and is as refreshing today as then.
In honor of them and all relationships across all diverse factors, the masculine/feminine marriage of life and love, I pledge my mission to create a new narrative. Please join me.