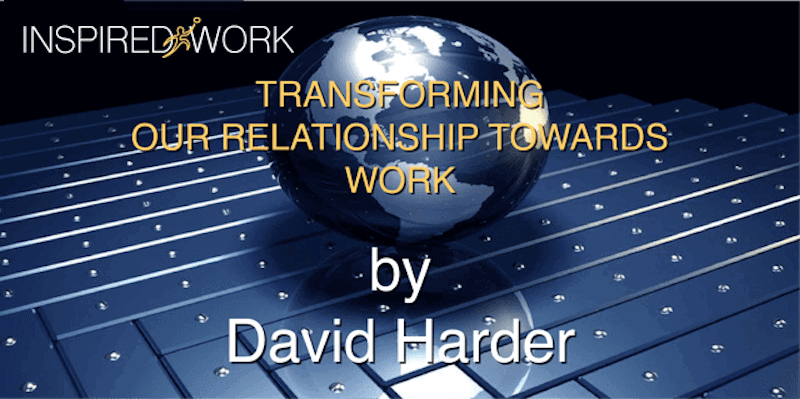 He is in his mid-forties, a passionate father of three beautiful girls and the sole breadwinner of a family he is utterly devoted to. When we met, Jackson Lynch was the chief human resource officer for a Fortune 1000 paper company in Washington. He had masterfully orchestrated and managed talent during several complicated mergers at leading organizations. His new employer was going to be a consolidator in a fragmented industry. Shortly after he joined, the business strategy changed. It was no longer the job he wanted. Now, he needed to find a new job in a one-industry town in the middle of nowhere.
We began our journey together in the Inspired Work Program. He made a great impression on everyone in the room; gregarious, good-looking, funny and whip smart intelligent, Jackson spoke at length about his father, a successful entrepreneur who was his greatest role model, a man with impeccable ethics and morals, a man who persisted no matter what. That characteristic was about to be tested.
Together, Jackson and I decided that his family had moved around too much. Ironically, geographic stability required they move one more time. We selected a variety of large metropolitan areas that were attractive to the family. With the temporal nature of human resources, especially for change agents, it would be important to relocate to an area with a variety of options. Soon, he was hired by a private equity firm to lead human resources for a recent acquisition in Houston. I worked with his team last fall. He had quickly assembled a group of sharp, tightly-knit leaders. But, the first CEO was shown the door at eighteen months and the new CEO brought in his own team.
Some of my colleagues had already voiced the belief that Jackson had outgrown the job. This time, he went into self-inquiry without letting survival dominate the design. He wanted to do work that would use everything he has, everything he's learned; work that would be personally meaningful to him. Mergers and acquisitions represent perhaps the most challenging area for any talent professional.
Organizations often suffer their biggest losses of critical talent during the transition. Crises often emerge around retention, liability, compensation and in particular, selecting the right CEO and team to transform the business and culture.
This past spring, we wrote his own business plan for 90consulting, a firm to help manage the chaos of the first 90 days after a transition in ownership or leadership. Jackson flew to Los Angeles to train around entrepreneurial needs such as sales, social networking, and presentation skills. Despite the fact that he was still responsible for the family, he made a commitment to go for it. He was as anxious about making sales calls as anyone I've met, but he did it anyway. He was as uncomfortable as anyone I've met around issues of economic uncertainty. He kept moving forward.
And then, just as he was launching 90consulting he was diagnosed with cancer. Through it all, I watched him take his girls to concerts and games. He got up early in the morning and plotted out his business for the day. We had many conversations about his options and I would hang up the phone and pray. I couldn't imagine what it felt like. But, I kept witnessing Jackson practicing courage at ever turn. You see, many of us try to stuff our fears about change and act like risks don't exist. In the act, we numb ourselves. Others succumb to the fear with paralysis. But, courage, that is the energy of getting up on that horse and suiting up for battle, even if we are scared witless.
Although he could have put off surgery for a few months, Jackson checked into the hospital and the cancer was removed. For a couple of months afterward, I would talk to Jackson as he forced himself to walk a couple of miles a day to hurry up his recovery. He kept promoting the business. Lest this story sound like Jackson Lynch is sacrificial, he wrote portions of his business plan on a cruise ship – alone. He traveled to the Rio Olympics to support his cousin who was participating. It was painful to climb the stairs to his seat but Jackson was soon publicizing his excitement and joy throughout social media. He traveled to New York on business and always made it to shows. He is literally the most well versed straight man I've ever met who can sing show tunes revel in Hamilton and stand in line for the newest and best shows. So, his courage isn't about martyrdom, it is about standing for the life he wants to have for himself and everyone around him. That takes the highest form of courage.
Late in the summer, Jackson Lynch was declared cancer free.
In the fall, Jackson secured his first big project. He spent two months helping an equity investment firm assess and plan for success with every aspect of their human capital. The CEO sent a note that the project exceeded all expectations with the final work: "Grateful." The project was exciting, challenging and used everything that he had.
Last month, he called from his car. He introduced me to his oldest daughter, who shared her passions enthusiastically. She knew what she wanted to become and was focused on making it happen after high school graduation this spring. Her optimism was contagious. I could hear the spirit of her grandfather coming through her voice because Jackson has that enthusiasm as well. Early this week, we talked about his journey. He said, "To get here required that I go through more discomfort than I ever experienced." I responded, "Jackson, what is 'here?'"
"For the first time, I am living the life I want to lead." To learn more about Jackson, visit 90consulting.
[message type="custom" width="100%" start_color="#F0F0F0 " end_color="#F0F0F0 " border="#BBBBBB" color="#333333″]
Coming this summer from David Harder, President of Inspired Work: The Workplace Engagement Solution (Career Press). Find a Common Mission, Vision and Purpose with All of Today's Employees.
[/message] [su_spacer]