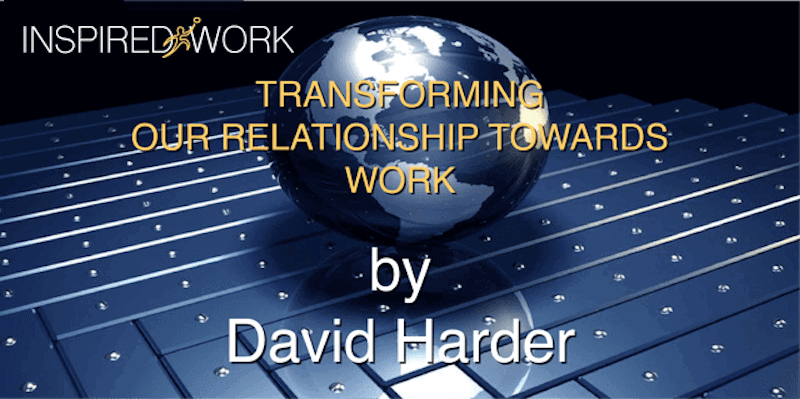 Every generation gets an event that tends to shape their thinking, outlook, and behavior. In my personal experience, the current events that we are encountering today cannot help but create a re-set in most of our lives. There will be a profound positive change in our culture. Sadly, we will pay terrible prices. A great portion of what happens is totally out of our control. And yet, we also have choices in how we take care of ourselves and the people around us.
The last generational event was the great recession of 2008. How many simply stopped what they were doing while workers struggled. Perhaps the single most destructive element of the recession is most of us became distracted from the accelerating change in our work. Many of us have been playing catch-up ever since. But, there is a vast difference between thinking about change and actually transforming our professional lives.
The great philosopher and behavioral scientist said, "The world's mental institutions are filled with creative thinkers." He made this point to clearly define the difference between creative thinking and real creativity. Creativity requires action. This mind-boggling event will cause some of us to simply check-out. For many of us, the real opportunity is to positively change our lives without swallowing our daily dose of frenzy.
During the last 30 years, over 45,000 people have participated in our Inspired Work Program. It is popular because it leads people to define the work or the role that is most in alignment with their unique career DNA. Our participants provide an ongoing graduate course to everyone at Inspired Work.All of us will not only have to change. This is the precious time to evaluate what we truly want out of life and to find the people who can help us get there.
Of course, there are obstacles!
Humans have been trained, since birth, to use five filters in order to kill personal change. The filters are cynicism, contempt, aimless, resignation, and frenzy.Just before the most significant event of this generation, many of us were struggling with the need to reinvent our relationship toward work. In an era where accelerating change is rapidly eliminating work, the good news is the work that is already here or coming towards us is more engaging, meaningful, and impactful on the world around us.
Why is this such a good time to do that?
We have more time. Most of our possible mentors, hiring managers, and prospective clients are experiencing life without frenzy for the first time. In terms of answering the question, "What do I most want to do with my life?" If you were not asking that question before, this is the time to get it answered. If you love your work and you are not making the money that you need, this is the ideal time to learn life skills and build a support system that will bring far greater life to our careers and businesses.
Before our global health crisis, our government was touting a 3.8% unemployment rate. While this was happening, almost half of America's workers were characterizing themselves as "underemployed." These are the individuals who hold 2-3 jobs just to meet the economic needs of their families. Others are holding onto jobs that were obsolete years ago but they are simply too afraid or ill-informed on how to make their relationship towards work improve.
The best way to unlearn is to see the shortcomings and obsolete beliefs.
Most of the underemployed are having grave difficulties dealing with change. In the 70s, Alvin Toffler predicted that by the turn of the century, accelerating technology would bring about rapidly growing change until people would reach a state of Future Shock. It is a syndrome where people become paralyzed trying to keep up rather than finding how change can be used to transform our lives. Toffler said we would have to learn, unlearn, and relearn in dramatically short periods of time. The best way to unlearn is to see the shortcomings and obsolete beliefs. The journey doesn't to be filled with drama at all. In fact, when someone realizes that cynicism is one of the quickest ways to avoid or kill change, that block loses its power.
Do Not Surrender One Aspect of Your Success to a Political Leader
One of the greatest challenges in America is that our Presidents from both parties are not telling us what to do. The last American President that gave personal directions to our citizens was John F. Kennedy. During his short term in office, he inspired many of our citizens to participate in the destiny of our country. Right after JFK's passing, the advertising industry sold our politicians an entirely new campaign process. Instead of looking at what people needed, they brought people together and asked what they wanted.
Today, that process has grown into a metastasizing beast. Instead of directives, politicians make promises they cannot keep. At the very time that we need guidance, they center their energy on giving us hope. In this world, the betterment of our people is replaced with doing whatever it takes to get our vote. The dysfunctional dance of selling a vote and not taking care of the voter is drastically undermining our global strength.
Countries such as Germany, China, and Japan are urgently growing the strength of their workers. The countries established partnerships between employers, government, and educational institutions. Workers are constantly being educated for the next big thing. Even the foreign automobile executives look at us with a bit of shock. When our workers become obsolete, they are kicked to the curb. Some of our politicians call their practices an example of "socialism." I call it good business.
So, as we sit it out at home, the stakes for developing a new mindset to succeed in the modern workplace could not be bigger or more urgent.
The challenge to reinvent our careers isn't limited to blue-collar workers. Every industry is encountering existential crisis by not throwing out the very beliefs that must be unlearned.
I met with an associate attorney who works in one of the nation's largest law firms. He has disliked his work for quite some time. Now, the writing is on the wall. In the last year, several hundred associates have been sent home. He asked if he ought to go back to school and find a different career. I asked, "Why do you want to go back to school?" His response, "I want to be competitive." I asked, "What is the one thing that separates you from the partner sitting in that corner office?" "I know where you are headed. I am not a salesperson."Unfortunately, he was selling himself the notion that it would be preferable to go back to school, incur more debt, rather than learning how to connect with others.
Going back to school? Wherever we land, they are not going to teach us sales, presentation skills, wealth, interview skills, how to influence others, and certainly not becoming gifted in asking for help. The new world of work isn't hiring people who are trying to mimic robots. Entrepreneurism is rapidly shifting from making money by getting money from people to becoming billionaires by helping a billion people. The practice isn't limited to young people at all. One of the founders of LegalZoom is Robert Shapiro. Yes, that one. At the age of 77, Mr. Shapiro is generating far more wealth than when he represented OJ Simpson.
Change isn't going to slow down. Change is blasting us forward. We can stand at the end of a long line into Space Mountain, hear the screams inside and decide to go to the submarine ride.
We will never get on the ride if we hide and we will get to that place of launching our new lives if we wait to become more comfortable, perhaps even fearless.
I'm reminded of a woman I met several years ago. At the time, we lived in the same neighborhood at the beach. She was married to a terrifying and abusive husband. Every morning, she would get the kids off to school, lock her bedroom door, and open her laptop. She was so driven to change her life that she built one of the most highly recognized public relations firms that serve luxury brands. She did not go into that bedroom to escape. She chose to go in there and set herself free.
Ah, Change is also changing the world of higher education.
Once again, our political leaders want to make promises that they cannot keep. Many are demonizing the "exploitation" families and students by the cabal between finance and education. Once again, the model is immoral because it is designed to create rage rather than truth. Accelerating change will make many hugely expensive campuses look like the malls of today. The academics are very good at research and their findings include the fact that today's average college graduates will change careers, not jobs, four to six times.