The flyer felt affronted upon being corrected by a lowly staff member, put others and his own self in jeopardy by being careless on the tarmac, slapped and shoved the Airline staff only to get pinned down by the ill trained handlers, told them to FO and then went on to divide the society along the class lines.
We all sat on judgment in our Social Media gravatars, pronouncing punishments, seeking for heads to roll, tsk-tsking about what the world had come to be. Some of us, in class affinity with Katyal, felt we could be next to face such rowdy ruthless treatment by an Airline, despite no fault of ours. After all, we from certain strata of society have the privilege of throwing an expletive on those below us or treating them as s*** and getting away with our ways because you know, as the saying goes in Delhi and large parts of North India, "Do you know who I am?"
Only a really tiny percentage of sensible, educated people who couldn't care less about TRPs and a populist vote spoke about how wrong Katyal was in standing close to a Plane's wing and in throwing a tantrum on the tarmac – something that could have brought in grave tragedy which is what the unfortunately boorish staff was more maniacal about, to begin with. Eventually, after the identified slacker and instigator from the Airline staff was terminated and the Indigo honcho gave an apology, the dust settled over our Social media universe and peace returned to our personal worlds till the time we were ready for the next virtual battle.
Another Hotel friend tells me how guests threaten to write a bad review on Social Media to wangle a discount or an additional service or even a complimentary stay. There are Zomato stories of low ratings to get a free pizza or a meal comped off. Earlier the customer was considered king, but with the opportunity of being seen and heard on social media he is threatening to be the Emperor Royal, demanding his word to be the last. Having said that, Social media and its role in offering redressal is a boon in cases of App-based businesses that run on and through social media. Hotel and restaurant booking sites, transportation companies like Ola and Uber come to mind.
Still, success is not easy to beget. The resident enfant terrible cum niece uses the two cab services for her daily commute to work and comes back with strangely harrowing tales of how unresponsive, careless and untrained the Ola or Uber support hubs or Twitter handle managers or backhand Navigating teams are. They will stubbornly not respond to even genuine complaints, if they do come back then it is with the standard, silly, scripted response that may have no bearing to the complaint and when they do offer a quick fix, it is so ludicrously paltry and inconsequentially unapologetic that it puts off the customer even more.
But given all the parameters, Social media is still one hell of a great tool to draw attention to issues and causes and get solution for them. Swapan Seth, an owner of an Advertising Agency was exasperated with Urban Ladder – the online Furniture company. He unsubscribed himself unsuccessfully about 17 times from their mailing list but the plight of spamming continued. He then took to Twitter to send an acerbic message, in English and in Swahili to drive the sarcasm home, asking them to get their act together. He got a response almost immediately promising him action.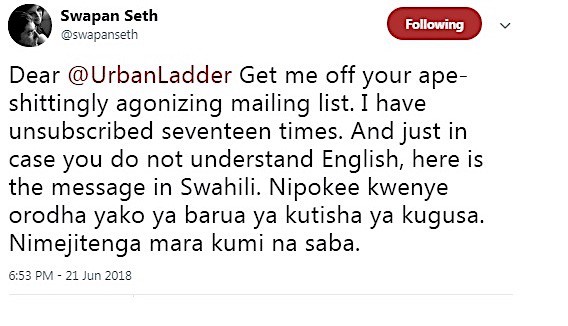 In another case, a friend has sought out help with Hitachi's poor service and mashed up job, by putting up her grievance on Facebook. Help in terms of advice, contact names and numbers are pouring in from real and virtual pals.
A journalist friend opined that with consumers running to the Social media to complain in a free-wheeling manner – both in the right and wrong instances – it would cause a lot of public-shaming for the brands. Professional Outfits such as ReviewPro are offering tutorials to companies on how to handle negative reviews and productively manage their online ratings and reputation. And rightly so!
Yet, in a laughably landmark episode in 2014, the Blackpool, UK based Broadway Hotel charged Tony and Jan Jenkinson, a TripAdvisor reviewing couple from Cumbria £100 as fine for the bad review. Apparently the hotel had a printed policy on the matter, which it flashed to the guests as a diktat. While the fine was later refunded, I think, a precedent, however preposterous it may sound now, has been set. Read more about the Blackpool case [ here ]
In another example, and as a nightmare to what ReviewPro exhorts, Paul Chatwin, the owner of Royal Clarence Hotel in Burnham-on-Sea, a 3 star establishment in Somerset, has taken to responding to each bad review on TripAdvisor with his characteristically hilarious rude replies. In a surprise move, the guests who like his hotel – and it is a higher percentage than those who do not – commend his honesty and find it an appreciable trait. Still, as a brand owner doing a Chatwin on your detractors is only for the brave hearts who can take it on the chin each time. But I would not recommend it at all as a normal practice. Read about Paul Chatwin's rude replies [ here ]
Social media excesses of a consumer cannot be dealt with in a similar manner. At least one party must be more mature, meditated, calm and collected, and judicious in its approach. And more often than not, that must be the brand and the brand owner.
Himmat Anand, the Founder of the handpicked jewel-like Tree of Life Resorts & Hotels, puts it very succinctly when he says, "What we see happening today is only the beginning of the use / misuse of social media. Traditional platforms like TripAdvisor will have to change their model soon or face extinction because every traveller considers himself/herself an expert and unlike earlier, has multiple platforms to express his appreciation or frustration. The good thing is that with an explosion of posts and opinions, memory is short. What a guest writes today is forgotten tomorrow. So unless a hotel messes up day after day, I doubt that the occasional negative post has any major impact on brand positioning."
While majoring in Psychology, we were taught how Power, Leadership and Control were the three bases on which every kind of human behaviour rested and sprung from. With Social media platforms available to us to voice out, put our asked for or unsolicited opinion on, rant at large; we feel a sense of unmitigated power and unhinged control over things that effect us or even those that are of no concern but we must still jump in with our two cents. Somewhere down the line, we are losing the grip on equivalence and justness. But you know what; we are painting a Dirty Picture for ourselves. As not just consumer of brands but of society at large, we are messing it up in real and on Social media.
The most recent incident involving Film Actor Anushka Sharma and Indian Cricketer Virat Kohli shaming an affluent bloke travelling in a luxury sedan yet shamelessly littering the Mumbai streets is a sharp case in point. To add insult to injury, the unrepentant, brazen fella calls the star and the cricketer ugly names when pulled up publicly for his uncouth act. He then, even more outrageously, goes out to play an uglier match on the Social media. The Anushka Sharma and the Littering Lout Social Media Wrangle
And that is us today, in a nutshell. The war is on. Go check your Social media feeds!