This book, Conflict without Casualties, has arrived at just the right time. Do you see conflict 'out there'? It's everywhere. Now, do you see the results of conflict? Tell me there are few casualties. From simple spats to rage fueled reactions, conflict breeds casualties. Conflicts cause suffering. Conflicts produce wounds. Conflicts and Casualties are bonded together … unless … we try new strategies.
Nate Regier, author of this book Conflict without Casualties has the formula and guidance for turning conflict around so instead of conflict the result is compassionate accountability. Dan Pink, author of the book A Whole New Mind says this. "Conflict without Casualties fills a gap showing how to leverage positive conflict. Practical, insightful, challenging, relevant."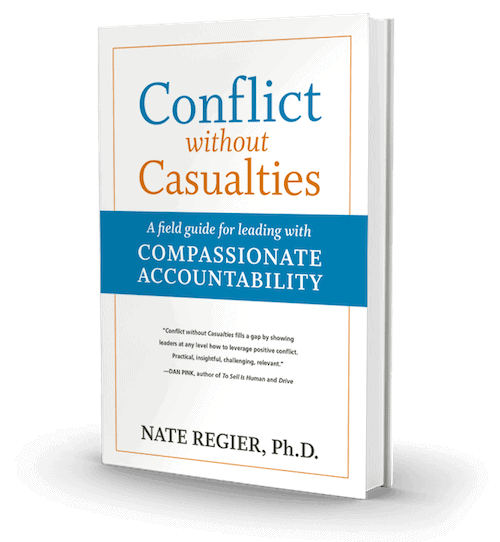 Using the organizations Drama Corp and Compassion Corp, Regier presents stories, object lessons, and case studies, told through the realistic life-size experiences of employees. Highly educated in clinical psychology and having been a practicing psychologist, Nate Regier presents tested and proven methods of dealing with drama, using conflict to effect positive outcomes. He does this through practical and powerful communication that transforms the negative energy of conflict into positive energy of compassionate accountability.
Regier gives us the foundation of compassionate accountability in three Compassion Skills and practicable strategies. From these skills, we are witness to the Compassion Cycle and its impact in various scenarios that we can all identify with. Regier calls it by its authentic name – drama. Haven't we all been a participant in drama on some level? Victim? Persecutor? Rescuer? Having no background at all in psychology or the study of human behavior, I was both intrigued and awed by the examples of behaviors and how they played out in so many of the experiences I've seen in my own life. I found myself wondering where this book was when I needed it ten or twenty years ago. Having read the book, I can see how the Compassion Cycle leads to transformation of outcomes from negative to positive through these strategies.
At a high level, let me describe the powerful context of what you will learn when you read the whole book. The three Compassion Skills are: Openness Resourcefulness, Persistence – Remember that these three things are used in continuous movement. Start at Openness – and you will keep returning to Openness because as the term implies communication must remain Open.
Openness reveals true motives, affirms the value of individuals, engages empathy, reduces defensiveness, supports emotional, physical, and psychological safety. To be Open implies vulnerability, but with these other factors playing into that vulnerability. To be Open is to be courageous and let others in.
Resourcefulness. Don't we all want to be known as resourceful? Well, yes, but being resourceful without boundaries causes conflict. Why is that? Resourceful people tend to have all the answers and want to fix everything. Instead, the purpose of resourcefulness is to understand the situation, figure out options, and engage a collaborative effort to solve the dilemma.
Persistence. Let me just say that this one was the hardest skill to understand, yet was possibly the most important for me. We are so conditioned to persist in our efforts, not give up, keep trying until we get it right. All that is true and it's good to be persistent until we tune out the input of others, don't listen to advice, forget there are other options to consider and in so doing, create all that negative drama we are trying to avoid. We all agree that persistence has its place – but in transforming conflict to compassionate accountability we must keep returning to Openness. Openness creates and it considers others, considers ideas, keeps touch with relationship building.
The key to turning Conflict from Casualties to Conflict with Compassionate Accountability is digging into the steps documented and shared throughout this book, Conflict without Casualties. The principals are explained in such profound detail in the first chapters of the book, there is no mistaking the validity of how the components of the Compassion Cycle intersect to produce positive outcomes where there is immense potential for struggles, clashes, disagreements, and scars. The second half of the book is all about using the formula to successfully manage the 'dance between drama and compassion'. In case study after story after dialog, Nate Regier takes a deep dive into how all the moving parts work together to build an environment of transformative communication.
I don't know about you, but I'm content to let Hollywood keep all the drama, thank you. I prefer to live without the drama, without broken communication, and without casualties. This book teaches us all how to do that.