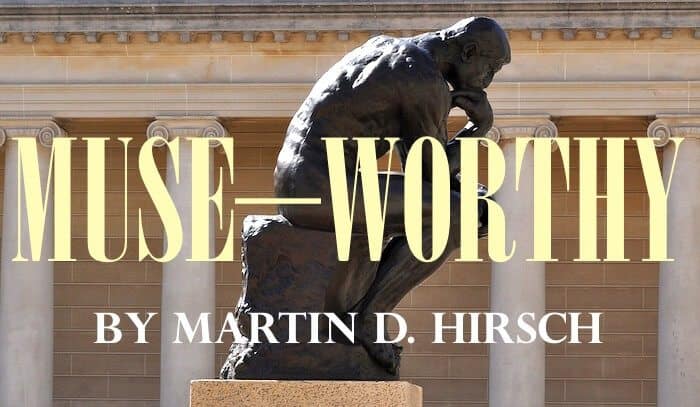 I've always teased the ones I love. Especially the women in my life: my grandmother, my mom, my wife. I can't recall anyone ever teaching me to do it. It came naturally. Like when I was really little – maybe only 7 or so – it was easy to get a rise out of my orthodox Jewish grandma, who kept a rigorously kosher home and treated any transgression as a mortal sin.
"Guess what my mom's making us for dinner tonight," I'd say to her, as she sat in her plastic beach chair in the shade under the maple tree on our chicken farm. "Vuss, tell me," she'd say in her Yiddish accent. "Well, we'll have a nice shrimp cocktail for starters, and then, my mom's making a yummy baked ham. Doesn't that sound good, grandma?"
"Sha!" she'd scream (Be quiet! in Yiddish). Her eyes would grow wide and her brows would raise and she'd get a look on her face like the heavens were gonna crash down on us like an evil avalanche and crush the world. I loved it!
The Child Is Father of the Man
That gave me an opening and I went for it.
The propensity followed me to adulthood. Once, my 80-year-old mom called from her home in Florida not long after returning from a visit with my wife and me while we were living as ex-pats in Switzerland. We had taken her hiking in the Alps, where she'd gotten a glimpse of agrarian life in the mountain villages of the Jungfrau. That gave me an opening and I went for it. As we were talking, I made some moo-ing noises with this little drum-shaped trinket I'd bought as a souvenir when we were up there; when you turned it upside-down and then back upright, it made a sound exactly like the Swiss calves we'd encountered on the mountainside in Grindelwald.
"What's that sound?" my mom asked. "Oh, that," I said. "Remember when we were hiking in the mountains and we saw all those cows and little calves grazing on the hillside? Well, the last time we went up there they were in the middle of a terrible drought and somehow the water supply for the cattle had gotten contaminated with some sort of toxic chemical. So the public officials were asking tourists if they could bring the calves home and take care of them, or else they'd die. So we have one living on our balcony."
She didn't sound totally convinced, so I made the calf sound again, and that sold it. I had to use all my strength to muffle the convulsive laughter erupting inside me. But then my wife grabbed the phone and came clean.
You Always Hurt the Ones You Love
Which brings me to my wife. Another easy mark.
She was born in Taiwan and came to the U.S. when she was 19. She was studying for her citizenship at around the time we were getting serious. Nothing was more important to her. One time when my graduate school mentor, whom she adored, took us on a ride to West Point, I recall sitting under a tree with her and quizzing her on the 13 original states, the Bill of Rights, checks and balances, etc.
When the moment of truth came, she passed the test with flying colors, and the invitation to the citizenship ceremony arrived in the mail soon afterward.
This was going to be a complicated prank requiring more than just my own initiative. I enlisted my boss's assistant, Sandy, as my partner in crime. With her cooperation, I'd trick my wife into believing that there was a glitch in her citizenship process. Overruling her better judgment in favor of my zest for a good laugh at my wife's expense, Sandy reluctantly but brilliantly complied, giving an Oscar-worthy performance.
That evening, when I got home from work and my wife walked in from her law office, I watched her check the phone messages and get to the one from Sandy. I knew it word for word because I'd written the script: "This is Linda Scott of the U.S. Immigration and Naturalization Service calling for Miss Lisa Lu. I'm sorry to inform you that we've encountered an administrative irregularity in your citizenship application and we'll need to resolve it before finalizing your citizenship. We, unfortunately, have to cancel the invitation you received to the citizenship ceremony until we're able to resolve this matter. Someone will follow up shortly to schedule an appointment to review the situation with us at our Manhattan office. We sincerely regret this inconvenience and will be back to you soon. Goodbye for now."
Did you ever press send on a misguided email before you should have and then panicked when you couldn't recall it? That's how I felt watching my wife's reaction. It was bad. I hadn't seen such fury in someone's eyes since my grandmother's unholy dinner menu melt-down. If anything, this was worse. This time I could actually feel fragments of the heavens crashing down like an avalanche of retribution, but they weren't crushing the world; they were crushing me.
I was finding it hard to breathe and swallow and my mind raced feverishly, frantically searching for a way out.
"They picked the wrong person to mess with!" my wife said. "Their incompetence is gonna cost them. I'm gonna make sure that the woman who called me and everyone associated with her regrets what they've done."
"You sound pretty angry," I said. "But maybe your anger is misplaced."
I could see the wheels in her head-turning. The voice on the phone: Was it authentic, or was it a set-up? Could this be? No. But wait.
"What do you mean my anger is misplaced?" my wife asked. As soon as she saw the sheepish look on my face she knew.
Boy, did she give it to me. It took me a long time to live that one down.
But her citizenship ceremony was beautiful and every bit as moving as you'd imagine. An august exercise in seriousness, sincerity, maturity, civic responsibility, and the highest human values. Exactly the opposite of my foolish, childish shenanigans.
Postscript
As my wife and I toasted with a fine St. Emillion after the ceremony —she having thankfully forgiven me after a period of justified, angry silence —I made a vow to myself to be forever grateful for having gotten through this imprudent prank alive, and to never tease my wife again.
Really? You believe that?
After laying low for a few months, I went back to my old tricks. I'd tell you more, but my wife will be back soon, and I'm working on a great one. I can't wait to see the look on her face!