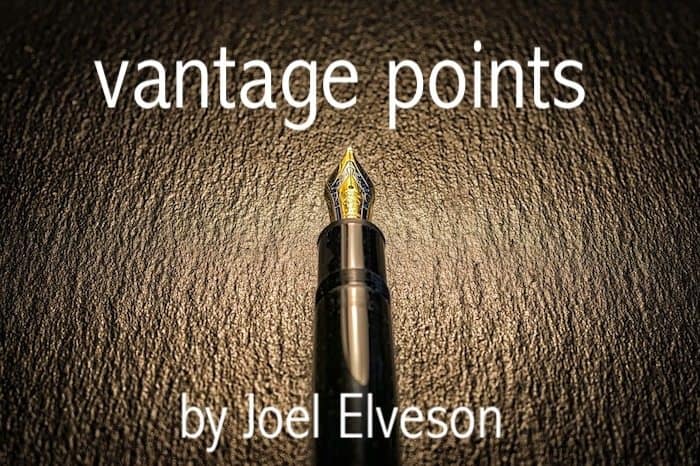 And they'd sing

Dance a little closer to me

Hey, dance a little closer now

Dance a little closer tonight

Dance a little closer to me

Hey, it's closing time

And love's on sale

Tonight at this five and dime.

—Love At The Five And Dime, Nanci Griffith
One day back in February in an article entitled "I Don't Know" I tuned out the lights in mind that lit the path for my words to travel on. Although it wasn't crystal clear due in part to my indecisiveness as to what I wanted or was going to do in essence I said goodbye. I knew my days as a writer were done. My final bow was taken. All that was left was to do was pack up my bags and go. And so I went. An e-mail was all it took to shuttle me back to the days of fee percentages, payment terms, candidates, prep sessions and placements Yes, I was a recruiter again. In truth, the "bug" had bitten me before that and it wasn't long after that it became apparent this was who I am, was, and would always be. Then came the "virus."
On cue but without a clue as to why my mind began to write again. No small amount of this was due to the deluge of love so many of you sent urging me to come back. Save for an encore once the show is over it's over! So here I am more than slightly embarrassed as I can't help feeling that this is filler. Truth be told I don't know if I am back or even if I deserve to be back. If the time comes when a message of I need you should find its way to me I will respond in the affirmative. In the recruiting industry jargon, this is called "yes I will work on this job order." Please do not feel that I am using you as that is not the case. You found your way into my soul. I will never forget you. But for now, here I am back from where I came. You can go home again but the chain must come off the door to allow me to wipe the grit, mud, and grime from the bottom of my shoes and tiptoe into your living room.
Riders on the storm

Riders on the storm

Into this house we're born

Into this world we're thrown

Like a dog without a bone, an actor out on loan

Riders on the storm…

–Riders On The Storm, The Doors
Gaze into the heavens where the clarity is hidden in the clouds. Try as it may the sun will never burst through the sky. Who is to live and who is to die? It's not my call. It's not my decision at all. I like you can only sit and wonder why. What is real and what is an illusion. When it is time it will be revealed. It will be then we shall see what is now is what was way back then when after standing at the foot of the mountain we gave back the gift we were given. For the lack of feeling love as it all disappeared. In disgust, the words carved into the stones we were to cherished were smashed and crumbled and so we were crushed and broken.
Do we carry on or secede from life as death takes hold of what was once life? Life laid to ruin from what we cannot see yet thrives within us. The rivers of blood that run through our veins soon will cease to flow. A most formidable foe has taken so many has come for more than just flesh. The very essence of a being is systematically being taken away. Here we sit at ringside waiting for the referee to ring the bell signaling the end of the bout. Who among us will stand with hands held high signifying victory over defeat?
So where with my trembling boney fingers do I take you now? What is it now you would like me to say to you? Are there pearls of wisdom you wish me to offer? Put your ears to the ground while casting your wandering eyes towards the sky. Turn your head the other way around to see what you've heard. Tell me now is it true that somebody who speaks the truth or knows of truth has spoken or is it just a mournful cry from a man frightened from fear. I am not your leader nor do I represent myself as such but know this I will not follow you or bend to your will. For wherever it is I must be or was already it shall be perhaps my final stop where I will rest my wandering.
There is something in essence unnatural unfolding before you while you fixate on every word I type which is to say I am not in sync with what I am saying. These words need somebody to tell them what they mean if they mean anything at all. I need to know if what I am saying or clawing at the air with nails bitten down to the bare to say holds something for you that I as the writer am not aware of. I know of no lines that need to be read between the lines in order to be understood. In order for you to feel as I feel even if what I feel is not what you have ever felt before I must still tell you. You know I don't like to be known even though you have come to know me despite me not always knowing who I am when I was me way back then. I am different in many more ways than I am the same. Try to understand me even if I hold you close by keeping you afar.
Now as I glance down towards the lower right-hand corner of my computer screen I notice the time is 3:30 am. I think back just a few simple weeks ago when this was the time my day would end for the night as a new day had taken over. Yet here on this 22nd of March in the year 2020 all life as I knew it has changed as it has for so many. There were those who have died or about to die. Our engines must throttle down to pause. I can't help but wonder what sense there is to make I there is any to be made from all of this. Is it unreasonable to wonder if this is the beginning of the end of the world or just the final scene from one of those conspiracy movies that promote the production of fear, hate, and doubt?
Perhaps it is best not to call further attention to myself as my protective shell has been ripped away leaving me exposed and vulnerable. It is disconcerting to feel calm in the midst of a four-alarm fire. A radioactive leak in the form of a virus whose name brings to mind a section of Queens, NY I never felt safe in has stolen from me as it has from you. The more it steals the more it needs to steal so it can have it all. From me, it took Marc away. When it took Marc so too it took ZipRecruiter, a new marketing system for recruiters like me, networking, referrals, job postings while rendering the website that I created useless.
There is a man the likes of which I never knew. That man for no other reason but caring wanted so much for me to do this again. He pushed and pursued me unrelentingly. Even after I thought I had finally convinced him there was no turning back he got me to come back. I never understood why it was so important to him that I write again. Afterall so many new members of the elite society of writers came on board. Grudgingly I would comment on their posts but at least I felt they negated the need (not that there was necessarily a need) for me. And the world crashed around me. Marc is no longer a part of me as he had been for so long now. In the aftermath of this selfish rant, I remember this one man. This man grabbed me by the brain setting it in motion again. This special amazing man is Bharat Mathur. It is for Bharat Mathur I dedicate this effort to. Thank you, Bharat!
For those who are exploring the possibility Marc was a love interest you were not aware of or that I started to have feelings for those who are the same gender as me, I can assure you that is not the case. It was Marc who brought me away from you. So who is Marc? Marc is a recruiter's dream. He gives me job orders to fill, hires people from me, pays me on time every time then gives me more job orders to work on. There is no shortage of recruiters out here but Marc has never worked with one like me and I have never had a client like him. I leave you with this question: If it came down to a choice with everything being equal between Marc or Bharat which way would I go. It feels great to be with you again. Bharat made this happen. As for Marc, I suspect he and I will not need to be in contact for a while.
Sundown, yellow moon

I replay the past

I know every scene by heart

They all went by so fast.

–If You See Her, Say Hello, Bob Dylan