What lies behind us and what lies before us are small matters compared to what lies within us. And when we bring what is within us out into the world, miracles happen.

–Henry Stanley Haskins
In the African country of Zimbabwe, war trauma and high unemployment can leave people in despair—until they find hope on a "friendship bench." A Friendship Bench is quite literally a park bench — with a higher calling. Hopeless people can go there to talk with trained "grandmothers" —elderly women taught to listen to people struggling with depression, known in that nation's Shona language as kufungisisa, or "thinking too much." The Friendship Bench Project is spreading across the world, including Zanzibar, London, and New York City, as a safe place to listen and to be heard.
We Invite You to Take A Seat on Our New Bench
In times of chaos & uncertainty and even in times of peace & tranquility, we're simply better together. Which is why 360° Nation and HumansFirst have joined forces to construct a virtual friendship bench "for good". A bench where people are bound together by choice, founded upon a universal good-faith commitment to listen, understand, respect, empathize with, and support one another. A place for giving and receiving without judgment.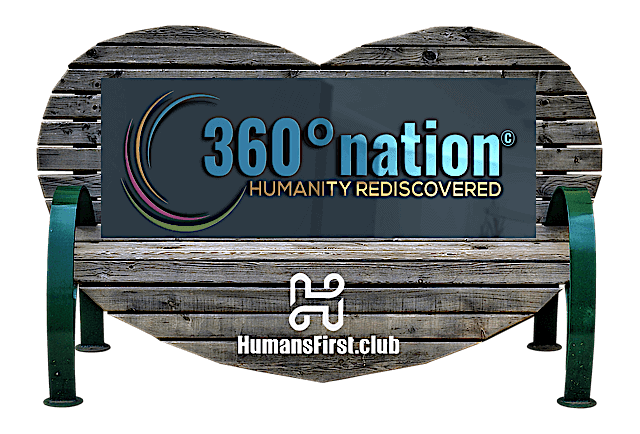 Challenging times such as these call for more human connection – not less. Across the globe, people are searching for hope, recovery, and a brighter future. Of course, it will take time. But no matter how isolated we may feel, we are not alone in our desire for a safe place to connect, listen, and be heard. And that's what our bench is all about. It's for anyone and everyone seeking the comfort of unconditional belonging, sharing, listening, engaging and supporting. The kind of space that's simply hard to find these days, but priceless when discovered. … Take a moment to listen to Mike Vacanti's message below ⤵︎
Join Our Worldwide Gathering
Let's come together as a global community —moving from chaos to clarity as we share positive perspectives on the upside-down world around us. Real people. Real discussion. Positively inspiring.
We take our seats on the Bench every Thursday at NOON Eastern. No Agenda. No Presentations. No Promos or Sales Pitches. Just good people gathered for inspired conversation. Drop by and stay for the hour or just long enough to see old friends and meet new friends —because we're better together.
CLICK NOW TO RESERVE YOUR SEAT ON OUR FRIENDSHIP BENCH BENCH
Rich, adult conversations. Thoughtful engagement. Real relationships. Humanity at its very best.