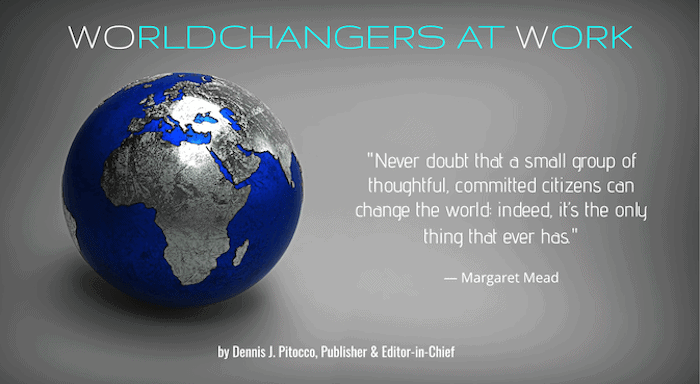 As Publisher and Editor-in-Chief of this global media platform, I was delighted to have the opportunity not long ago to get acquainted with Alan Chorun, Director & President of Young Vision Africa, founded upon a mission to provide education, employment, healthcare, and homes for youth, children and families in Sierra Leone. Sit back and enjoy our "WOW" Interview below …
We'd like to hear about your professional journey before launching Young Vision Africa.
I began my career teaching music in Catholic Schools, directing choirs and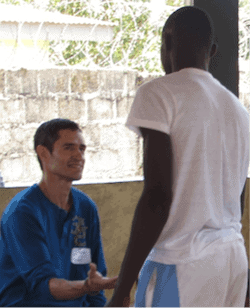 whole school services that emphasized enthusiasm, full participation, and emotion. At the same time, I led youth groups in local churches. After a few years, this dovetailed into a project I envisioned to bring meaning and passion to middle schoolers who were apathetic or jaded. The project was a partnership with a priest I'd met from West Virginia. He agreed to host the graduating class of my school so that I could lead them and many of their parents in a week of home repair for elderly people in isolated spots around Oak Hill, West Virginia. That was unheard of at the time for Catholic kids that young and I was told it could never happen in that upper-middle-class private school. But I had no doubts about it, everything fell into place and I was headed off to Appalachia with kids (and some parents) who would've never imagined doing such a thing.
At the high point, we were taking about 40 kids down and accompanying social workers etc., to learn as much as we could about the very different experience in rural Appalachia.
It didn't take long for positive confirmation. On the second night, I knew we got it right when one of the kids said that he would never forget this trip for the rest of his life because he knew he was really helping these people. With a crew of early teens, we were also having a lot of fun, in the midst of serious work. That one trip led to several years of trips that continued even after I left the school (I put it in the hands of some of the parents). At the high point, we were taking about 40 kids down and accompanying social workers etc., to learn as much as we could about the very different experience in rural Appalachia. Concurrently, I had started to take mostly solo trips to the Cheyenne River Reservation in South Dakota. I volunteered in kids' camps and took in the heritage and culture of a very close-knit community in somewhat of an impossible situation. Extremely meager opportunity with just enough welfare to survive made for a type of ghetto where the isolation was made plain by the miles and miles that separated them from the nearest town.
Experiencing another type of ghetto, I taught 5 years in the inner city, dealing with kids whose lives were restricted by lack of attention (parents working three jobs) and the danger of the streets they lived on.
Starting basketball teams, clubs and activities in places that needed them much more desperately than the suburbs I used to work in, led to some great experiences for me and the students. So many of those kids were so full of life, so smart, but with so many things that they would have to overcome in their future. Wanting to do more and finally answering the call to ministry, I became an assistant pastor and music director, seeing outstanding and often exponential growth in the two churches I worked in. But meanwhile, I had already answered a calling from Africa, visiting Sierra Leone as a wandering volunteer who had to break the rules of the safety-first western volunteer culture, to go and spend time with the local people themselves, outside the barbed wire compound. And there, I saw both resilience and a need that is unseen in America. I solidified my commitment (and connection to communities there) with two visits during the Ebola crisis. By then YVA was already established and our work was well underway.
Tell us more about Young Vision Africa and the inspiration behind it.
YVA started purely to relieve widows and children who were wet, cold, sick and dying from torrential rain falling through their worn-down thatched roofs. In the wake of the Blood Diamond war that had come within inches of obliterating their whole society and culture, we were reaching out to innocent people who were suffering in many ways. After I visited the village myself, we would do additional relief work including fixing their only well (several times), constructing four more homes and building a birth-oriented, solar-powered medical center that saved many lives in the Ebola epidemic. We've given a number of microloans for farms and small vendors and employed completely local labor in all our projects, giving a boost to employment and skill development in the area. But none of this is our main focus.
Since my goal is always to see youth change their environment, I had a dual purpose of helping the ones suffering but also allowing teenage war orphans to do good for those around them.
The construction of our first four homes was triggered by the simple request of a rescued war orphan who had seen for the first time, the need of his old village. Since my goal is always to see youth change their environment, I had a dual purpose of helping the ones suffering but also allowing teenage war orphans to do good for those around them. I had helped people around the orphanage see that they could reach out further than just protecting the children there. For instance, I got a lot of attention by leaving the orphanage back to the capital on the back of a motorbike. It was an all-day trip, middle of the rainy season and of course, the road wasn't all paved. But it was a statement about Sierra Leone itself and the level of safety and trust that I had in it. In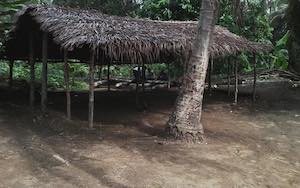 Sierra Leone, like America, there are many things that are possible that people just don't try. So when I first asked my volunteers to head all the way out to the village to scout it out, it was the kind of venture they knew I would do myself. We got serious construction going, pushing through stranded trucks etc., and then went even further when I persuaded the orphanage to let me take about ten of the teens there to reach out to the illiterate children of the village. I brought these teens to where most had never been, closer to their tribal ancestral heritage, to see poverty they hadn't even seen and do something about it, at least for a few days. After having a great time in what was a significant cultural exchange, I was given a point-blank challenge by one of the orphan youth.
Young Vision Africa has always been about the vision of young Africans.
As we debriefed back in the comfort of the orphanage, Ishmael said to me, "You know, nothing will change in that village until you send some of those kids to school." And so, our real focus began. Starting off with the sponsoring of five students from the village to middle school, we began our foray into literacy and leadership that would eventually lead us to save a closing school, found our own school right in the village, and intimately sponsor over 15 students in different areas of the country. Meanwhile, we employed (both part time and full time) several of the original orphans who were now becoming young adults.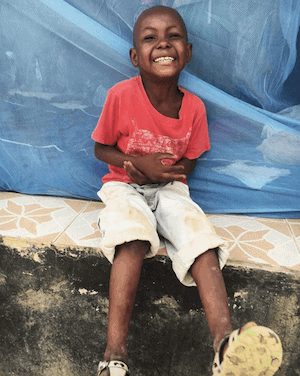 In the village, we've brought a sea of change in their awareness that women can be independent. Since we started our work there, we've brought two full-time nurses, two full-time female teachers, and a female pastor. This was quite a change from the universal pregnant mother role that women there played. But it was the little girls in our school that really opened their eyes. Our female teachers were hired because the village elders THEMSELVES requested it – they declared that the top students in our classes (almost all girls) needed to see role models they could follow in their classes. This was one of those changes we would've never imagined. Meanwhile, the orphans, now as young men and women, have been employed to look after our sponsored students, bid, negotiate and contract our building projects, conduct our medical clinics and teach our children during programs and camps. We want to empower these orphans, our older students and our young students by presenting opportunities to them and fostering their development of altruism and vision. We know they are the only ones who can deeply and lastingly improve their country – as they have already started doing.
Regarding our inspiration, there is one answer – God.
But as this topic is so often confused, I want to clarify that the One who inspires us is the God who has eyes for the very least of our brothers and sisters. This is the God who can bring life out of death – the God of absolute Love who inspires a response of absolute commitment and a faith that goes beyond the sight that is commonly accepted. A God of VISION for Change.
When did you launch and what's been your biggest challenge?
I visited the country in 2009, started fundraising in 2010 and walked into the village to see the homes in 2011. It was that trip in 2011 where YVA really began, though we would not become a 501c3 for another three years.