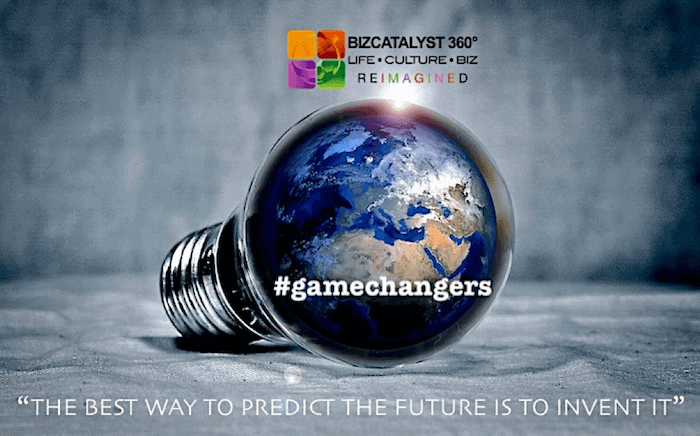 As Publisher and Editor-in-Chief of this global media platform & Chief Encouragement Officer of our affiliated pro bono social impact enterprise; GoodWorks 360°, I was delighted to have the opportunity to get better acquainted with Dr. David Cooperrider, the Co-Creator & Pioneering Thought Leader behind Appreciative Inquiry (AI). Dr. Cooperrider uses a 4-D process – Discover, Dream, Design and Deliver – to identify the positive core of the whole system and bring the best of what is forward. His process identifies what is working and what the whole system is doing well in order to focus on the opportunities for the whole system to move forward together towards their desired future. Learn more as you enjoy our inspiring #gamechanger Interview with David below ⤵︎
We'd like to hear about your professional journey before Appreciative Inquiry (AI)
I was a student in the human sciences and got my masters and then Ph.D. in the field of "change management" or what is often called "Organization Development and Change". I was especially interested in visionary leadership and in ways of mobilizing positive change—in organizations, communities and cities, and even whole societies. My interest was shaped by two things: (1) changing large systems is hard, for example, 70% of all planned change or strategic societal change efforts fail and (2) our world is yearning for ways to bring people together in more positive ways. We as a human family are capable of so much—and it is not so much that we need new technologies or more money, but more collaboration and trust.
The real question today is not simply about change per se, but the real question is what I call "change at the scale of the whole." How do we move a whole 67,000 person telecommunications company—together? How do we move a whole industrial era city of 1.5 million people into new post-industrial age to transition to a new kind of economy—again together?
In most companies, cities, and whole countries it is simply not enough to have isolated pockets of positive change. To make things soar and reach their true and real potential we need to unite across silos, separations, and specializations– and it seems like the challenge of change at the scale of the whole is getting harder, not easier. Think about politics and the extreme divisions in our culture.
Ever since I was a young kid, where we had a family compound in northern Wisconsin on Spooner Lake—it was wonderful to see the opposite, where we together had nine cabins and more than 50 aunts and uncles and cousins and grandparents—and we owned it all together. For me it was a thrill every summer to see how 50-60 people could make decisions together, and cooperate year-after-year, and work out their diverse perspectives. Today when my colleagues and I do our Appreciative Inquiry Summits with 500 to a 1,000 people in the room for three days of interactive planning–not speeches but collaborative visioning, designing, and then moving to action– I think back to my childhood days when our whole Cooperrider clan would sit in a circle and make "big" decisions—for example, "should we move our wooden swing set one foot or two feet closer to the lake?"
Tell us about AI and the inspiration behind it.
When I was in college as a young person who had never been on a plane (my family was poor) I received a wonderful grant to go abroad and study. So, I went to Japan and instantly felt culture shock and experienced how ways of life can be so different. It was eye-opening, all the differences in language, food, philosophies of life, government, the arts, religious beliefs, etc. Of all the experiences, however, there was one day that stands out. It was, quite honestly, one of those turning points, an almost instant transformational moment, for me. It was the day I visited Hiroshima.
As a young college student, it was totally disorienting. When I heard from the local people about the unthinkable devastation, it was like an atomic bomb went off in my heart—and atomic bomb of awareness. For the first time, I felt how much the miracle-of-life on this planet is in our own hands. As human beings, we have so much power—for good and for ill—and the atomic bomb was the supreme symbol of the negative part of that power.  And so much of it comes down to how we relate to one another as human beings. And that's when one of those burning questions for a lifetime was born for me: what might we discover in the human sciences that is as powerful in a positive human relationship sense, as the atomic bomb is in a negative human relationship sense? Think about that.
It was a big question for me. It's been a beautiful question really and the kind of quest where you want to study everything in the human sciences. It's one of the things that caused me to study the positive psychology of human strengths, and how to bring hundreds of people into the room in ways that bring out our human best, not our human worst.
I started researching and building the theory of Appreciative Inquiry ("AI") in my Ph.D. years with my great mentor Suresh Srivastva nearly 40 years ago, and it's been amazing to me to see how it has spread and grown across so many domains, from the fields of management  and organization development to positive psychology, and from community development to the field of business and economic strategy. My Ph.D. dissertation at the Cleveland Clinic Hospital—it's a 60,000 person organization today and the number one heart center in the world—is where we built the original theory and brought the term Appreciative Inquiry into the field of management, while studying its impact during some of the greatest growth years ever witnessed at the Cleveland Clinic.
Today AI's approach to strengths-inspired, instead of problematizing change, is being practiced everywhere: the corporate world, the world of public service, of economics, of education, of faith, of philanthropy, and social science scholarship-it is affecting them all.
Appreciative Inquiry is about tools, mindsets, and methods for the rapid elevation of strengths in organizations or communities; it's about the tools and methods for the magnification and multiplication of those strengths; and then it's about surrounding our most complex and difficult challenges in the most powerful combination of strengths, solutions, and assets we can draw from inside our system and outside our system. To appreciate means to see the best in the world, to see those things of value worth valuing.
To inquire means to study, to discover, to search in-depth. Moreover, what our research has shown—and this may be the most radical point of all—is that human systems become what they study, not superficially, but systematically, authentically, and frequently.
For years in medicine, the field would study the causes of illness. But today there are scientific strides in the study of thriving and super-immunity. All the studies in the world into the causes of illness won't reveal the causes of super-immunity. Same thing in organizations. Years ago, companies would do annual surveys of employee "low morale." There is nothing wrong with that on the surface, but let's say our aim is to develop an inspired or super-engaged organization—a fully human workplace where people bring their inspired-self every day– or where there is innovation arising from everywhere, or where people think and act like owners, with real passion and commitment.
What we have learned with appreciative inquiry is that we won't get there by putting 80% of our effort on getting rid of low morale. The things that ultimately create low morale are not the same things that cause high-engagement.  How we frame the change agenda—or opportunity– from the outset changes everything.
If we want a super-engaged organization we need to study what are the strengths, assets, and causes of high engagement and on what occasions is engagement, inspiration, and passion way beyond the normal. Why? Because human systems grow in the direction of what they most frequently and systematically pay attention to and study. We learn our way into the future.  Leadership is about seeing. Marcel Proust perhaps said it best when he declared: "The real voyage of discovery consists, not in seeking new landscapes, but in seeing with new eyes."