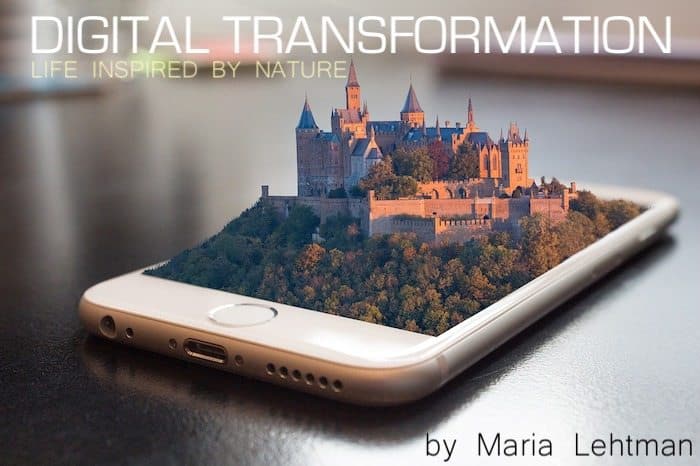 In a dream, I was not able to speak out. I was parched. I tried to call the nurse over to bring me water. Not a sound came out. I just lay there for what seemed like hours wrapped in silence, behind a glass wall. What I would have given for thought-to-speech capability!
~ Maria Lehtman
What would you give to keep one of your senses? What is the monetary value for you to be part of this world? Can it be measured? What if you had no choice?
Keeping Relationships In Transformation
"When digital transformation is done right, it's like a caterpillar turning into a butterfly, but when done wrong, all you have is a really fast caterpillar."

~ George Westerman
My mother, 76 years of age, has had a tumult of a life with more drama in relationships and health, anyone would wish for. Her history includes living in mold infected apartments more than once. Owners are continually ignoring the hazards mold causes. The living circumstances gnawed her the already precarious lung condition.
My chronic illnesses prevent me from visiting her sometimes for more extended periods of time, but I keep texting her almost daily. I include a quote and a photograph, smileys with hugs and hearts.
One night, just recently, I went to see her. In the past three years, she has lost almost all her hearing. She can partly read my lips if I articulate well. I typically end up writing my comments on a piece of paper. Mostly, I sit and listen.
Every relationship is different – we always explored very creative topics. We would discuss fine arts, interesting articles, and dream symbolism – a topic she had studied, e.g., in seminars held by Pekka Suominen (known for his field in Finland). I had done my studies by self-exploration, dream-journaling, and 360° analysis. We would talk about herbal remedies, also one of her expertise areas (Bach Flower Remedies). We talked about anything between heaven and earth, and beyond.
Until the day she lost her hearing, and her already disfigured jaw could no longer hold the device in her ear for more than 30 min a day.
What happens to a relationship when one of our primary senses are affected? How does fast digitalization and bandwidth compensate what we lack in personal relationships?
When Your Resources Are Not Enough
"The changing population pyramid should awaken societies to consider new ways of thinking and designing services for the elderly. Instead of a low-cost world, should we not innovate for high-care and intuitively efficient services?"

~ Maria Lehtman, Digital Communication Evangelist
I felt a familiar, overbearing sadness that grasped me when I was there. I used to think it was all the troubles my mother offloaded when I met her.
For the past months, I have had to limit visiting my mother as well as other people close to me. I know it has pained her. I have been going through a tough period health-wise, and could not risk taking more overload. Despite my tiredness I visited my mother one evening and sat there – as I always do, just letting her run through her evening tasks. I was playing around with my mobile or looking at the photos around her apartment. I felt a familiar, overbearing sadness that grasped me when I was there. I used to think it was all the troubles my mother offloaded when I met her. She did not dwell on them too far this time. She was quite pleased to see me.
I was behind that glass wall I saw in my dreams a long time ago. My inner soul parched for the conversations and exchange of thoughts we had all those years ago.
When I drove back home, I finally realized what caused the sadness. My mother was still there. She has a beautiful, soldiering soul. However, I had "lost" her a long time ago. I had all these feelings inside me, experiences, dreams, visions – and I could no longer share them with her. I sat with her quietly, patiently, waiting for her questions; helping her forward one step at a time. I was behind that glass wall I saw in my dreams a long time ago. My inner soul parched for the conversations and exchange of thoughts we had all those years ago. We still visited those discussions, but only briefly, like a dragonfly touching the surface of the water.
Very often I already know what she needs before I arrive. I see a dream or feel that something I have learned would be vital for her to understand and try out herself (mental or physical learning). I act on my intuition. I am always frustrated at our public healthcare that ignores people in such frail conditions. She gets an offhand treatment with less understanding of physical anatomy than I have based on my own experiences. Where is the digital and intuitive healthcare in all this? Why are most of our homecare outsourced to the least expensive companies who drive through elderly lives like a crazed broom?
SMS Is Not Dead – How To Use It For Messaging With The Elderly
"Individual one-way text messages as reminders of home exercises (to be performed on a daily basis) were sent to each patient every third day – The participants (67-86 years) appreciated the messages, which were perceived as timely and usable, and also stimulated memorizing."

~ NCBI
I used to write my mother letters, but they were overwhelming to her capacity. Sending cards every week did not help the day-to-day need to connect. So I moved to the text messages with an accompanying image. Now and then a reminder to take her daily exercise. Every time she confirms back that my simple text message helped her to take action.
One SMS is all it takes to let your elderly loved ones know you care; you are there for them. They exist. They have a purpose, and an audience to respond to.  
I love my mother. In the process of her illness, she lost her hearing and has to fight to keep self-respect every day. People associate a loss of hearing with dementia – merely because the other person cannot hear you. We live in a harsh world. We take what we see as a fact – instead of using our intuition to explore what the other person is really like. My mother's drawings, thoughts, and texts tell me otherwise. There is a mind, with a vast knowledge of the world. Experiences I have yet to gain.
Without digital connections, we would be completely isolated, stranded from each other. When your health fails, social media, mobile, and other means may be the only communication channels that remain.
Never underestimate the power of digital communication. Do not think that your habit is what matters. What matters is the message and how the recipient understands your communication. Decoding a short text with too much emphasis on the 'reading-between-the lines' is not ideal either. Before the short-messaging or micro-blogging works, you need to know each other's communication styles well. Find devices suitable for your elderly kin and keep in mind these short blogging practices:
Mind the:
Rhythm of the text
Terms used in the text
Accompanying image and how it resonates with the message and the recipient
Emojis that do not translate from person-to-person, or phone-to-phone*
Humor unless you share it with the recipient
Acronyms
Emotional overload – take a step back to detach before messaging
Discussions for anything too complicated or emotional
Be precise and provide input to avoid misunderstandings
*Trust me, nothing confuses people more than emojis that turn into something else, e.g., emoji turning into a 'question mark,' 'hashtag,' or a red heart turning black. If you do not know how the other person's phone, pad or other main device reads your emojis, do not use them.
Loss Of A Sense Is A Piece Of Identity Disappearing
"Elderly care emphasizes the social and personal requirements of senior citizens who need some assistance with daily activities and health care, but who desire to age with dignity."
Next to go is her sight. My mother is getting too old for the operation the governmental doctors have decided to deny her for four years now. I dread for that day. How do I connect with her? How do I keep her in my universe?
I know, that somewhere inside her – is the old her, the laughing, witty, intelligent and curious woman. Somewhere in the beyond is the same woman as all those years ago speaking with the 'me' that walks by her and communicates on a level no one in a physical body can. We need to accept what we have now, work with what we have, digital or otherwise.
A few people explore the world of dreams as far as I do – all the way to the final curtain. Behind it, I see reunions, happiness, and love. However, there is more: the results of our choices. We choose – and we choose again. No decision is forgotten. We should make the best of each day we live with each other and explore what benefits digital communication has to offer in our relationships.
Choose well, my friends.
"Rage, rage against the dying of the light." 
My mother has, in her own, quiet way.
Sources:
CXO Transform ǀ Digital Transformation Quotes ǀ https://cxo-transform.com/digital-transformation-quotes/
LIVESTRONG ǀ What Are the Signs of Mold Sickness? ǀ https://www.livestrong.com/article/17223-signs-mold-sickness/
Helsingin Sanomat ǀ Pekka Suominen ǀ https://www.hs.fi/muistot/art-2000002627735.html
Bach Flower Remedies ǀ http://www.bachflower.com/
NCBI ǀ Experiences of Older Adults With Mobile Phone Text Messaging as Reminders of Home Exercises After Specialized Manual Therapy for Recurrent Low Back Pain: A Qualitative Study ǀ https://www.ncbi.nlm.nih.gov/pmc/articles/PMC5391433/
Forbes ǀ Aging Populations Will Challenge Healthcare Systems All Over The World ǀ https://www.forbes.com/sites/williamhaseltine/2018/04/02/aging-populations-will-challenge-healthcare-systems-all-over-the-world/#79d360de2cc3
What is Communication? ǀ https://www.skillsyouneed.com/ips/what-is-communication.html
UN ǀ World Population Aging (Report, 2015) ǀ http://www.un.org/en/development/desa/population/publications/pdf/ageing/WPA2015_Report.pdf
Wikipedia ǀ Elderly Care ǀ https://en.wikipedia.org/wiki/Elderly_care
Wikipedia ǀ Dylan Thomas ǀ Do not go gentle into that good night ǀ https://en.wikipedia.org/wiki/Do_not_go_gentle_into_that_good_night