Hi, if you've known me some time, you know that I am always trying new business ideas; sometimes they work out, sometimes they don't.  Maybe it's the same for other women business owners. I've had a very costly OJT  over the years, I didn't get an MBA, don't know how to calculate ROI, usually, I just go with "my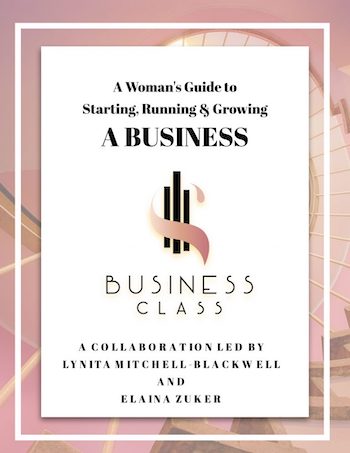 gut".  I often pride myself on saying I have a Ph.D. from the "School of Hard Knocks"  in New York.  I do know how to do some things, like marketing, B-2-B selling, writing books, creating training programs.  But my business education has huge gaps in other important topics, like Strategic Planning, Financial Management, Legal Structures, etc.   I often wished I could "catch up" on these subjects, somehow. But I've never gotten around to it.
Now I've partnered with an awesome businesswoman  Lynita Mitchell Blackwell and publisher (of 5 magazines for women)  to create BUSINESS CLASS, which we hope will address those needs of women business owners.
Facilitated by the same writers of the book Business Class: Your Guide to Starting, Running, & Growing Your Business, this course was created BY women, FOR women; these instructors are experts in their individual fields and eager to share their experience and knowledge with other women. Our facilitators are amazing and their bios are included in the "bios" section of the site.

Elaina Zuker: THE S-M-A-R-T Strategy for Setting Goals How to Set Goals for Your Most Successful Year Ever! 5 Key Factors
Elaina Zuker: A Swift Kick in the Can'ts How to Use Peer-Mentoring ™ to Achieve your Goals
Molly Sutherland: Strategic Planning is Really Not Boring! It's ESSENTIAL!
Elaina Zuker: How to Sell Anything to Anyone
Melissa Malcolm: Legal Landmines for Employers
Deborah Hightower: Next Level Leadership
Candace Bazemore: Funding the Good: Three Effective Ways Nonprofits May Approach Fundraising From Government, Foundations, and Community Organizations
Lynita Mitchell-Blackwell: Funding Your Business: Securing Capital to Transform the Dream into Reality
Lynita Mitchell-Blackwell: You're Hired! Getting the Right Kind of Help You Need Right Now
Lauren Zaslansky-Connor: Branding in Social Media and eCommerce; Through Planning – But Why?
Shana Thornton: PR & Your Brand: A Necessary Partnership
Cynthia Jouber't How to Build A Modern PR & Marketing Plan
Shaquanna Chappelle: Seal the Deal with Your Image
Julie Turner: Your Health and Fitness: How to Take Care of Yourself When You're Taking Care of Business
Careshia N. Moore: Stop Seeking Balance and Find Happiness
Mylika Morton: Accounting Essentials for Your Small Business
Each course is 1 hour, presented once a month. To learn more, visit: Business Class