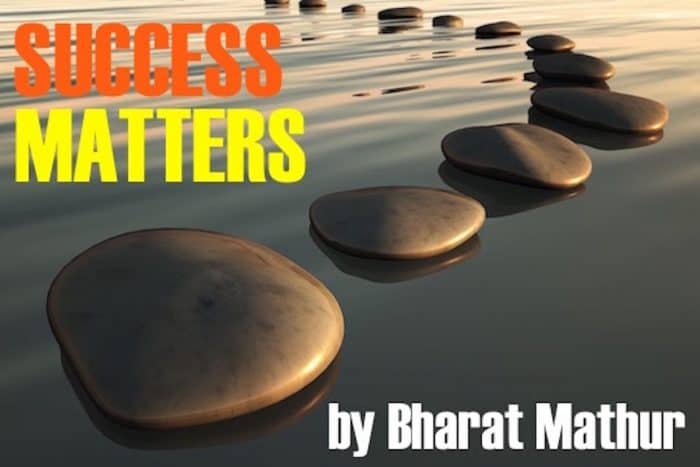 AN INTEGRAL REWARD OF LEADERSHIP
Life has its ways of throwing the curveball when we least expect it! Sometimes it brings us bouquets and at others, brickbats! It may not mean a thing to the ordinary person. For leaders and leadership aspirants, this shift points to possible trouble.
Imagine your story, and photograph appearing on the first page of a noted newspaper. How many doors do you see open to take advantage of this opportunity and develop your sphere of influence? Do you identify the power of business prosperity? Do you pay attention to yourself as if granted an elevation beyond most others' approach? Sure you do! Is it an important feather in your cap or not? This example relates to a bouquet.
Let us now examine the opposite front. There is a well-respected author, advisor, coach, consultant, or a leader with many followers. People like to listen to him and read what he writes. Majority follows his suggestions for success in life. He enjoys an unblemished reputation until the day he ends up saying, writing, or even hinting towards something below his dignity. The same words spread far-and-wide by the viral force of Social Media, become public knowledge. How do you justify his attitude or where may he disappear?
In the modern-day dynamic society where the influence of this platform is predominant, anyone anywhere can detect a fault with your opinions, ideas, and advice. His first responsibility as a Leader is to defeat the negative before receiving any kudos. Is it always tempting to collect bouquets? Then why not show courage in taking the brickbats with equal magnanimity?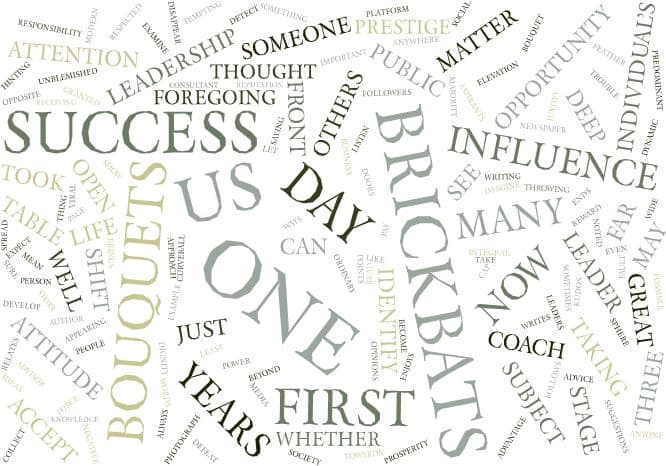 The reason I touched upon this subject is born out of my encounters over the years. Here is one of the great ones:
I had to pull up an arrogant public speaker that claims to be: "One of the World's Top Success Coaches." In my endeavor to identify logical explanations to the foregoing individual's unexpected outburst, I singled out his success over the years as the chief culprit. He enjoyed speaking in front of crowds. These were his easy-to-manipulate victims that spent thousands of dollars to go to the 2-3 day workshops and lectures. He carried an assumptive belief he was the Messiah for these 'sheep' condemned to the slaughterhouse of his big, fat bank account.
The influence of wealth had reached far too deep into his head not to make any scratch on his spiritual identity. He thought nobody could dare call his bluff. He never imagined the day when he might see himself on the mat facing someone courageous enough to shake him up. That, someone, turned out to be me. I was one of the attendees, courtesy of a friend, in a gathering of +/-800. This success coach had his advertising team fill up large halls by extending an open invitation to all the earlier patrons. No matter whether you had paid for a seminar three months or three years ago, whenever he came to your town, he will send you two complimentary passes. Now, God Almighty is perhaps the only outsider that knows how many in this audience were genuine, paying clients since this was his 6th or 7th session of the year in the same place.
Back to the subject of our analysis, careless talk on this individual's part did not sit well with my group. He had just passed a scathing remark pointing at the Province we had come from. (We were ten to a table.) I took the lead in demanding his attention to the sentence he had just spoken as a passing thought. I advised him to practice prudence in language, no matter where. At first, he denied responding to my concern. However, my emphasis on an unconditional apology forced him to get off the stage. He took a walk to our table and expressed regret to each one of us. Then, he valiantly substantiated his remorse by taking me to the stage. Once there, he openly accepted his guilt for causing us hurt. It was more than embarrassing for him, no doubt. Yet, he gained enormously in prestige for showing a deep sense of maturity. Obviously, I was the first one to applaud this magnanimous action.
Readers can assume whatever they choose but the bottom line proves that his modesty enabled him to accept the brickbats without a fuss. It helped him earn ever more reverence than if he had refused to budge.
The foregoing incident teaches us to face up to our shortcomings in an intelligent way. We are mere individuals and making mistakes is our second nature. To admit them adds to both our trustworthiness and prestige while denial contributes to imminent oblivion.
The opportunity is here and now for you to decide whether you are willing to accept brickbats with as great an enthusiasm as accepting bouquets. If not, mend your attitude and watch the positive shift in your altitude!
To Your Continued Success, One Step At A Time…