All businesses, irrespective of their size, should be blogging. Blogging is not new by any means, but it is a fundamental part of any organization. While blogging may sound informal, think of it as a very real part of your overall marketing and sales strategy. In short, blogging is content marketing. Once you give it a more formal title, it becomes an important part of your strategic approach.
Blogging has many uses. It should inform, educate and help solve problems for consumers, prospective or existing, which seek to use your services.
Content marketing takes many different forms, but you need to know why it matters for your business so that you can take the right steps in implementing the right strategy.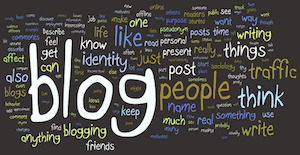 Why does blogging matter?
Blogging and content is important. There we have said it. Think about the brands that you aspire to be. They will have a blog or content plan of some description. Blogging allows you to connect with your customers and allows you to help them in a meaningful way. Creating stories that inspire, engage and educate your audience is one of the best ways to sell your product to them. Blogging allows people to crunch the problems in their personal or work lives. Whether you're a B2B or B2C business, your consumers will have 'problem points' and these problems can be solved by using your product. Of course, you are not going to tell them that directly. Rather, you need to look and research what the typical problem points are for your consumers and create content around that.
So, now you have the basics, you can look at creating content that matters to your audience.
Varied content
In this modern, digital age people learn in different ways. This means that the content that you create has to be varied to have a mass appeal. Content comes in lots of different forms and blogging is just one part of that. A helpful blog or article is a great start. Look at company news, show off new product lines or services. Write about new employees. If you're B2B, tell the world about new clients. Content needs to be varied to ensure engagement. But, more importantly, it gives your business a human face that connects with the emotional needs of your consumer. It's important that you share news from your company. Consumer behavior has changed, and as a result of this, people don't want to buy from faceless organizations. Your blogging behavior needs to be varied to be attractive.
Of course, you don't have to blog alone. Far from it. In fact, the best kinds of blogs come from a variety of sources. So, utilize your staff and get them involved. As a business owner or CEO, you should be writing content that is thought-provoking and to display yourself as an industry leader. But, that doesn't mean to say that your employees can't get involved. Conduct interviews with your staff and do a 'day in the life of…' segment. This could be a monthly blog that allows insight into your company. Alternatively, departmental blogs can be an interesting way of displaying your awesome workforces knowledge. Someone in marketing will have a very different perspective to someone in procurement or finance. Inside industry knowledge secures your firm's place as a thought-leader. By using more varied content, you are ensuring that you have a competitive edge.
Using the right CMS (content management system)
Blogs need to be produced in the right way, and this is where your content management system comes into play or a CMS. A CMS is an application that allows you to create, hone and manage the content and blogging processes. There are a number of user-friendly CMS platforms that you can use. The three most popular are WordPress, Drupal, and Joomla. For the purpose of this article, we're going to focus on WordPress. Why? It's the most popular. And, it's the most popular CMS for a number of reasons.
WordPress is the most used CMS and rightly so. It is renowned for being user-friendly. In fact, its interface is perfect for those with little, or no, CMS knowledge. You can use it in both text or HTML functions, so you don't need a developer to help you get started. The plugins are free and easy to find, thus enabling new features and functions for your site without having to resort to taking the site apart. They integrate seamlessly and offer a greater degree of flexibility than other CMS platforms. What's more, WordPress flexibility provides greater front-end usability than Hubspot for example, which means that you don't have to worry about your blog being mobile friendly. It just will be. WordPress themes are pre-installed, so again, you don't have to be an expert web developer to ensure that your content platform is sleek and chic.
All in all, WordPress offers easy to manage content that requires very little knowledge from the end user. It's easy to use and flexible too, which is perfect for smaller businesses who need to know everything straight away. Larger companies use WordPress too, as it's easy and quick to maintain.
So, now you know how to put your blog out there in the digital world, let's look at how blogging can establish your business.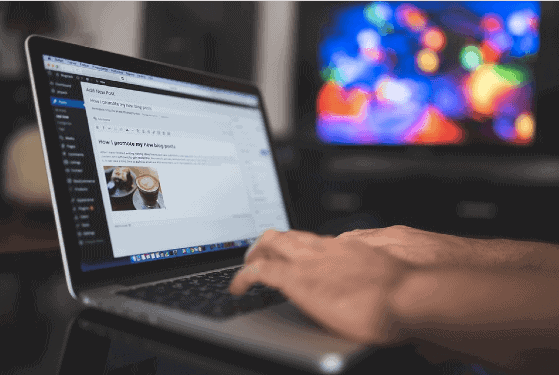 Establishing your business the easy way
Blogs are imperative for building on your business. But, they are so much more than that. Blogging allows you to establish authority. After all, your business may have USP, but it is not wholly unique. You will have competitors offering similar products and services. Blogs allow people to choose you. Or, if you blog badly, head over to your competition. As a result, blogs allow you to showcase your knowledge and insight. Thought leadership is one of the cornerstones of blogging. In fact, thought leadership is now becoming an integral part of businesses marketing strategy.
One of the reasons why blogging matters so much are that it drives all important traffic to your website. After all, your website cannot merely exist in the online world; it needs to be promoted. Your blog is your customer's gateway to your website and discovering more about you. Traffic is fundamental to getting your website off the ground. The more traffic you get, the better you rank. One important thing to remember here is the SEO element of your blog. Always use the relevant keywords using the Google, keyword planner. Make sure that you are reaching out to the right people, at the right time.
Of course, converting that traffic is equally as important. This is where analysis of your blog and content is vital. If your content isn't converting, you need to find out why. Persona analysis may be a required step here. Or, simply looking at your blog. Is it competitive? Is it interesting? Does it inspire or solve problems? Once you have honed your blogs, you will find that they convert traffic to leads. Then, you need to get the sales team on the phone ensuring that your leads are nurtured into real-life sales. After all, the whole point of blogging is to make money. This won't be a quick win, but it is a great strategy for long-term results.
Above all, blogging is fun!
Professional life can be dull. Blogging is a fun way to engage with your audience. You don't have to write dry content, on the contrary, your blog can allow your company's personality and culture to shine through. Being yourself when you blog is important. It's vital that you remain professional, but you don't have to be formal and stuffy. Blogging allows your customer to see the 'real' side of your business. Not the suits, or the meetings, or the formality. Rather, your clients get to see the people behind the brand. That is one of the most unique selling points that you can have. After all, people buy from people.
Taking the next steps
Blogging for business pleasure will see results. But, man cannot live on blogs alone. You need to integrate your blogs into a wider marketing strategy. Social media, SEO, PPC and email marketing all play fundamental roles in your strategic approach. Hone your content and use blogging as a start point. Ensure that you have a content plan. Aim to write one blog per week. Share it on social media. Send it out in an email blast. Make sure that your content is accessed far and wide. But, more importantly, analyze your content statistics to make sure that you are producing high-quality content that your audience will come to love and enjoy reading. If an article doesn't perform as well as you had hoped, look into the data and understand why. By doing this, you will ensure that you have taken the next steps in your strategy. Analyze, research and improve. Every business needs to do this to ensure its longevity.
Credit: Pexels
Let's wrap up
Blogging matters for your business, but it can never be a shot in the dark. In summary, you need to ensure that you have important subjects to talk about, that you are using the right CMS that is easy to use and flexible and that you are creating varied content. Integrate blogging as part of your company goals and KPIs and see long-term results.