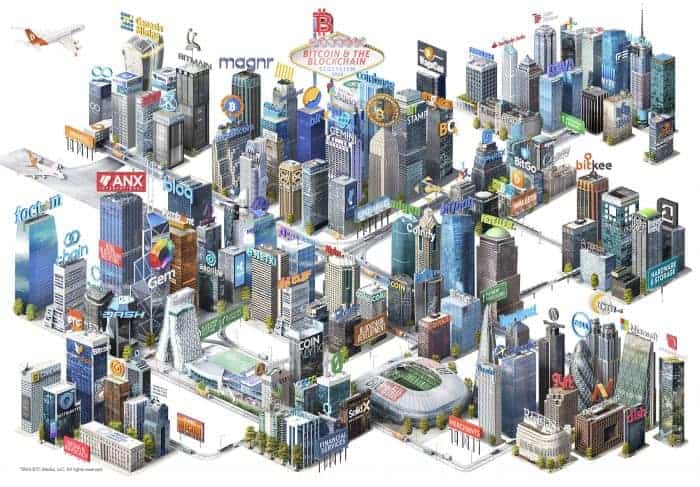 Blockchain as a technology was written by Satoshi Nakamoto specifically for bitcoin, though the seeming conjoined nature of the two is a misnomer or at least somewhat misleading. So, I will focus my address on how blockchain, as technology separate from Bitcoin may contribute to sustainable competitive advantage for the organisation or the firm. You'll notice that I haven't necessarily specified which kind of organisation. This is because it is not only the commercial enterprise that will be disrupted and enhanced by blockchain technology in equal measure but all organisations; corporate, commercial, government and non-government.
Turning to the question of how blockchain might be used and is being used to innovatively create new markets, products, and operating environments, I will look at the legal industry briefly and second, I will examine the basic capabilities and opportunities created by the incipient Dutch blockchain business called "Stocastic". I acknowledge the founder of Stocastic, Dutch entrepreneur Dr. Rudy Snippe, for allowing me access and the rights to discuss his idea and business model at this early stage of development, as the operating model and technology will enter Beta testing in the coming weeks. Before I look at these case studies it is important to discuss several ideas that are central to the blockchain revolution.  In my view, it is paramount to understand and respond to the advent of blockchain as a utility platform for business, the response to which will become a hygiene factor rather than an innovation and further may facilitate sustainable competitive advantage resulting from deliberately directing creative energy and learnings derived from prosponsive thinking. To do this I will locate blockchain in the context of organisational strategy before applying the ideas in discussing my case examples.
The Strategic Context
The backbone – Blockchain – upon which cryptocurrencies operate, as with the currencies themselves, is here to stay.  Given my long-standing interest in, and being a student of, strategy the advent of blockchain, related to but distinct from its seminal use in driving decentralised, trusted exchanges of digital currency, brings with it a raft of challenges and possibilities for entrepreneurs, innovators, industries, and organisations.
More and more, we move away from an environment in which strategy can be managed by producing a static, 3 to 5-year strategic plan and then executing on that plan, even in ways that have been extremely effective, efficient and most of all have delivered success in the past. Organisations must evermore rapidly learn, adapt, respond to market forces, develop existing capabilities and create new ones, in order to maintain their market position… But more importantly, they must identify and execute upon new and as yet unknown opportunities.
The quicker an organisation can respond to changes in internal requirements, to foster, develop and build capabilities, as well as to meet the demands of competitive dynamics from the market, the more robust its position in its market will be.
The question becomes, how then can it do this? Arguably, as digital disruption and the rapidity of change increases exponentially, how quickly an organisation learns is at the heart of the answer. The quicker an organisation can respond to changes in internal requirements, to foster, develop and build capabilities, as well as to meet the demands of competitive dynamics from the market, the more robust its position in its market will be. However, the ability to respond is becoming a hygiene factor as discussed by Paul Hunter in his 2015 work on business strategy.  Response to changes is a baseline from which an organisation may create a platform for success. However, organisational longevity and competitiveness will likely result from new mental models that escape second and third wave thinking, enabling the organisation to innovate by 'prosponding'.
Prosponsive versus Responsive Thinking
 So, what is prosponsive thinking? The answer may seem obvious, in that it is thinking beyond responding, but it is also thinking that is aligned to constant organisational renewal through learning. My premise here, which is more relevant today than when first enunciated in 1990 by Peter Senge, is that perhaps the only form of sustainable competitive advantage now and in the future will be an organisation that learns. This was added to by Flood in 1999, and again by Paul Hunter in 2015 and is more significant today than ever before. For the organisation to create new markets and indeed new industries, it must both learn and utilise those learnings in an integrated coherent responsive as well as prosponsive way because adaptation, or response, is only half of the equation.
To define these terms, it is useful to look at what has been said about them, especially, 'prosponse.'  As a living, dynamic complex system a business organisation naturally possesses a capacity to adapt to change, but unlike a natural ecosystem, it also has the capacity to invent change. Most organisations are arguably more content to limit their capacity for change to that of adaptation alone, in the form of a response that is either reactive or proactive in nature. It has been proposed that "dynamically oriented organisations could better position themselves to compete for the future by actively orchestrating opportunities to provoke prosponsive change, under this regime a firm develops a capacity to take control of its own future, by literally inventing it." Prosponse, of course, is not a recognised word in any language and was first used by Paul Hunter of the strategic management Institute in 2015. Before using the term, it is important to understand the nuances of both responsive and prosponsive thinking.  A response may be defined as an adaptation made by an organisation provoked into change by an external or internal stimulus: an action taken to accommodate fate; and a prosponse is an invented change invoked by an organisation as a result of a deliberate intent to redirect a living organism's trajectory: an act of invention designed to direct aspiration or desired outcome.
I'll use two cases to exemplify how responsive and prosponsive thinking may advance the organisation and that at a minimum response is required to manage and survive the Blockchain revolution while prosponse is the only way to thrive in the already-existing blockchain world. I will look at two case studies in summary.  One disrupted industry I will examine is the law, as reflected in the law firm, and second case study is an entrepreneurial start-up from the Netherlands. These provide examples of the issues and opportunities arising from blockchain and underscore the revolutionary change that is upon us and how blockchain is the driver of 'Internet value'.
What does this mean for the law?
Based on the above premise it is imperative that all organisations in all industries learn to use, implement and leverage blockchain technology appropriately. This is adaptation, or per the definition above, is a response to the advent of the technology, the technology being blockchain. As argued by Dan Tapscott author of Blockchain Revolution: How the Technology Behind Bitcoin Is Changing Money, Business, and the World "Blockchain technology represents a quantum shift in technology transformation, bringing us the so-called Internet of value: a new platform to reshape the world of business and transform the old order of human affairs for the better.
"Blockchain is a vast, global distributed ledger or database running on millions of devices and open to anyone, where not just information but anything of value, for example, money, but also contracts, titles, deeds, identities, even votes can be negotiated, moved, stored and managed securely and privately. Trust is established through mass collaboration and clever code rather than by powerful intermediaries like governments and banks."
Given that blockchain creates a real-time digital record verifying that a transaction containing certain data happened at a certain time and in a certain order, it has far greater ramifications, consequences, and applications than for cryptocurrencies alone. Further, the integrity of the transaction can be trusted due to two of blockchain's fundamental characteristics: it is immutable and highly hack-resistant. This translates into a very high level of data integrity — once data enters the blockchain, it is resistant to alteration, hacking, or deletion.
If we look at the Law firm, we see a raft of applications and new requirements necessitating response to its blockchain-disrupted business landscape in order to maintain competitive parity in the near future.  How will the legal industry be disrupted by blockchain? The future of blockchain and law is at once eminently disruptive and ripe with opportunity. Because of this, it is likely that law firms that do not engage with the types of changes born of blockchain run the risk that they will become an anachronism and fail, largely because they do not recognise that what made them successful in the past will lead to failure in the future, a phenomenon derived from and facilitated by outmoded mental models and strategic drift – Those familiar with Deming will recognise the trap.
This pitfall and opportunity are not limited to the law and it is used as just one example. This could apply to almost every industry, firm or organisation, from government to mining to banking to music and beyond.  Although still too nascent to predict its full impact with great certainty, consider the following implications of blockchain for legal professionals:
CONTINUE BELOW TO NEXT PAGE