Being an empath is not a psychological or emotional state a person accesses inside themselves when someone in their world is going through a difficult time. Every human has the ability to feel empathy, but that's not the same as being an empath. When we identify with and feel compassion for a person or situation that we see on TV, read about, observe in-person, or hear about from a friend, we are experiencing empathy for that person. We can insert ourselves inside their circumstances, imagine what it would be like for us, and then, from that bridge, establish an emotional connection with that person. We develop a sympathetic response, a concern for what they are going through. A common bond, however temporary, is created as we recognize the sameness in a stranger. Every human has the potential capacity to feel empathy, but not every human is an empath.
Being an empath is a real thing and people from all expressions of spiritual and religious traditions can be empaths.
​Being an empath is not a magic act, gimmick, or parlor trick. And it is certainly not a conjuring of "evil" forces. Many people don't understand or believe in paranormal or supernatural phenomena, and some even fear these types of experiences as well as people who demonstrate such abilities. Sadly, depending on a person's religious background, we are often labeled as anything from "woo-woo" to being a witch, being crazy, and even being of the devil. Or we are accused of practicing some form of subversive, dark, or suspicious religion. Being an empath is a real thing and people from all expressions of spiritual and religious traditions can be empaths. I have absolutely nothing against people who practice magic, call themselves witches, use divination, or work with the paranormal. I know many people (and I am one of those people) who work in, experience, or can access one or more of these realms, and I know that empaths, because of their heightened sensitivities, often experience or are drawn to the metaphysical or paranormal because they simply see things that other people don't see. They feel things other people don't feel. They sense things other people don't sense. And because of this, empaths often live on the edge of the "real" world, bridging the seen and unseen realms, walking in both worlds simultaneously.
​Being an empath is not something you can turn on and off. This is not to say you don't have control over it or that it can't be developed, cultivated, and managed. But make no mistake, being an empath is not a skill, competence, knack, or proficiency. It is a purpose, if you will . . . something you were either born with or not. And if you were born with it, it is something you live with 24/7. Whether you acknowledge it or not, whether you suppress it or not, it is an undeniable part of who you are. It is a choice you made at the soul level."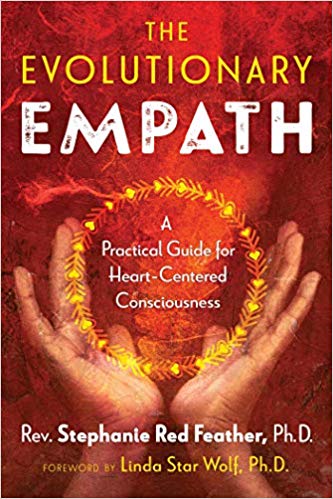 Are you a highly sensitive person or empath? Do you struggle to figure out where you end and the next person begins? Do you take on everyone else's emotions and problems? Is it easy for your nervous system to get overstimulated or overwhelmed? Are you seeking to understand why you are this way and desiring tools to help you thrive?
My brand new book, The Evolutionary Empath: A Practical Guide for Heart-Centered Consciousness hits shelves in just a few short days on November 5. I thought I'd share some excerpts with you so you can get a feel for the book and decide if purchasing it would support your journey or the journey of someone you know. Pick up a copy through your favorite bookseller online or in stores.