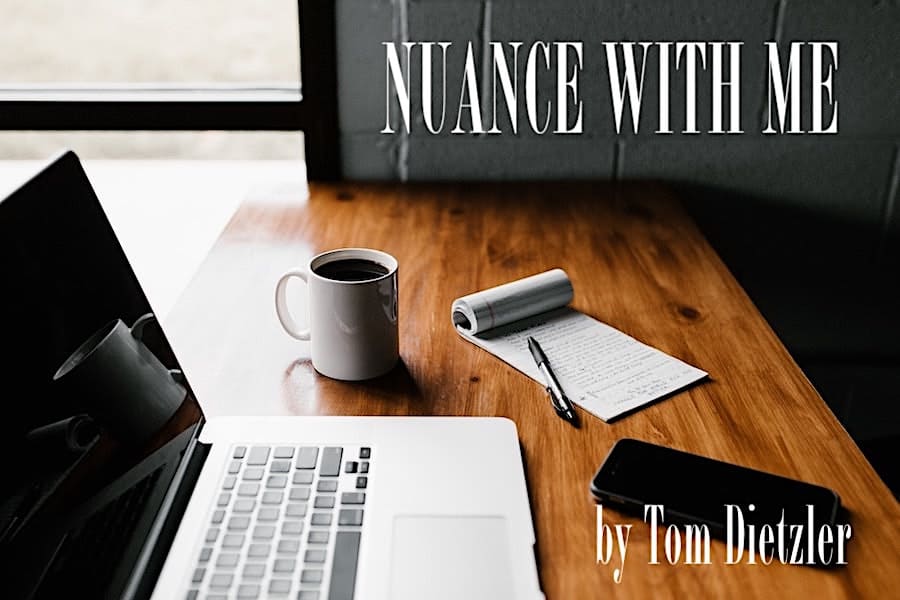 First, let me begin with my condolences on the passing of your mom. What a grand, strong, vital person she was. I was 6 when your parents moved to Kimberly to the house on Washington Street. We lived around the corner from them, on the corner of Maes Avenue and Adams Place. I remember so many times of cutting through the backyards to get to your parents' house – through our yard, then two other yards, which got me into the northeast corner of your parents' yard. Your parents were so good to me, and I can remember so many hours that I whiled away at your kitchen table, talking to your dad about world events, politics, Wisconsin (and Marquette, of course) sports, the Packers and a ton of other subjects.  Nothing was off-limits. I learned about the beauty of discussion, and that it's ok to be passionate about something, but having a disagreement was not a license to be disagreeable.
I remember a silver dollar that sat on the kitchen table for a long time. From time to time I would pick up and look at it. Your dad told me that the coin was carried in your Grandpa's pocket for a very long time. The coin was minted in 1921.
When your dad mentioned one time that it was from the year of your mom's birth, she chastised him for telling me that, apparently she wasn't happy with him broadcasting her age. Your parents were so good to me and I learned so much about life and learning and the value of education and honest, sincere debate. I can still hear your dad laughing at so many things, and how he'd say "People just don't know what it is to be indolent, they always feel like they have to be doing something." I thought how interesting that was. Of all the memories that I have of being around your parents, I don't think any of them include your mother sitting down. I can also picture your mom walking the streets of Kimberly, with her head held high and those long powerful strides that she would take.
In the third quarter, with the Packers down 42-24, your dad had had enough, and we got up and left.
Your dad took me to my very first Green Bay Packers game on Sept. 19, 1971, against the New York Giants. It was Coach Dan Devine's first game as head coach. Devine suffered a broken leg during the game. The Packers lost, 42-40, but it was a rainy day and the Packers trailed almost the whole game. In the third quarter, with the Packers down 42-24, your dad had had enough, and we got up and left. By the time we got out to his car and made it home to Kimberly, the game just about ended, and we had missed the Packers' frantic comeback, which we had listened to on the car radio during the drive home. When we walked into the house, your mom wheeled around at us, surprised to see us back already. Her eyes narrowed, and she said, in her very direct way, "Bill you big dummy, you missed the best part of the game." And your dad answered, "Yes we did, but they lost anyway." And your parents went back and forth about the virtues of leaving before the game was over, and your dad was still satisfied that we had beat the traffic and gotten out of the rain.
I remember running into your mom periodically at the hospital, as she seemed to be there all the time. My parents, Alan and Joyce Dietzler are 91 years old and have many memories of your parents, from the days of living in that neighborhood in Kimberly, to encountering your parents at Holy Name Church and church functions, to encounters with them during their retirement in both Gulf Shores, Alabama and their time in Destin, FL. I remember your dad coming into church on St. Patrick's Day with his hair dyed green. I remember the days he'd walk the neighborhood with the white dog that he had, named Zachary. Zachary was like a poodle/beagle mix, possibly, and a fairly unusual looking dog, but he was good-natured and my first real exposure to any dog.
Your dad gave me my first golf club, and he and I would go to Triangle Park and hit golf balls around. He didn't care about the quality of his golf game, it was just something to do while walking around outside. Back in the house, your parents would always actively discuss the news, and there always seemed to be the latest edition of the Milwaukee Sentinel around. I think your mom liked doing the crossword puzzle, but I never her saw her sitting down to work at it. Your parents took me to Door County in the winter, just to see the beauty of Lake Michigan at that time of year. I remember our family went to visit your parents on Kelly Lake, too.
I'm so grateful for the way that life brought your parents to Kimberly and allowed me to meet some of the most extraordinary and impactful people of my young life.
They both lived long, full lives and made such an impact on their church and community and well beyond. The pictures of your mom in the obituary are wonderful, and though there is sadness at her passing, there are many memories of all that she was and the difference that she made in so many lives. I count it as a huge blessing that your parents were so generous with their time, and that they didn't mind letting this nosy little kid from down the street into their kitchen and into their lives and hearts. All the best to you and the entire family, on this time of loss. Thank you for sharing both of your parents with the world. I don't know if you'll ever be able to appreciate how much their lives impacted mine. God bless, always, to you and the entire clan.