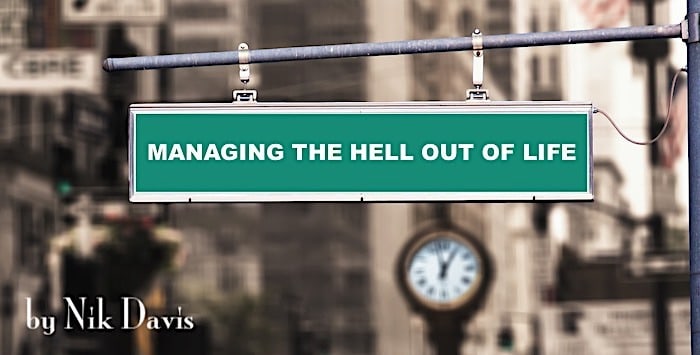 Someone once told me the definition of hell; on your last day on earth, the person you could have become will meet the person you became.

~ Anonymous
So, I spend my days trying to be the person that I am going to be happy to meet on my last day on earth.
And that means being honest with myself about myself – the good, the bad, and the ugly.
It means not being defined by a label, a job, a failure, or a success, but being defined by the very essence of me – my values, desires, strengths, weaknesses, hopes, and fears.
It means not being afraid to share who I am with the world – because it is my quirks, my imperfections, and my truth that makes me worth having.
And that is why I do not cultivate a professional persona – I am just me with a bunch of skills and experience thrown on top, which you may or may not find of use and that's ok.
Because I am not just what I do, I am not defined only by a job title, which is good news as I do not really have one – I am made up of all of the things that I do, I think, I believe, I feel, I have experienced and so much more, that will definitely take me beyond the Linkedin word count and that of any mere human's concentration span, including my own.
I simply do not want to turn up at work or anywhere for that matter, pretending or hiding, or carrying the heavy burden of shame, or disappointment, or resentment, or envy or even worse, of not being enough for myself or for others.
My challenges in life, my weaknesses, my vulnerabilities, do not limit my ability to perform my professions, they add to it, because they make me more real, more able to connect with others through the universal experience we all have, whether we admit it or not, of human messiness.
So, my world is a mixture of all that I am, all that I do, all that I see, and all that I connect with.
And once we can truly accept and embrace that, for ourselves and others, I believe that we will achieve much more for diversity and equality in all aspects of life, than any of the initiatives we have seen to date – and more importantly, our world will be so much nicer, interesting, kind and easier to be in.
So, in the words of K.Flay:

Mainly, I hope to inspire honesty. We live in a space where so much can be manipulated, and so much is expected to be manipulated – curated, contrived, edited. I think that's a real detriment to self-expression and happiness in a lot of ways. In my mind, honesty and vulnerability are the way forward.
And I hope that all of these words will inspire others to embrace all that they are both publicly and privately, because that's how we really change our reality to a far truer, more meaningful, and more sustainable world for all.