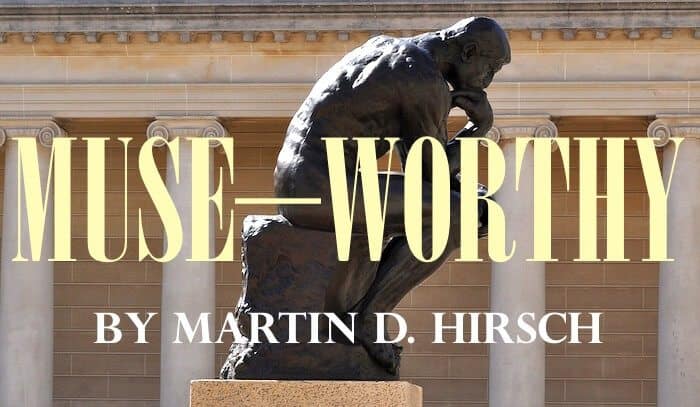 Stipulated for the record: The American democratic process has resulted in the election of a man who is an ill-mannered, undignified boor as president. Like it or not, Donald J. Trump will be inaugurated in three days. For those who didn't vote for him, and especially the many who still feel they may yet wake up from the nightmare, the question is, what now? Is there a strategy to overcome the divisiveness, distrust and even hate that threaten the country's future?
In the past week or so, President Obama and Meryl Streep displayed two very different approaches to the situation, Obama in his farewell address and Streep in her Golden Globes lifetime achievement award speech.
Crusading Against Cruelty
Exuding the deep compassion, empathy and emotion that characterize her best performances, our nation's pre-eminent actress grabbed us by the collar and delivered a biting rebuke: Shame on any of us who have allowed ourselves to become inured to the base insensitivity and downright cruelty of "the person asking to sit in the most powerful seat in our country." She called on "the principled press to hold power to account" and urged principled citizens to help protect the right of responsible journalists "to safeguard the truth."
As moving as she was, Streep was preaching to the choir. She proudly waved the elitist flag of the assemblage of Hollywood actors – many of them from other countries – and the notably foreign press, and then took a cheap shot at two of America's most popular pastimes. "Hollywood is crawling with outsiders and foreigners," she said. "If you kick 'em all out, you'll have nothing to watch but football and mixed martial arts, which are not arts." Not exactly a message that will expand the base.
When They Go Low…
President Obama, on the other hand, used his farewell address to showcase the high-road mentality that he and Michelle have made their brand throughout the transition of power. In what might best be described as an extreme example of the audacity of hope, he seemed to characterize the election of Donald Trump not as the unmitigated disaster that many in his party consider it to be, but rather as an unremarkable and temporary setback in our "uneven" progress as a nation. "The work of democracy has always been hard, contentious and sometimes bloody," he said. "For every two steps forward, it often feels we take one step back. But the long sweep of America has been defined by forward motion, a constant widening of our founding creed to embrace all, and not just some."
Even eternal optimist Obama, however, acknowledged that the forward motion toward a more perfect union "will only be realized if our democracy works. Only if our politics reflects the decency of our people. Only if all of us, regardless of our party affiliation or particular interest, help restore the sense of common purpose that we so badly need right now."
Unfortunately, the decency of our people, particularly as it relates to politics, is in precious short supply. As are open signs of a conscientious pursuit of common purpose. The bitter battles of Democrats and Republicans we see on the TV news at night spills over into the coffee rooms at work and beyond, severing friendships and splitting families. As Obama put it, our political dialogue has become so corrosive, "so course with rancor that Americans with whom we disagree are not just misguided, but somehow malevolent."
Battle Lines Being Drawn
And so the opposing forces seem to have solidified their positions since Obama and Streep stepped down from their pulpits, and not just between our nation's various factions, but within them. A vocal "Not My President" crowd pressured singer Jennifer Hudson to cancel her plans to perform at the inauguration after she had accepted the invitation as an apolitical honor to celebrate the occasion of a changing presidency. Black groups called her vile, racist names and the L.G.B.T. community convinced her, albeit more civilly, to announce she'd had "a lapse of judgment."
Democratic Congressman and civil rights icon John Lewis of Georgia kicked up a firestorm by denying the legitimacy of Trump's presidency on the grounds of Russian interference in the election. He's refused to attend the inauguration, and more than three dozen other Democratic lawmakers say they're joining the boycott.
A platform called "Indivisible" has sprung up online offering progressive Democrats a Tea Party-inspired recipe for "resisting the Trump agenda." It seems to advocate opposition to everything, absent any assessment of whether an individual proposal might be good for the country. But guidelines include a basis in reality and a commitment to civil behavior.
Others in the Democratic party are advocating a rifle rather than shotgun approach, or even searching for the elusive high road of common ground that the Obamas espouse. Senator Bernie Sanders is fighting tooth and nail to oppose the repeal of the Affordable Care Act and watching Trump's cabinet selections like a hawk. But he's attending the inauguration and may even wind up sitting next to Hillary.
In her column in The New York Times on Sunday, Maureen Dowd quoted Hollywood producer Judd Apatow as saying, "I don't think it serves a purpose to be against (Trump). It only serves a purpose to fight issue by issue."
And then there's CNN's rising star Van Jones. He has a new program called "The Messy Truth" dedicated to sitting down with some of the Democrats' biggest enemies – people including arch-conservative Rick Santorum, the former Republican senator from Pennsylvania, and Speaker of the House Paul Ryan. A studio audience of all persuasions joins the dialogue, expressing their concerns and opinions and groping together toward mutual understanding.
Why bend so far backwards to try to talk reason with people many Democrats discount as "deplorables"?
"You never win a championship by criticizing the other team," Jones told Conan O'Brien on his show last night. He explained that his life is one big focus group, an ongoing effort to find out what's on people's minds, whether good, bad or indifferent.
Time to Choose Sides
Which brings us back to that crossroads. One way leads to continued blind partisanship, discord and dysfunction. The other to a long slog through selective, issue-based opposition, and difficult conversations with often recalcitrant opponents. The first is hopeless. The second, although based on optimism, could still prove fruitless. But the difference is clear and I know which one I'm choosing.