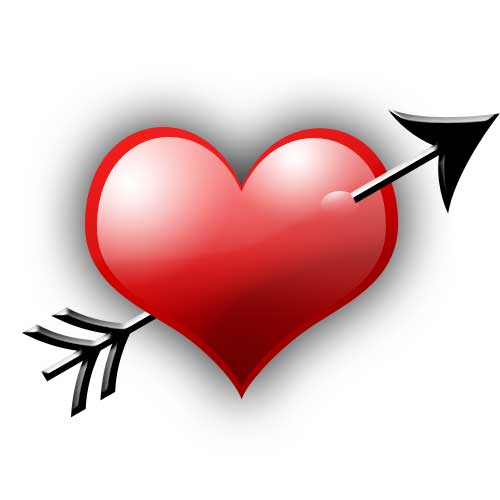 February is the perfect time to incorporate new art into the bedroom.  Since most of us spend about a third of our lives in this space, shouldn't it be beautiful and inspiring?
First of all, assess what you already have in the room.  A photograph of you and your beloved is a perfect piece to hang on the wall.  It's also great to incorporate soft, romantic pieces into the space.
If you are single, maybe you want to include things that make you feel happy and loved, like nature scenes or soft abstract paintings.  Hearts have definitely been overused and can be clichéd, but there are great artists out there who can inspire us with their work.
Art should lift our spirits.  But in the bedroom, stick to something less energizing and more restful or romantic.  Reds and pinks mixed with smoky shades or the colors of nature work well.  I like to mix personal pieces with things more abstract or universal, such as an oak tree, sunrise, or ocean scenes.
Include whatever you feel most at home with.  I have a great Stacey Landfield piece titled "Spikeylama" on my wall.  (See her artwork at Staceylandfield.com.)  I wake up smiling, looking over at my little iguana lama meditating in the San Diego backcountry.
You can make your own heart-inspired artwork which is a great gift for your sweetie or yourself.  Pick up a few supplies from your local art store: small canvas (12 inches square would be a good starting place), a couple of acrylic paint colors, disposable gloves (I like latex-free fitted food service gloves), and paper towels.  A disposable paper plate makes a great palette.  You can also use of a can of black spray paint, matte (flat) or semi-gloss.
Your canvas should be white and backed with wooden stretcher bars for easy hanging.  Thin canvas-covered board is cheaper to purchase but makes it hard to display without buying a frame, which costs much more than just buying the nicer canvas.
Widths of the stretcher bar vary, so compare them before you buy.  A deeper canvas is more dramatic but check prices, they really vary.  Michael's offers coupons most weeks, so that can help offset the higher price for a nicer canvas.
Blick.com offers a 12 x 12 inch wide, ¾ inch deep canvas (Studio Traditional Profile) for under four dollars, while the same size Premier Gallery canvas with 1½ depth sells for almost sixteen dollars.
Prices vary widely, as does quality, so check your canvas for straight sides (bigger canvases often warp).  For a professional look, make sure the canvas is stapled on the back rather than the sides so you eliminate the need for a frame.
Acrylic paints come in all colors, thicknesses, and qualities.  I like tubes of artist's quality in the fine art aisle, but the craft paints will work.  They are just often thinner, and the intensity of the color varies.
Liquitex and Golden are good artist brands for beginners; their thick body sticks well to the canvas and provides a smooth finish with intense color. I like to use transparent paint; acrylics artist paints should have "transparent," "semi-transparent," or "opaque" on the label.  If not, I assume it is opaque.
You can either plan out your art piece or go with your gut.  I like to shop with my inspiration and buy a couple of tubes that jump out at me.  Teal is one of my favorite hues; it goes with many other colors (like yellow and gold) and is soothing and rich.  As a compliment for red (across the color wheel from each other indicating good offsetting colors), it would also work well in a romantic heart art piece.
You can use a cut-out shape as a template (stencil) to start the piece.  Blue painter's tape works for making straight lines, and use a sharp knife or scissors to cut shapes from leftover plastic.  I use sheet plastic from bubble packs, but you could also use parchment paper, aluminum foil, or transparencies.  Giant heart, anyone?
READ MORE AT WOMEN'S VOICES MAGAZINE