Almost all companies break the law at some point – if not deliberately, then accidentally. Of course, breaking the law is always risky, resulting in penalties such as fines or even jail time if you get found out. Governments and local authorities are becoming increasingly more thorough when it comes to identifying illegal behaviour. As a result, for those that run a business, it's becoming even more important to make sure no laws are being broken.
Just what are some of the most common laws that companies break? This article delves into 10 uk business laws that often end up getting broken, the penalties for breaking them and what you can do to make sure that you're abiding by the law.
Evading tax
Tax evasion may well be the most common crime committed by businesses. It involves underpaying tax – usually either by not reporting certain forms of income or claiming false deductions.
All tax returns are closely analysed by HMRC. If something doesn't look right, HMRC may issue a tax investigation such as a Code of Practice 9. Such an investigation can involve looking into all your financial records. If it's clear that you've been evading tax you could be asked to pay 200% of the tax due or even face jail time.
It's worth noting that HMRC also carries out random tax investigations – even if there's nothing suspicious about your tax returns, you may still be picked for a random investigation, which could uncover more sly forms of tax evasion.
All in all, you don't want HMRC finding out that you haven't been paying enough tax, which means being accurate with your bookkeeping and tax returns. Don't try anything dodgy, and use accounting software (or an accountant) to reduce bookkeeping errors.
Sending spam emails
Sending spam emails in the UK is illegal. But just what is classed as spam? Spam is pretty much any unsolicited marketing email. It typically doesn't apply to direct cold emails, however it does apply to mass marketing emails sent to individuals without their consent. Breaking this law could result in a fine of up to £500,000, depending on the nature of the email.
You should never add recipients to a mailing list without their permission, and you should always offer an option to opt-out of your mailing list within all your emails. Make sure that you're also asking recipients whether you can collect and use their data (although no longer in the EU, the UK has still retained GDPR law). Finally, make sure that you are not using misleading email subject lines.
False advertising
False advertising involves using false claims to promote your product or service. This includes anything from claiming that a product is 'award-winning' when it isn't to claiming that a drug can 'cure' a disease when it cannot.
If someone looks into your claims and finds that they are false, you could find yourself being reported to your local Trading Standards office. From here, you may face fines or even harsher penalties (the bigger the lie, the bigger the penalty).
Always watch what you say in your promotional content to avoid being accused of false advertising – whether you're writing website copy or delivering a sales pitch over the phone. Do you research beforehand to make sure that everything you say is true. When using studies and surveys to back up claims, make sure that these studies and surveys are from honest sources. Never promise anything that you cannot guarantee.
Stealing intellectual property
Intellectual property is any creation that has been protected by either copyright, a trademark or a patent. Copyright protects a range of different types of creative content from photographs to music – anything original that is shared on the internet by your company is technically protected by copyright, including text on your websites and photos you've shared. Trademarks apply to branding elements such as logos, brand names and slogans and need to be applied for. Patents meanwhile apply to inventions.
It is important that you do not attempt to use protected intellectual property without permission. If you are found guilty of infringement, you could have to pay a big fine. Attempts to pose as another company could even result in jail time.
It's important to do your competitor research and avoid using any ideas or content without permission. Accidents can occur in which a company may unintentionally copy another company's logo, website or invention. If you can prove it's an accident, you usually won't have to face any penalties, provided you are willing to make changes to get rid of any similarities. It's worth noting that you can protect your own intellectual property by taking out patents or trademarks.
Unfair dismissal
Dismissing an employee is a task that has to be carried out in a specific manner. A few things that employers can get in trouble for not doing include:
Ending a contract of employment without notice
Dismissing an employee for going on strike
Stopping an employee from coming back to work after maternity
Dismissing an employee for whistleblowing (revealing a shady activity within your business)
Dismissing an employee for actions not mentioned in a contract
Unfair dismissal is punishable with a fine. You will also typically have to pay legal compensation to the employee if they were the one that raised the issue with a court and filed a lawsuit.
To prevent being accused of unfair dismissal, always consider getting legal advice when thinking about dismissing an employee. Remember that your employee contract can give you power to dismiss employees for certain actions – make sure that any unwanted behaviour is clearly stated as a dismissable offence within your contract.
Insufficient rest breaks
Employees that work for more than 6 hours in a day are entitled to a rest break lasting a minimum of 20 minutes. It is important that you are giving employees these rest breaks if they are working shifts more than 6 hours – otherwise you could face fines and lawsuits.
Rest breaks are more likely to not be given out in very busy work environments. If you physically cannot pull a single employee away for more than 20 minutes within their whole 6 hour shift, it is a clear sign that you need to hire more employees to work these shifts or find a way of reducing the workload so that it is more manageable.
Discrimination
Discrimination is another common crime that companies commit – often against employees, but occasionally against customers too. Discrimination occurs when you treat an individual unfairly because of characteristics such as gender, sexuality, race, religion, age or a disability. Such unfair treatment includes not allowing an employee a promotion when they are otherwise qualified, or refusing to take on a customer when there is no other valid reason why not to take them on.
Discrimination charges typically require having to pay legal compensation to the victim. You can avoid such charges by taking care to treat everyone equally. Be wary that you can be accused of discrimination for not being inclusive – certain individuals may be entitled to extra privileges that others may not, and you must accommodate these. For example, you cannot ask a pregnant woman to lift heavy objects or refuse to hire an employee because your workplace does not have wheelchair access.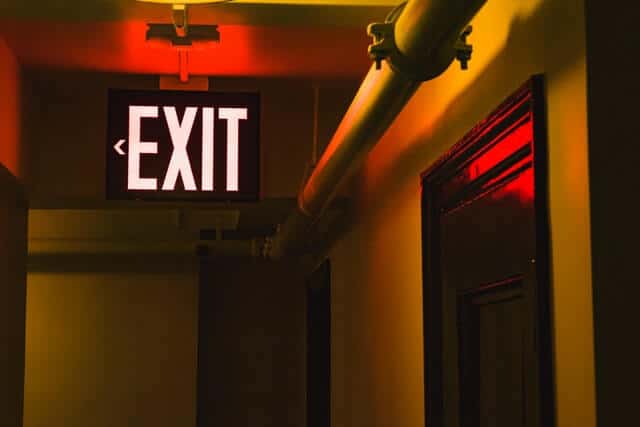 Poor fire safety
Every company with physical premises and employees must abide by certain fire safety laws. This includes having clear signposted fire escapes, a working fire alarm and on-site fire extinguishers.
Poor fire safety practices such as blocking a fire escape with furniture or not having a working fire alarm could result in fines. Usually an employee or customer will report such an issue to HSE and there will be an investigation. Carrying out your own regular fire safety audits can help you to spot potential fire safety risks and take protective measures against them.
Operating without licences
There are things a company cannot do without a licence. For example, you cannot sell alcohol to customers or even play music to customers without a licence.
If you get found out for not having a licence, you could be fined heavily. This can be avoided by researching into the licences you need and applying for them in good time. A legal advisor will be able to help you identify exactly which licences your company needs.
Non-compliance with environmental laws
There are also laws in place to reduce environmental damage. Certain industries such as manufacturing and farming are expected to follow a range of environmental laws such as limiting emissions and appropriately disposing of waste. Failing to follow these laws could result in fines.
Always consider your environmental impact when starting a business, and check to see if there are any laws in place to help reduce this impact. In some cases, there may be taxes that you can avoid by taking eco-friendly measures (Plastic Packaging Tax being one of the more recent examples). Look out for any future environmental laws that could affect your business and try to prepare in good time.