Much of what I write is personal and close to my heart in so many ways. I have written about various subjects, good, bad, family, the service of men and women in the military, as well as first responders; but I felt God placing on my heart to speak of a little girl whom I did not know personally, but believe so much that when a little innocent life is over, they become "Angels that Fly Home".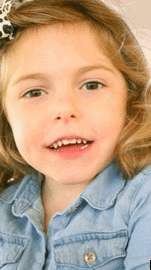 God gives us our children for a little while, a long while, we just never know when they will be called home, but they are not ours to keep. Whenever I read about the passing of a child, I feel the loss and sadness that must be in the hearts of their parents, and family.
I look at death in a different way than many, meaning, that we are all going to leave this earth one day and whenever a little one is called home too early, I place their little souls in my daily prayers, and I find myself hoping that where they are, I too will be someday, in Heaven with all the angels such as these innocent souls.
Pinterest is a place where so many things are posted for so many different reasons, that is where I saw Amelie and her story. Her name was Amelie "LuLu", and she was only 6 years old. She passed away July 1, 2017. Being a grandmother and having a granddaughter who will turn 5 in October, close to little Amelie's age, and not being able to see her, I just can't imagine the permanent loss. This 4th of July is not a celebration for this family.
I would ask that who ever reads this article, short as it is that you keep little "Amelie" in your prayers as she makes her way home, an Angel entering Heaven.