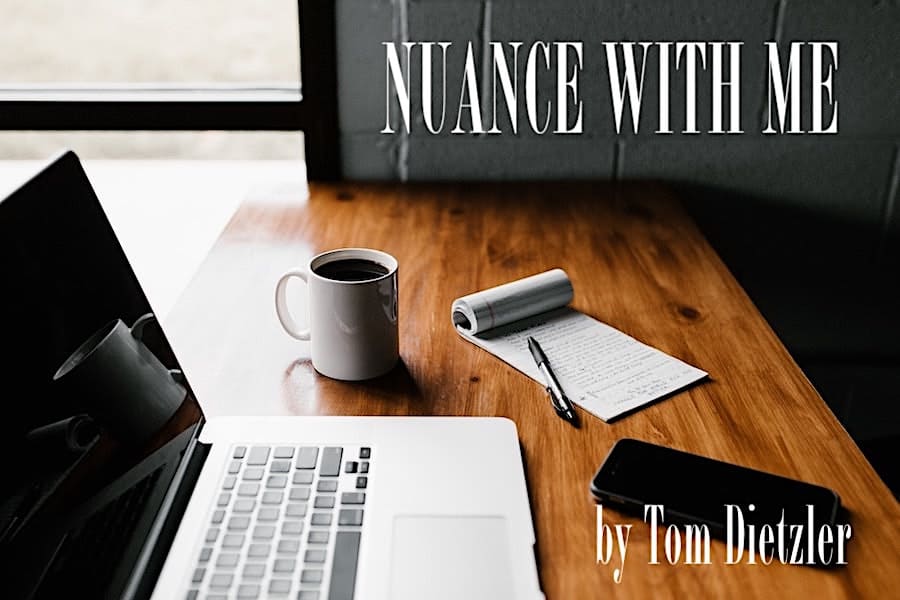 That one about the guy who stays home because he's sick…
When I took my buddy Oliver out for a walk a few months back, I noticed a fatigue and a general malaise taking a hold of me. Like a good boy, I got back home with my buddy and made a quick dive into bed. Maybe I could nip this thing in the bud and sleep it to death.
I was cold, and it was not cold in the house. I wore my sweatpants and sweatshirt to bed, with the hood up. Sometime after midnight, I sensed that I was overdressed, and lost the extra layers, popped some acetaminophen, and went back to unconsciousness. I'm normally up at 5:30 with Oliver's assistance. He must've sensed that I needed my beauty sleep, and in the groggy fog between my ears, I thought that I heard the shower running, so Rhonda must be up already.
In the next peek into some semblance of being awake, I was in our lower level, waiting for my buddy to eat. Yes, I need to sit on the couch nearby or he won't eat. I wish that weren't the case, but it's how he rolls. At this moment, I am pretty sure that I was thankful for his eating habits, as being on the couch was a great place to rest after the long trek from our master bedroom, down about a dozen stairs and through our family room to watch him eat. I wasn't watching him, but at least I was nearby.
He ate some of his food. Oh good, now he will want to go out for a walk for his bathroom privileges. Traversing that huge expanse known as the family room, up a flight of stairs, I get my outdoor gear on. It was near zero outside, so that was handy so I wouldn't forget that it was February.
15 minutes later I am back inside, taking my boots off, and leaning against the wall. Wiped out. I take a moment of silent reflection, thankful that it's Thursday because if it were one day earlier, my wife might have been tempted to hoist my lifeless remains into the garbage dumpster out on the road as Wednesday is garbage day in our neighborhood. Steeling myself to make some sort of recovery… I have six days to turn things around before garbage day dawns again.
I stumble to the couch. Rhonda says goodbye and that she hopes I feel better. "This too shall pass," I probably said, though the moment is lost to us. Hours pass, my buddy is happy on the couch alongside me, he has no further use to go outside, he remembers how bad it sucked to be out there. I'm lying there, thinking: "This is good. I have no energy, but no need to go anywhere. I can just lie here all day. Lie or lay?" Sleep ends that discussion. The next time that my eyes flutter awake, I have no idea what time it is. Bright sun is streaming in the patio doors, so it must be near midday. In no hurry to go anywhere, I sigh and think, "Don't move, this is perfect."
Next thought, "Perfect? You obviously didn't ok this judgment with your bladder." 27 attempts at getting the recliner to close so I can get up, and I'm too winded to get up. With grit and determination, I make a determined path to the bathroom. When I finish, several thoughts have flashed through my addled brain, but none long enough to have sparked an idea. I look down. "Holy Monkey!" If a kid from the marching band that I had supervised for seven years had reported urine this color, I would have had the kid airlifted to the Rochester Clinic for immediate IV treatment of dehydration. The color was that of either kerosene or undiluted chicken noodle broth. "You really need to drink some water."
Sitting in the shower, with vast quantities of hot, hot water streaming down over me. I could spend the rest of the day in here.
That seemed like too much of a process because another thought was taking over my brain. It may be several hours before I get back here, so why don't you take a shower? I turn the water on, and probably to a water temperature that could make chicken broth palatable… and I step in. Whoa, this feels good. I don't have the stamina or the strength to stand up, so it's time to flex my flexibility. Who says that Clifton's Strengthfinders can't help you in the shower? We have a newer house, so the shower has one of those nice benches in it. We don't use it for benching, just a place to keep all the shampoos, conditioners, and the mélange of hair and body products that are mandatory for being at the pinnacle of personal hygiene today. It will be a bench today. The products get moved to the floor of the shower, and wow, is that a long way down today… and I sit. Sitting in the shower, with vast quantities of hot, hot water streaming down over me. I could spend the rest of the day in here.
After an unknown span of time, I'm out of the shower. Drat, the luck. I had wisely thrown all the clothes that I had on previously into the laundry hamper, so I needed to replace everything. The initial layer of underwear and a tee-shirt was readily available in our bedroom, but the rest of my clothes was in my office, seemingly light-years away. Ok, just through the dining room, but up another flight of stairs. Fully dressed now and having spent far too much time in a vertical orientation, I need the couch.
Ok, I did my best Fred Sanford shuffle to the landing, taking only five minutes to don a pair of slip-on shoes and a coat, and we head outside.
And the couch it was for the next span of time, no idea how long. I wake from a stupor with an eerie sense of, I don't know, something woke me up. In seconds, I realize that I awoke because my dog's face is twelve millimeters from mine. He does a quick exhale, just for good measure. He has been more than patient and enduring throughout my ordeal, he even played sentry outside the bathroom whilst I spent a couple of eons trying to take a shower. It had been more than eight hours since he had been out, and I was the only one who could assist in this endeavor. Ok, I did my best Fred Sanford shuffle to the landing, taking only five minutes to don a pair of slip-on shoes and a coat, and we head outside.
Oh good, it's still February. Slicing winds of about 20 miles an hour add to the enjoyment of single-digit temperatures. My heart is singing in absolute joy as Oliver knows that it's cold out too and takes only a few seconds to decorate a snowbank and he and I both retreat into the house. Back to the couch. Oh, my friend the couch. Lovely, lovely horizontal positioning again. My last thoughts as consciousness slip away… It's a nagging thought. I hate sick days. But it was good to be home. Another thought flutters in my brain… in this same condition, Rhonda would've brought a packet of soup with her and told everyone to stay clear of her desk. But I'm a guy, so yeah, I did spend a day at death's door.