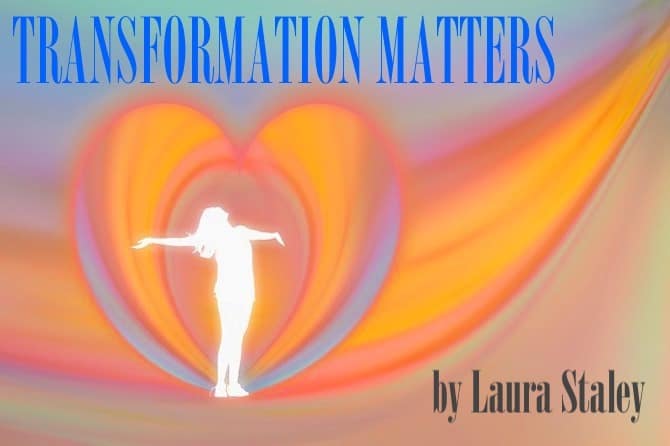 The great solution to all human problems is individual inner transformation.

~Vernon Howard
I remember years ago being involved in an intellectual discussion about the difference between change or improvements and transformation. Years later I attended a business workshop facilitated by Tom Wentz where I gained clarity about transformation.
Transformation is not about something better, a tweak here or there, or eating carrots instead of broccoli with your dinner. It's about different. It's about a contrast. Experiencing an inner and outer transformation in life often translates into what earlier might have seemed improbable, maybe even impossible, a vision of something beyond your current reality.
The ability to realize that the way you think, feel, and behave, the essential ways you experience being alive can completely shift plants an important seed for transformation.
For most of my life, I lived as a terrified, traumatized, people-pleasing victim. I sometimes snapped when someone accidentally poked a place of unhealed shame. Unresolved traumas showed up as eruptions in what I called the rage/shame cycle until I steadily healed and released this energy. I regularly pretended to have it all together with a fake "I'm Fine, thank you for asking!" smile.
I now live as an immensely grateful, loving, passionate person. I notice being awake with an unshakeable inner value, peace, and compassion. Sprinkled with moments of utter delight, sadness, laughter, tears, squeals, inspiration, my world feels safe and free. Experiences of being loved and being lovable continue to expand my heart. The Inner Silent Fly on the Wall grows each day.
From seeing, hearing cars, trucks, emergency vehicles, driving on freeways of concrete, entering many different buildings, and interacting with lots of people to now observing deer, hummingbirds, black bears, trees, butterflies, blooming flowers, rain, sunshine, running around a lake, typing regularly on a laptop, and encountering only a handful of people in person became an outer transformation, a thoroughly different experience of daily life.
To transform the only person's life you can transform, which is yours, you must take responsibility for your words and deeds and set down any sense of responsibility for other people's words and deeds. You must feel fully the impact of hurtful words and deeds you have done. Choosing not to repeat them and then not repeating them remains critical. Knowing in your bones how criticism chokes, what shame suppresses, how rage regurgitates, you can go about the business of that inner work in your body/heart/soul as you stand in new postures. You can roar out your hurt and anger in the privacy of your bathroom. When you safely release this energy, you can find power in silent reflection, which does not harm anyone least of all you.
Create a safe haven of firm advocates on the outside of you-actual people who see the goodness in you. Join these supporters with the internal affirming part of you, the part of you that knows you are courageous, resilient, and strong. You can work together to cause a complete shift.
When you gather people around you who support and believe in your essential self, they can hold you high. You can hold them high. You become mirrors for one another of what's possible.
ou can reflect their inner love and strength and they can reflect yours. Transformation takes place in that shift in consciousness, in the namaste of honoring the Love in you and the Love in me.
Discovering the roots of your deepest dreams, passions, a purpose that takes hold of your heart, and does not ever let go, you can begin creating a life you love living from inside your essential self. As this love and passion grows, resentments let go of you. Your attention shifts to what you love about living life, the ways in which you want to spend minutes, hours, days, months, and years as an open-hearted human being experiencing life.
Knowing you have a purpose for being on the planet, that your life matters, that you have dignity and unique qualities, skills, and people who love you can fuel your soul towards creating an unrecognizable experience of being alive.
Allow your heart and body to love what they love.  Connect to what you actually cherish about being alive. Take a moment to write these down or speak them to someone who loves you. Who and what do you care about? Who in your life will breathe deeply, laugh freely today because you are here? How can you embody a holistic transformation?
May you choose new practices that build a bridge to your unrecognizable experience of being alive. May you attract supporters of the essential you and may you be a supporter of other people's essential, beautiful selves. May we create a transformation in how we experience being alive on this gorgeous planet.