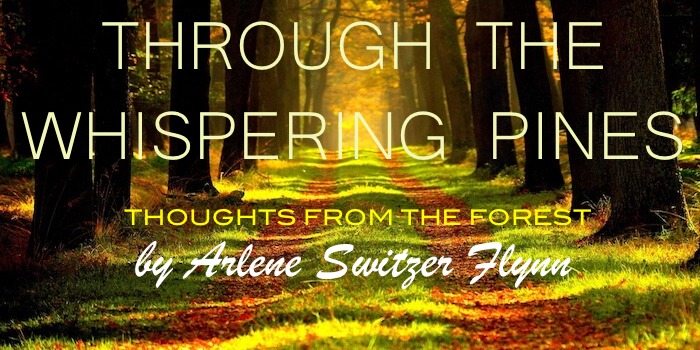 I can share this with you, my friends, but my granddaughter, well she might not believe it to be true but even Grandma's need Grandmas' every now and again. She will though before the evening's end.
On a warm summer's eve, as I sat on my front porch swing alone in my Forest with a cold glass of tea. Dinner was over, and everyone is fed. The sun began lowering itself in the sky, and the fireflies were appearing for their nightly ballet. The thrill of it all took me back for a visit to a long ago day.
My long departed grandmothers' lilacs' flank each side of the old porch step even today. As if by magic, she and I are rocking away. "Were these the same fireflies," I heard myself say. "They are putting on the same show in such a splendid way?" I inhaled the aroma of my Forest on this warm summer's eve. I felt her beside me as her hand touched my cheek.
With the heel of her foot, she began moving the swing, gently as we began swaying back and forth in a lullaby rhythm of sorts. In my lap, I was holding a little tin box filled with candies and such. Her eyes were all sparkly, and she nodded as if to say; "It's okay, pick the one that's your favorite. You've earned it today."
The sun had gone down between the cedars and pines. The flickering of oranges and grays are all that remained. In the calm of the evening, I felt her comfort. Once again, was the warmth of her sweet embrace wrapping her sweet spirit heart to heart with my own. I knew it with every fiber of my being she was still guiding me.
I heard her clearly say, "Oh, my child look around, you have walked a good path and have kept me with you, so the old ways remain. You have added some new ones out here in my Forest, and I so approve. My own grandmother and I have been watching you."
Deep in the Forest of this my home, somehow, I always knew I was never alone.
I thought of the making of homemade bread in her old hand carved wooden bowl, as she would make ready the old wood cook stove. Those were my hands under hers all those long years ago. I am standing now on the seat of her heavy oak table chair as we are kneading the dough.
I am feeling her soft loving hands caressing mine gently as we patted the dough. "Get the feel of it dear," she was whispering to me. "These will be the things you will need to know to pass the knowledge on," and then she was gone.
Alone now with my own memories of a time long ago, my own granddaughter stood in that same high back old oak chair. My hands were on her hands, gently kneading the dough. There was a faint smell of mint on her breath and a dab of chocolate on her nose as I heard myself say, "Get the feel of it dear. These are the things you will need to know to pass the knowledge on."
"The fireflies are dancing a lovely ballet," I heard a young woman's voice say as she sat next to me. When I looked into her eyes, I saw myself looking back at me. "I'll trade you your cool glass of tea for some advice and that old candy tin. I'll be in need of the recipe for the handmade mint chocolate drops that's within."
My heel on the old porch board began the rock of the swing as I asked, "Ahh, you have fallen in love, have you, darling?"
She replied, "Oh, I have Grandma, and I want us to stay right here in the Forest near you forever if that is okay?"
I noted, "Is he the tall one, the good one, the kind one you've been bringing around here of late?"
"Yes, Grandma he is. He's not that ole bugger you chased away," she giggled so sweetly. The fireflies are still dancing their lovely ballet like candles in the grass as the moon begins to shine. I was holding my grandmother's old candy tin. "Your favorite treat is inside. Take one if you please," I say as her heel joins mine and together we sway on the swing.
I lay my head gently on her shoulder and feel the caress of her hand on my cheek. Secretly she knows in her own way a comfort like mine she'll be having one day.
"Yes dear, bring your forever love here in the Forest, you have my Blessing too forever stay. Here deep and safe in the Forest is where we will stay, forever and always it shall be our way!"