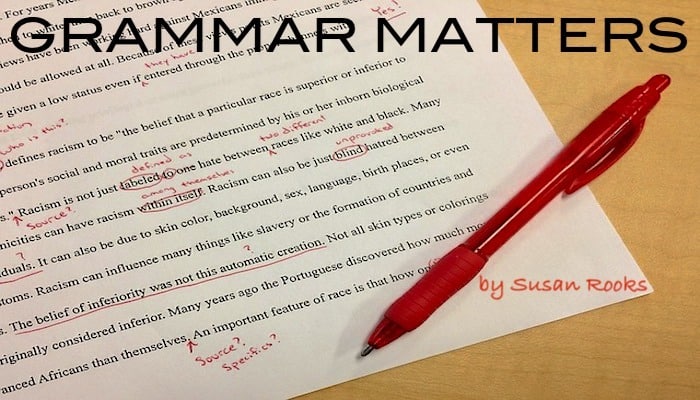 I see a lot of errors in articles, many likely made due to confusion about what's considered correct in the American grammar system. While our system has a lot in common with all others, it's also a little different, especially with punctuation.
Here's a quiz with some errors I've seen recently; what do you see that needs fixing?
That non-profit says they're going to hold their event next week.
Is Ann really seen as 'snob?'
Social media giant, John White MBA, wrote a terrific article this morning
Our extraordinary story teller, Sarah Elkins, lives in Helena Montana.
Do you thing that story will negatively effect the outcome?
I need two things for my party; cake and ice cream.
That little six-year old boy is cute!
Ann really is seen as a "snob".
Are all the reports up to date?
All errors are yellow. The corrections are blue.
That

non-profit

nonprofit

says

they're

it's

going to hold

their

its

event next week.
Since the verb is singular, nonprofit has been identified as a singular entity (it), so any pronoun used to describe it must also be singular.
Is Ann really seen as

'snob?'

a

"snob"?
There's a word missing.
The American system uses double quotation marks alone, never single ones (they're only used inside doubles).
Since the entire group of words is a question, the question mark needs to follow the final quotation mark.
Social media

giant,

John White MBA,

Social media giant John White, MBA,

wrote a terrific article this

morning

morning.
Since "Social media giant" is John White's title in this sentence and comes before the name, the comma is wrong. We wouldn't write "Mr., John White …" and even though there are three words in that title, it's still a title.
A comma is needed after White and after MBA. And the period is necessary to end the sentence.
Our extraordinary

story teller

,

storyteller,

Sarah Elkins, lives in

Helena Montana

.

Helena, Montana.
Here, the first words describe Sarah's job or position, so the commas are needed. The name is actually considered non-essential, meaning it could be left out and the sentence would still work grammatically. It's far better with the name, but the name needs to be set off with either parentheses, commas, or dashes.
Do you

thing

think

that story will negatively

effect

affect

the outcome?
The perils of believing that spellcheck does anything beyond checking spelling.
Affect is usually a verb meaning to influence; effect is usually a noun meaning the result.
I need two things for my

party;

party:

cake and ice cream.
Semicolons are never used to set up a list. Normally the correct mark is the colon. In something very casual, I suppose it could be a dash (but not a hyphen).
That little six-

year old

six-year-old

boy is cute!
When a multiword phrase comes before a noun and describes it, ALL of the relevant words need to be connected with a hyphen.
Ann really is seen as a

"snob".

"snob."
In the American system, periods and commas ALWAYS go inside final quotation marks. Yes, even if we're quoting just one or two words at the end.
Are all the reports up to date?
How many of you wanted to put hyphens in up to date? Yeah, I can still see your fingers twitching! But as written, the sentence is correct. Up to date as a regular prepositional phrase that stands alone, with no noun following it, is never hyphenated.
Now, if the sentence read "Are all of the

up-to-date reports

here?" or something like that, the phrase would be describing reports and would always be hyphenated.
So, how did you do? If you have any questions about the reasons for the changes I made, please let me know. I'm always happy to help.