I return to the Isle of Man to work with their Government on a number of fronts shortly.  See the thumbnail sketches of our sessions below.  My return reminded me of some funny stories about my last visit to the island with important lessons about how small details matter in life and business.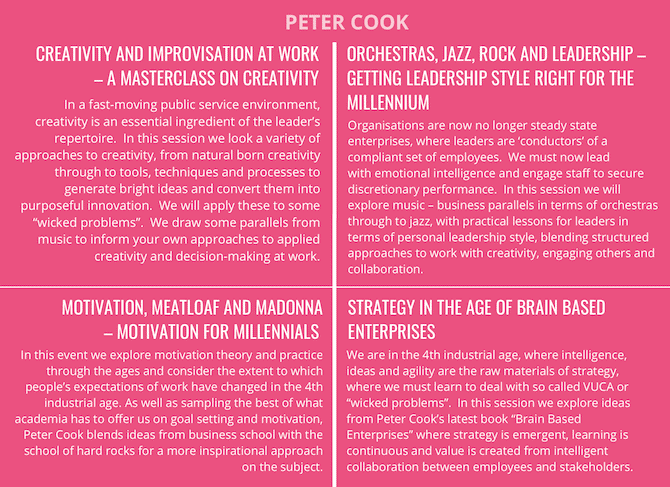 I last visited Ellan Vannin some years ago when I was contacted to deliver some entrepreneurship events for schools and a masterclass for the Chartered Institute of Marketing (CIM).  I could not quite understand the rapturous reception I received in both cases but accepted the euphoria with good grace.  The organisers were delighted at just how many people attended the CIM event and the school kids queued up to have my books signed in ways that made me feel especially privileged and slightly giddy.
On the way back to the airport my host kept congratulating me.  I casually asked how he had marketed the event to see what I could learn.  He showed me the calendar booklet which contained my entry – an event title plus a detailed description of what people would gain from attending, much like the thumbnails for the current series of events above.
On closer inspection, it turned out that the event from the previous month was just billed as "A visit to an abattoir, followed by supper".  Hardly anyone had attended!  I suspect that I had been helped by a great "support act" from the previous month. ?
Curious, I had to ask about the schools' event.  I had also sent a thumbnail outline of my session to ensure we set the expectation clearly.  However, the headmistress had misspelled my name as Peter Hook instead of Peter Cook.  Should she have written "by Hook or by Cook" out 100 times I wondered?!  Suddenly, it all made sense.  The students seemed to think that I was the bass player of Manchester indie band New Order.  They must have also thought I was very short in real life, without a beard or the characteristic stance of Hooky!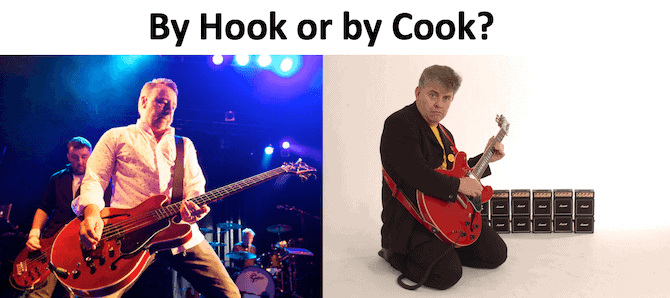 Lessons from misadventure
The Cobbler's children have no shoes …  The hairdresser's hair is not always well-cut … The marketing institute's comms are not always effective … Clearly, a headline of a visit to an abattoir followed by supper was not a big draw.  If you want to attract people to an event, offer them accurate and compelling reasons to go …
Details matter.  The confusion of Peter Hook and Peter Cook played in my favour but must have been very confusing for the students attending.  This moment reminds me of the story of "comma cost nurse job".  A nurse wrote a letter saying:
"I have come to the opinion Mrs. Pepperell is out to make my life hell, so I give in my notice."
The nurse meant that her boss, Mrs. P, was bullying her to make her resign, in other words:
"I have come to the opinion Mrs. Pepperell is out to make my life hell so that I give in my notice."
The erroneous comma meant that the health authority assumed she was handing in her notice, so they released her from employment!
Profit from mistakes.  They are often more instructive than life's successes if we dare to learn from them.