I was attracted to this book Advanced Consulting: Earning Trust at The Highest Level for three reasons:
I have long been impressed with consultants. They seem to have an uncanny ability to pick up a subject quickly, facilitate multiple topics at once, and retain volumes of dissimilar data in their head.
The author included a questionnaire to assess your strengths and needs for development in the back of the book. I am always attracted to ways to measure improvement, especially my own.
The author begins his prologue with a real-life story that began in 1998. That happens to be the year when I first met and worked with a consultant.
I was offered an ARC for an honest review of the book.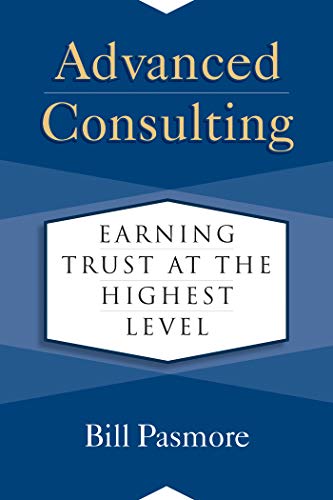 When I first received the book, I was instantly leery of the possible textbook knowledge required to read, dissect, and write about the content. From the beginning, I realized how improbable that perceived issue was.  The 'textbook' wasn't over my head at all. Bill Pasmore wrote the material in a real down to earth language, using plenty of picture words to make reading fun and easy to understand. I really appreciated the way he broke up the pages with memorable quotes that added to the value, cementing the concepts.
As an example, in the chapter titled What You Need to Do: How the Work Is Done he says, "Half of all leaders fail. Don't be in that half." Then he goes on to explain teams, locking in your relationships, and gathering up the strays. Here's what he says about that. "Change is like a cattle drive; people forget what they are supposed to do and wander off on their own." I don't know about you, but if I'm going to learn something, I would like it to be in the ballpark of interesting or should I say in the pasture of interesting. Through personalizing and making examples that help me identify with them, learning becomes a want to do, instead of a need to do.
The images throughout the book add substantively to the chapter topic. One example is the three approaches to Managing Talent. Inertia, Talent Management, Talent Strategy
CEOs Who understand the demands of the future will formulate talent strategies that meet the challenge, rather than making do with what exists.
Early in the book, before the parts about psychology, acquisitions, teams, and culture, Pasmore says, "It's important that, when you say you can help, you really can help." That's the premise of this book – helping you become someone who can help and help in whatever capacity needed.
This is a toolbox of purpose, plans, practices, and turning them into strategies – like your organization hires consultants for. You can get your copy of Advanced Consulting: Earning Trust at the Highest Level