Mind over matter 2
I have the ultrasound and it is not conclusive! However, at 17:40 pm —70 minutes after my ultrasound I have a missed call from a doctor at the surgery asking me "to call him urgently, it does not need to be today" and no mobile or other means to reach him!
Now I am doing ok re: my quality of mind, but this shot my heart rate up so I drove to the surgery and asked to speak with the doctor, but the surgery was closed. The kind receptionist had a look on the system (we communicated via the closed door) and advised that he will try and reach me again tomorrow and that he was planning to prioritise my specialist check-up.
I have no idea what this could mean, but at least I go into the evening with some idea as to the context as based on just the voicemail, the world had just ended!
I fully appreciate that people are doing the best they can in the moment….  Brene Brown has taught me well. My mind wavers between excitement that I get to see my wife and kids again tomorrow and the curiosity around what exactly the doctor's message is going to be tomorrow.  With a US trip planned from the following Monday 9th Mar, this really is in the moment human experience stuff unfolding …..
Could it be cancer?
The reality of my situation was that I was experiencing a full house with regards the below 4 symptoms of testicular cancer so sense this may be why the doctor wanted to speak urgently: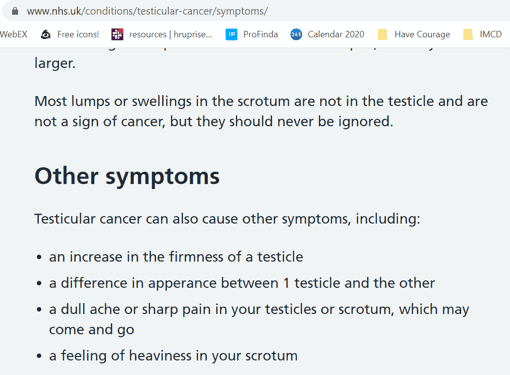 I went to bed at 21:30 pm, read for 45 mins then collapsed into my best sleep in several weeks, getting 8 solid hours (there is a lesson in there!)
The matter on 6th Mar 2020
I took a walk up to the doctors first thing on 6th Mar to find out more about any next steps after the doctor left me the panicked message last night was off today! Gratefully and luckily Dr. Walker who saw me earlier this week was the duty doctor and was able to see me after a short wait.
There is an abnormality, no doubt about it
However, it is not conclusive
Within the next 2 weeks, likely next week, I will see a specialist to review the situation further and have some blood tests next week
I am the first person, these days, to recommend sitting in our emotions and my goodness I did that this morning.  I experienced the full range of the Kubler-Ross curve today.
Matter over mind 2
A strange cocktail of thoughts and emotions resulting in tears includes:
I am only just starting to make a meaningful contribution to the world outside of my day job and amazing family, I really hope it is not cut short
Happiness that Dr. Walker received my email earlier this week, shared it with her family and said she will add it to her appraisal later this year
Excitement that I get to see my wife this afternoon and our children this evening
Frustration that I will miss out being part of the Austin HumansFirst experience next week including meeting inspirations such as Kimberly Davis, Mike Vacanti and Cornell Thomas plus all the cool peers that will attend
Frustration that I will now not meet Arlene Mendoza, Jeff Ikler, Jacqueline Martinez, Quinn Ferrall, Sarah Elkins, Renee Smith, founder of BizCatalyst 360°- Dennis Pitocco and more in Chicago next week
I am reminded, acutely, about my Value through Vulnerability podcast conversation with Lubna Forzley-Badr where she advised that the only things that are irreplaceable are motherhood and the stories that we leave behind. I truly hope that I have many more years to come, but if I didn't, I truly hope that there is enough of a story left behind that means I left the world in a better place than which I found it.  That I didn't take too much.
Deeply mortal thoughts are increasingly common.  It feels like the matter is wining now over my mind.
I re-read the above reflections that same evening.  It makes me upset, but also grateful.
There is no clarity.
It is all about the journey.
This is the ultimate metaphor for life.
I am truly hopeful that whatever my medical ailment, it will be treatable and there is a lot more impact that I and all of us will continue to make on the world that needs so much more healing. But as I go into this weekend, I go into it humbled, connected, frustrated, grateful and with a distinct feeling of mortality. Also, I go into it with a high quality of mind, belief in humanity and belief in a better world.
The matter on 9th Mar 2020
I had a wonderful weekend with the family connected with friends virtually, keeping them updated with a lot of laughs along the way.
Today I feel some pain.
I should be on a flight to meet Mike Vacanti, Kimberly Davis, Cornell Thomas, and many other awesome humans, but I am still in the UK. The decision, however, is already proving to be absolutely the right one.
Blood tests were carried out at 13:35 pm today at my GP in advance of any treatment and I just had a call that the hospital has a cancellation and therefore I can get in to see the Urologist tomorrow afternoon. That is up to a month of time saved, worst case 2 + weeks as I would have only returned on 16th Mar for the ultrasound on March 17th prior, yet since last Thurs 5th Mar I have now had my ultrasound, blood tests and now in to specialist tomorrow. I will be with Mike Vacanti in spirit as we will record Ep 100 of the Value through Vulnerability podcast today and that will bring a LOT of joy.