'Mind over matter' is an idiom that I have heard, said and reflected on many times during my first 43 years on this planet, often in a throwaway manner, however, I have developed a different relationship with this phrase over the past two months.

The matter
On 23rd Jan 2020 I paid to see a private GP in London as I felt that one of my testicles was swollen and felt different.  The doctor at that time felt that there nothing was wrong, but that I may have a cyst and that this could be ruled out by an ultrasound.
Fast forward a few weeks and I went to a local GP for a further check-up to get the ultrasound signed off.  This was agreed and then after a further 3 weeks, a letter arrived for my Mar 17th appointment. At this point, I am progressing the matter and my mind is fine.  I am looking forward to travelling to the US to be part of the Austin HumansFirst experience and to meet a range of friends and peers at No Longer Virtual in Chicago
The mind
On Tues 3rd March my right testicle had further hardened and felt somewhat enlarged to the point that I felt moved to book another GP appointment, just to be on the safe side.  The female doctor was wonderful, caring and supportive and managed to bring my ultrasound forward to the upcoming Thursday 5th March after ringing the hospital as I sat with her.
I have called this article 'a true test of mind over matter' as now I am nervous.
It might just be a cyst.
It could be the C-word.
Either way, I would have some further clarity on Thursday, but the awareness as to where my mind and thinking was, really was quite profound.
One moment I am reflecting on how lucky I am to have such a wonderful wife and 3 amazing step-children, how grateful I am for them and then the next, I should update all of my internet account logins into a word document, just in case the worst case happens if I do have cancer and have a rapid demise. Then I feel bad that I have cancelled two podcast recordings because I do not feel fully free of mind.  I don't feel bad or stressed, just a bit wondering and not present enough to do the guests or podcast justice.
Mind over matter 1
3 years ago, I would go down the rabbit hole of fear, anxiety, and frustration.  Today, I am grounded, present yet reflective. If I do have cancer it is just a fact of life.  It does cause me to feel good, bad or different.   It is my thinking about the situation that will create my emotional response to the matter.
Our mortality is an important reminder at times of reflection.
I am hopeful and believe that whatever the outcome of Thursday's ultrasound, that our wonderful NHS (National Health Service) will do its very best. Indeed, I was so moved by my experience of my GP today Dr. Walker, that I sent her this email: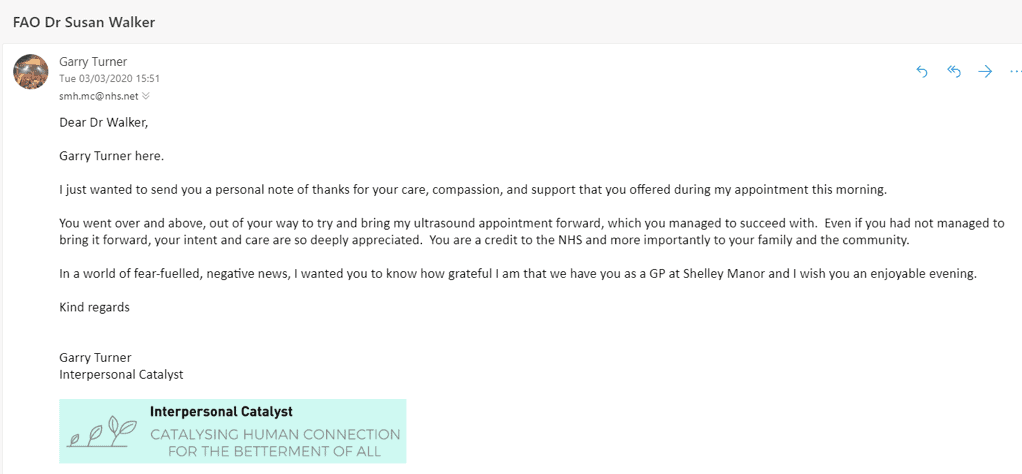 Without trying to be dramatic, I was drawn to remind myself of the 5 regrets of the dying, a book that my friend Laura Izard introduced to me some time ago but that has sat on my bookshelf since purchasing it:
Regret 1 – I wish I'd had the courage to live a life true to myself, not the life others expected of me
Regret 2 – I wish I hadn't worked so hard
Regret 3 – I wish I had the courage to express my feelings
Regret 4 – I wish I had stayed in touch with my friends
Regret 5 – I wish I had let myself be happier
As of today, do you feel that you would have any of the above regrets if today was your last day?
I am grateful that my journey of life would only have a red flag around regret 4, something I am now more mindful of following this reflection.
Matter over mind 1
Later that evening on March 3rd I went to the gym for 40 mins, which felt good and then I had another 'what if' question arises. "What if this was the start of the end" – tears and emotion, then calm. Thought is a powerful thing.  I had no idea at this juncture if I had just a cyst or needed surgery, yet this reminder of how powerful our thoughts are for creating our reality was clear.
The mind on 4th Mar 2020
This morning I wake up lighter. My mind is clearer, more hopeful, more resolute.  How I know this is that the questions that kept popping up yesterday have abated.  For now at least.
I have made 6 friends & family aware of my ultrasound tomorrow and whilst I did not want to share necessarily, I had an overwhelming urge to connect.  I brunt myself out four years ago through living in my head over a 6-month period. Overthinking got worse and worse, day by day until I went bang! I am not a burden to others by sharing, I am purely sharing that I have something on my mind that will be resolved this week.  Everyone has been supportive, and everyone has been empathetic and caring.  That is what true friendship looks like, friends that can sit in your moment with you and not feel awkward and want to rush through it – thank you, friends.
The matter on 5th Mar 2020
Today was the day.  At 16:30 pm UK time, I will have my ultrasound. I am of course a bit nervous, but I will be in the best possible place for me if any decisions need to be made.  I feel relatively calm, have had a great chat with an event organiser in South Africa who may want me to speak and facilitate a workshop in August 2020.
My wife flies back from Phoenix USA in the early hours of tomorrow morning and I cannot wait to see her. I am hopeful of a positive way forward this afternoon.  There is too much service to be offered to the world around rehumanising ourselves, work and the wider world.