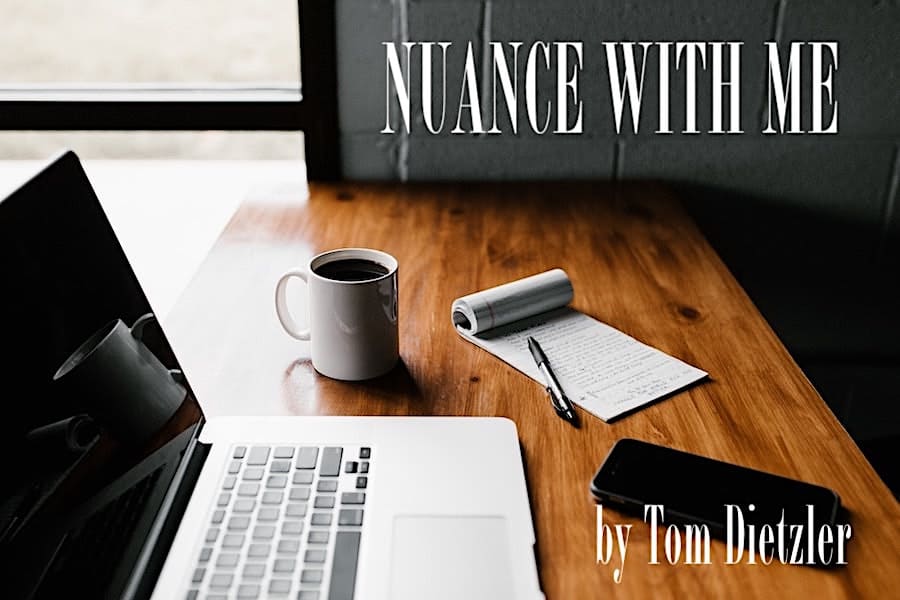 As soon as I came aboard the coach bus, I would exhale deeply. I would smile at the driver and say "We're good to go sir…" and we were off. My seat was always the first one behind the driver. Once the bus was on the road, it meant that all was well, everyone was where they needed to be, and I could focus on what came next.
And as I made my way to my seat, I would be greeted by the most welcome of sights: a single bottle of Diet Pepsi in the cupholder by my seat. My cohort, confidante and laughing partner, Kathy almost always had one waiting for me when the buses were about to depart.
I am not a coffee guy, so there's that. Blame that on my mom, because at our kitchen table growing up, I always sat next to her, and she always had to have coffee. I never got over the smell, and to this day, I have never drunk coffee. I'm sorry if that deflates your affection and admiration for me, but Popeye had spinach, and I need my Diet Pepsi Cola.
My role was as Head Chaperone for a high school marching band. I didn't make up the title – it really meant that I was logistics coordinator for the band – responsible for all the kids, keeping us on schedule, and taking care of our equipment truck and the truck drivers. I loved it. Everyone knew that I only had a couple of hard and fast rules: There was no screaming unless a death was involved. And the buses did not leave until I gave the ok.
I did it for seven summers, starting with my daughter's second year with the band in 2005, and hanging up my cargo shorts in 2011 when my son graduated. I had aged out and was no longer able to do that gig without a kid in the band. I was ok with retiring, it was time. During parades, I had been in my usual position with a coterie of other chaperones and people who helped the band, at the very back of our band, behind the bass drums, for nearly 100 parades. I loved all of it. Life will reveal, possibly if all the lost sleep will take me out of this life ahead of schedule. If that is so, it was worth it.
When things were going good, and everything was following the itinerary (which almost never happened), I could crawl into my sleeping bag atop my air mattress, somewhere betwixt 11 and 11:30 PM. Years later, a Clifton StrengthsFinder test would reveal that I have adaptability in my top five strengths. That strength served me well in this role. I never got too hung on what was supposed to happen, I lived in the world of what is happening, and how are we going to deal with it.
I'd usually get up at around 2 AM to check on things, make sure that everyone was sleeping, and that all the doors were locked to whatever school, community center, or church we were sleeping in for that night. We traveled cheap, so in all my years with the band, we never once stayed in a hotel. Gym floors were our usual spots. Hallways, classrooms, wherever we could configure ourselves for a few hours sleep, boys and girls separate, of course. If things were normal, my patrol of the building would last a half-hour or less, and I could close my eyes again for a few hours.
Most times I was up at 6, and those years of traveling with the band honed a skill that I still have today. If I set my alarm, I can usually wake up five to ten minutes before it goes off and start my day. I don't know how or why, but I am pretty sure that I have a 90% success rate on not having the alarm go off. The other 10% of the time is usually when I forget to set the alarm, and those occasions can be fodder for other stories.
The adrenaline would kick in, and I would shower and dress and be ready to shepherd the band to whatever was on the schedule for that day. Sometimes it was a rehearsal, and depending on how hard they worked the previous day, we'd let them sleep in until 7. If it was a travel day, it might be a 5:30 get up, which meant that I was up an hour before that. One time we had let the kids have a beach day in Atlantic City, New Jersey, and then we allowed them to talk us into pushing back our departure from said beach. That resulted in a return to our accommodations by about 10:30 and then the kids had to do laundry. It was somewhere around 2 AM for sleepy time, and the morale was a bit on the grumpy side when we got them up. Before you turn me in for teen abuse, it was a travel day – the kids slept on the bus all day as we drove across Pennsylvania on our way to Cleveland.
Since sleep was such a precious commodity, and I didn't do coffee, I leaned heavily into adrenaline. Traveling with a hundred high school kids and chaperones on three tour buses, with an equipment truck or two hauling all of our supplies, usually kept me well supplied with adrenaline. Diet Pepsi Cola was my friend too, caffeine for when adrenaline took leave or exhaustion was beginning to pal around with me…
The executive director of our band had an innate skill that made me jealous. His seat was across the aisle from mine, ostensibly so we could talk things over, right? As soon as the bus engines roared to life, he would grab his pillow, slouch over to one side of his seat and go unconscious for hours at a time. It was on the buses where I adopted another questionable practice – living in the future. I didn't know how to be "in the moment" because I always wanted to be ready for whatever came next. As we traveled, Kathy, the uniform coordinator, and I would start at the band's "step-off time" – the expected time for us to step onto the street and join the parade that we were performing in. We would plot and plan going backwards from the step-off time to figure out how things needed to proceed for the next day.
I almost never slept on a bus. Buses were almost always too cold, the air conditioning usually blasting at the driver (remember, he's in the seat right ahead of me…) to help him stay awake. I would try to engage the drivers in conversation many times, to help them stay awake. On the same trip that took us to Atlantic City, in 2007, we drove through the night from Niagara Falls in Canada to a high school just outside of Baltimore, MD. I saw the driver continually shaking his head. He pulled over numerous times, got out of the bus to consult the other two bus drivers, and look at his maps. I saw that the temperature gauge for the air conditioning set at 59 degrees. He seemed to be continually drowsy. One month after this trip, he passed away in his sleep from a heart attack.
Adrenaline and caffeine can only take you so far, for so long. When the trips were over, I would sleep like a dead person. The body totally shuts down when it is assured that there is nothing pressing to stay awake for.
It makes my heart smile to think of all the kids that I encountered in those years with the band. I always remember that chill and thrill of stepping off and hearing the kids hit the first notes of the first song on the parade route. I always looked over at Kathy and said "Now, we're getting paid."
In the mornings of departure day, I always woke up the boys, the boys in the band, if you will. I'd flip on a light switch and give a rousing "Good Morning Gentlemen!" I'd give them a quick rundown of what was expected of them and let them get their day started. Some showered before breakfast, others ate before their showers. In the next hour, they would pack up all their gear, clean up our sleeping quarters, bathrooms, showers, and anywhere in the building that we had used, trying to return the building to a better condition than we had found it.
Stuff got loaded on the buses. Equipment, the kids' instruments, supplies for feeding everyone, everything, had a place and it all went on the equipment trucks. I was blessed that for most of my time with the band, my good friend Ted, a Marine, was in charge of the trucks. There is nothing like having a Marine in charge of stuff.  A whirlwind of excitement and energy and activity as we got ready to move. As the kids got on the buses, chaperones were taking attendance. The equipment guys would roll the back door of the truck shut and wave to me that all was ready. I would finish the inspection of where we had stayed. I would look to the attendance people on the other buses, when I got the thumbs up, it was time for me to get on my bus.
And there it would be. "Nectar of the gods!" I would say. It was part of our routine, it told me that all was well and that a job was well done. Let's hit the road, to get to where today takes us. Thank you, Kathy, I do love me a Diet Pepsi Cola.