With all the crazy news that is happening in the world today, it is nice to hear a story with a happy conclusion. In the Gospels, Jesus gave us three stories about people who lost things. In Luke 15:8–10, Jesus tells us of the women who lost a coin. She had 10 silver coins but lost only one. Yet she lit a lamp, and she swept her house as she carefully searched for the coin until she found it. When she finally found the coin, she called her friends and neighbors and asked them to rejoice with her because she found her lost coin. In another story, Jesus tells of the shepherd who had 100 sheep and lost one. The shepherd leaves the 99 sheep to search for that one lost sheep. When he finds it, he asks all his friends to rejoice with him because he found his lost sheep.
Finally, Jesus tells of the lost son. In this story, the son wants his inheritance from his father now! The son promptly leaves home, loses all his money, and suffers through a severe famine. Finally, down and out with hunger pains and eating the slop of pigs, he gets up and returns home to his father. When his father saw his son in the distance, he ran to his son, embraced him, and commanded his servants to throw a party in his son's honor—his son was lost, but now was found.
This brings us to my own story of a lost item: my United States Navy ring that I had worn practically every day since 1998. The ring, with a brilliant blue stone, displayed my years of service, my initials, and the submarine dolphin insignia.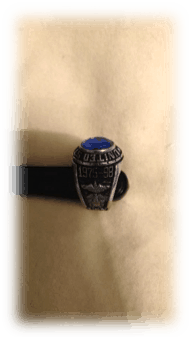 Back in the summer of 2007, my family and I were at Long Beach on Long Island, NY. The trip to the beach was a Sunday surprise by my foster sister Marguerite (who we fondly call Mags). I asked my wife to keep an eye on my ring while I waded in the water to join my granddaughter Kyashia, who was out playing on the sandbars. I left my ring in the cup holder of one of our beach chairs. For some reason I can no longer remember, we had to move to another section of the beach—and as we were gathering our belongings, I realized that the cup holder was empty and my ring was nowhere to be found. I was devastated, and the pain of losing my ring stayed with me as we headed home to Maryland later that day.
Fast forward eleven years later. I am checking the voicemails on my phone one evening this past July and I have a message left by someone named Charlie Virga who is looking for me because he found my ring on a beach in Florida. I am a little confused—I didn't lose a ring in Florida—so I listened to the message again. The gentleman says that he is looking for me, Arthur Glover because he has my ring and wants to return it. Chills run through my body. Can this be true? The ring I lost in 2007 has been found and someone wants to return it to me?
I decided to return Charlie's call. I tell him that, yes, I am the Arthur Glover that he is looking for and that it is my ring that he found. Charlie then shares the story about how the ring was given to him in Florida by a family friend. When he saw my name and the submarine dolphin insignia on the ring, he just knew that he had to get it back to me.
Three men who have honorably served their country, who also all hail from New York, have a connection through my lost ring.
You see, Charlie had a brother who gave his life on one of the 52 submarines that were lost during World War II. What's more, like me, Charlie served his country in the United States Navy during wartime. So now, we have a connection: Me, a Vietnam, Cold War, and Iraq War-era submarine veteran; Charlie, a Korean War veteran; and Charlie's brother, a World War II submarine hero! Three men who have honorably served their country, who also all hail from New York, have a connection through my lost ring.
My ring was returned this past July. I called Charlie to thank him for returning it to me. I called him "a shipmate" and "my new friend" and I made it my mission to visit him on Long Island. This past Labor Day weekend, I made the trip to visit my family and my new shipmate, Charlie Virga.
We (my wife Carole and my sister Mags) spent nearly three hours visiting with Charlie and his wife Madelyn in their beautiful home in West Babylon, NY. Charlie and Madelyn have been in love for 61 years and have lived in the same beautiful home for 50 years. They raised five wonderful children and several grandchildren, as well. Charlie owns a boat that he has had since 1975 and takes it out on weekends with family friends. He also teaches boating safety. Charlie owns a book about submarines, a book about the 52 submarines lost during World War II, and his Cruise Book from his around-the-world deployment when he served in the U.S. Navy.
As we spent time that weekend sharing our experiences in the U.S. Navy and reliving the story of how Charlie came to acquire my long-lost ring, the wonderful, warm, and friendly spirit of Charlie and Madelyn impressed me. Not many people would go the lengths that Charlie did to locate and return the ring to me at no cost. In his search, he called the U.S. Navy, checked with the Veterans Administration, various veteran's organizations, and ring companies. However, a Google search led him to my online biography, which was how he was finally able to come in contact with me—Charlie is truly a shipmate!
It is my hope that Charlie, Madelyn, and I can remain friends forever because my ring that was lost has been found and I can rejoice with new friends like Charlie and Madelyn.