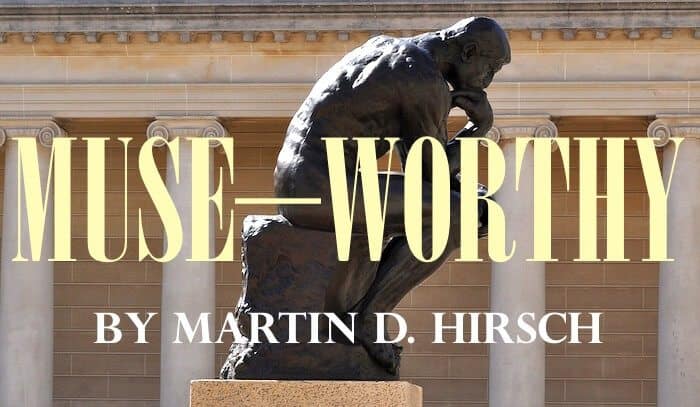 On Oct.1, the company where I spent 35 years of my life – the Swiss healthcare group Roche – celebrates its 125th anniversary. That means I experienced more than a quarter of the company's history first-hand. But Roche has me beat. It occupied a full 50% of my nearly 70-year life. Corporations always get the upper hand.
As I look back, though, the good times outnumber the bad, and I can reminisce from a comfortable place because of my life as an accidental company man. Accidental in that I never would have imagined as I stood in that muddy field at Woodstock in 1969 a few weeks before starting college that I'd wind up working in corporate communications for a big bad pharma company just a little over a decade later. But that's what happened, and my regrets are few. These are some of the memories that stand out most.
"Give It to the New Guy"
Within just a few weeks of getting hired in the summer of 1982 at the company's then U.S. headquarters across the Hudson from New York, my boss assigned me to coordinate an award ceremony being staged by an inventors society in Philadelphia. The group was honoring Dr. Leo Henrich Sternbach, the Roche scientist who invented the benzodiazepines – a family of pharmaceutical compounds used to treat anxiety, insomnia, seizures, muscle spasms, and other conditions. The most famous among them is Valium, which put Roche on the map in the 1970s, becoming the No. 1-selling prescription drug in the world and reaching peak sales of more than $2.3 billion.
My job was to meet the 74-year-old retired medicinal chemist from Eastern Europe and work out the logistics and publicity around the event. He could be found, I was told, in his lifetime office on an upper floor of a 15-story research building affectionately known as "The House That Leo Built."
As I cautiously poked my head in his door to ask if he was indeed the renowned Dr. Sternbach, I had no idea what I was in for. "You don't know who I am?" boomed the gruff old man, looking up from his chemistry magazine and peering through large, round eyeglasses that took up the top third of his stern-looking face.
Somewhat daunted but not deterred, I introduced myself and announced my purpose. I soon learned that Dr. Stenbach's imposing demeanor belied a mischievous charm and disarming sense of humor.
Within a few minutes, we were friends. After a year it was as if I'd become the Howard Cosell to his Muhammad Ali: He'd earn the honors and accolades and I'd help to publicize them. He was inducted into the National Inventors Hall of Fame in the same class as Less Paul, inventor of the solid-body electric guitar.
Up On the Roof
Because I'd become close to Dr. Sternbach, whom I'd nicknamed "the Doc," I got another memorable special assignment early on in my career. Andre Hoffmann, the great-grandson of the company's founder, Fritz Hoffmann-La Roche, wanted to show his new wife his company's U.S. operation and I was "voluntold" to show the couple around. Part of the tour, of course, was a visit with the legendary wizard of medicinal molecules.
After greeting us in his office, the Doc said he wanted to take us to a special place. He led us to the top floor of his building and then to a hidden stairway that brought us to a ladder going up to a small, round hatch, like on a submarine.
One by one, we squeezed through the narrow opening – which wasn't easy for the six-foot-six Hoffmann – and beheld a breathtaking view of the New York skyline. Scurrying below, though, was a cadre of campus security guards turning pale-faced and shouting for us to get down off the roof. They were not pleased by my unauthorized excursion to a dangerous, prohibited area with the company's fragile septuagenarian scientist and the Roche founding family's billionaire scion and his new spouse. We came down unscathed, and I luckily kept my job.
Episodes like this one strengthened my bond with Dr. Sternbach and over the years we became like family, having lunches together in the company cafeteria and dinners at each other's homes. Herta would whip up meals ranging from roast chicken or beef to casual arrangements of cold cuts, cheeses, and rye bread that were as satisfying as Michelin-star fare. For dessert, she'd serve her awesome, homemade roulage liontine, an airy-light French concoction of flourless chocolate cake rolled around a swirl of whipped cream.
The Sternbach's loved life: eating, drinking, traveling, hiking in the Alps. My wife and I in many ways modeled our lifestyle after theirs: simple, modest, but seasoned with frequent small pleasures that yielded big rewards. Those rewards were even more precious to the Sternbach's, since his Jewish heritage might have cost him his life if Roche hadn't transferred him and Herta, along with some other Jewish scientists, to its U.S. facility during World War II.
In 2001, the company offered my wife and me an opportunity to come to Switzerland as ex-pats, and not long afterward asked me to produce a book about the life of my old friend and mentor. Called "Good Chemistry: The Life and Legacy of Valium Inventor Leo Sternbach," the book captured the Sternbachs' story and covered the scientific and medical details of his invention. Sometimes during the morning hours in the U.S., which was mid-afternoon in Basel, Leo and Herta would call me and make me long for them and home.
Straddling Two Worlds the Day Everything Changed
Very soon, though, neither home nor the world would ever be the same again. Colleagues from Roche in New Jersey watched from the top floor of Dr. Sternbach's building as the New York skyline turned black on Sept. 11, 2001 – three months to the day since I started working in Basel.
A friend from Roche in the U.S. emailed me at 3 p.m. Central European time that day, informing me of the terrorist attack on the World Trade Center and telling me to get to a TV right away. I ran over to the media monitoring room and watched as the horrible events of that awful day unfolded.
When I walked to work the next day, I vividly recall colleagues from other countries walking across the street when they saw me to offer me their hands and express their condolences, as if they'd heard of a death in my family. I remember going back to New York on a business trip and having dinner with my wife at one of our favorite restaurants when a patron suddenly suffered a medical emergency.
When a team of cops and paramedics arrived, people at every table got to their feet and applauded. For a precious and all-too-short moment, humanity seemed to come together, and I felt it on both sides of the Atlantic.
My New Job as Connector-in-Chief
A lot of what I was expected to do in my role at the global headquarters was to be a liaison between Roche's six affiliate sites in the U.S. while strengthening the connection between the notoriously independent American affiliates and the mothership in Basel. The signature event for achieving this unity occurred on July 22, 2005, when the company celebrated its 100th anniversary in the U.S. My chance meeting with Andre Hoffmann years earlier proved a pivotal moment in realizing my vision for the event.
The powers that be kept a tight reign on Hoffmann's public persona, and frowned upon him even appearing at internal company events. Somehow, I was able to pry him free to fly to the U.S. to appear at the centennial event, which was simultaneously broadcast to all the other American sites, and to Basel.
Speaking in his French accent, he talked about his pride in taking his wife to visit the company's American headquarters early in their marriage. And he took a moment to express his heartfelt thanks to the thousands of employees assembled for their contributions to his family's company. He said this was something he'd never done before, and the simple words he expressed, seemingly straight from the heart, touched everyone in attendance.
What I Learned
Andre Hoffmann's willingness to contribute his presence to this spotlight event for me, right at the place where I'd begun my professional career almost a quarter-century earlier, moved me deeply. I learned a lot from him – his down-to-earth bearing, his lifelong commitment to philanthropic causes – especially those involving the environment and wildlife – his insistence on communicating with me directly rather than through layers of corporate intermediaries.
From Dr. Sternbach, I learned to love living, to appreciate nature, flowers, mountain trails, raging flames coming from a cozy fireplace in the winter, and single-malt scotch.
From my many years at Roche, I came to admire a few core characteristics that epitomized the company to me:
 Longevity – Always eschewing short-term thinking in favor of the long view that a company needs if it ever wants to celebrate its 125th anniversary.
Resilience – If a clinical trial disappoints, go back to the drawing board and try again, or shift gears and change directions; if a major patent expires, find something in your pipeline to replace it or license in someone else's promising innovation.
 Resourcefulness – If critics pan your strategy, like your plans to invest in an as-yet unproven American biotech company called Genentech in the 1990s before the world is convinced of biotechnology's potential, stick to your guns and go for it.
When I joined Roche in the summer of 1982 it was known as the Valium company. Not anymore. My life mentor, Leo Sternach, died at 97 in 2005. He'd barely recognize the company he helped carry to its first plateau. After moving beyond Valium to become the leader in hospital antibiotics, Roche went on to make a major contribution to researching and fighting HIV/AIDs, preventing transplant rejection, transforming cancer into what is in many cases a manageable disease, and now, taking up the fight against multiple sclerosis, Parkinson's disease and Alzheimer's. The company has also pioneered the pursuit of personalized healthcare – an approach that uses sophisticated diagnostic testing to determine targeted treatments based on the specific genetic characteristics of a patient's cancer tumor or other molecular clues.
When I used to walk from my office in Basel along the beautiful Rhine to the company's bustling cafeteria, I'd often think of the Doc walking the same path beside what is known on campus as "Solitude Park." I'd marvel at how vastly different our lives had been, and yet how similar they'd become because of Roche. Now he's extinct and I'm a modern-day dinosaur, enjoying the fruits of a lifetime career and generous pension from a single company.
That kind of life is now a relic. But what a ride Leo and I had in our times.
Thank you, Roche, and happy 125th anniversary.  I wish you many more to come.