"How do you like the water today?" asked the whale.
"What is water?" answered the fish.
A fish that has lived its whole life on the sandy bottom of the sea will have no concept of water. Water is what is.  How else would it be?
That is my main question for you today:
How else could it be?
Because in some ways, most of us are like the fish.
Like the poor fish pulled out of the water, many people feel estranged when they have moved far away, perhaps to another country.  I know.  Because I did.  I moved from a small country, supposedly one of the happiest on Earth, Denmark, to California, the sixth-largest economy of the world.
Some differences are obvious: people speak differently; the weather; the food; the plants; the very air we breathe…
And then we have the more subtle "what is important here?" and "the way things are done here": The local culture.
To many, this meeting of internalized and unconscious expectations and a changed external reality starts a process of thinking – perhaps for the first time ever – what do I really stand for?  What are my values?  And why?
These days people readily signal what they are against, but what are they for?
I have traveled to a lot of countries so I was never surprised by the many practical differences. But I was surprised by how much living in another country meant I had to examine my values.  The feeling of being estranged was so deep that I had to do something drastic: I went back to school.  A degree, a website, and a book later, culture and values are still questions close to my heart.  I call myself a Bridge Builder partly because I help "translate America" to immigrants moving here, partly because I help people better talk to each other.
On this complicated subject of culture, I want to share some of what I have learned with you, although it can in no way be a complete picture.  Hopefully you, too, will follow your curiosity and learn of ways other people look at the world.  Because even if we just want to talk to fellow countrymen from the other side of any cultural divide, we can benefit from knowing what is already discovered about cultural differences.
Let us start by taking a step back and first ask where cultures come from?
One parent is the history of the community:  What dangers have been faced together?  What successes have been shared that are now "local legend" – and which failures?  (Do we even remember the latter so we know not to do that again?  Do we remember the same historic events the same way?)
Do we not share important events?  Are we aware that we don't share them?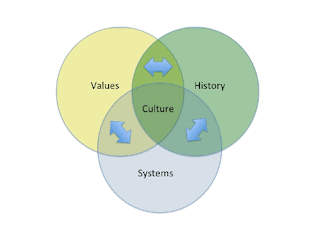 Another parent is our systems.  The word "systems" easily makes us think of computers, but systems are much broader. It is the way gas and water and electricity are delivered; the roads and how they are maintained; who look after our senior citizens; who teaches the kids; how we cast our vote; how we shop… It is also our Constitution, the way we make laws, and the way we uphold the laws.
Once systems are in place they can be very hard to change.  People who have grown up with a certain set of systems often believe that this is the way things have to be; the unconscious expectations.  The systems become like water to fish.
There has been nothing like a worldwide pandemic to make many more people think about which system assures that they can get toilet paper?  Or which system will look after their parents or children if they themselves are no longer capable to do so?  Many are painfully/gratefully aware that the way we shop for just about anything in the USA has been hugely changed over the last 10 years; a change accelerated by the pandemic.
Just as people don't choose where they are born, they don't choose which systems they grow up with.
The third parent of culture is our values. Thousands of people have been asked how much they are similar to people as described in these examples:
He strongly believes that people should care for nature. Looking after the environment is important to him.
Tradition is important to her. She tries to follow the customs handed down by her religion or her family.
(Questions like these are included in the U.S. Social Survey, the European Social Survey, and have been asked multiple times from Australia to Japan to India to Egypt to Chile. Over the last 25 years, at least a million people have answered.)
From the answers, social psychologists can evaluate how populations prioritize values across countries all over the world; where they agree, where they differ, and which values have a pattern of being present together.  The work of Professor Shalom Schwartz and an international team of researchers found seven value clusters shown below.
Notice that I wrote how populations prioritize.  Most people can find something positive to say about all the values examined.  But some values are just more of the norm in some populations than in others.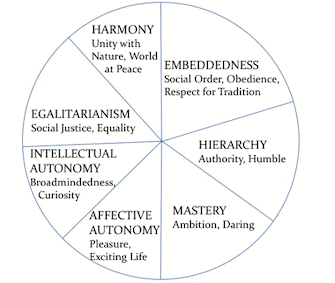 If you look at the circle, starting at one o'clock you see Embeddedness oppose two forms of Autonomy in the model, Hierarchy opposing Egalitarianism, and Mastery opposes Harmony.
Populations high in Embeddedness put a high priority on a.o. tradition, safety, honor, cleanliness, social order, devoutness, and self-discipline.  This is contrasted with peoples high in Autonomy who cherish curiosity, broadmindedness, and creativity (Intellectual Aut.) and enjoyment, excitement, and variation (Affective Aut.)
I am sure you know people that fit either description.  Sometimes they are members of the same family.