The beginning of February!? Just when content and safe beneath the grass that was often cut by 'humans' (if that's the correct word).
Very early Spring. Time to see the light that filters through soil and grass. Time to be brave and show modest majesty, which happens rather quickly. Awakening to open space, blue sky above, with fellow crocuses. Exchanging smiles that promote a positive element; a feeling life begins once more
Now it snows. We close our petals enveloping warmth. Strangely, snow mellows sound; a blanket subduing noise of birds and small humans on two wheels shouting (if that's the right word). Snow melts leaving only patches where trees deny sunlight.
Sunlight!  A signal from the Universe that we crocuses understand to be a brightening of human hearts. At least that is the sense as humans stop and witness our conceited glory.
No modesty on our part. We only bloom for a relatively brief period when our dear friends the daffodils replace our myriad colors with bright yellow. They also smile at us and also prompt smiles from humans.
A poet has never blessed us crocuses with words of description, but our relationship with our friends the daffodils, allows us to enjoy an extract from a poem written by Wordsworth.
'Beside the lake, beneath the trees, fluttering and dancing in the breeze'.
Our crocus family loves this poem, even if it is not about crocuses.
The days illuminate, sensing rapport between ourselves and humans.
Occasionally a piece of metal in their hands (an iPhone?)   is lowered towards us and goes 'click click'. Not in a threatening manner, but with pure pleasure and smiles as human hearts view our colors in a strange form of empathy.  Dream-like countenances.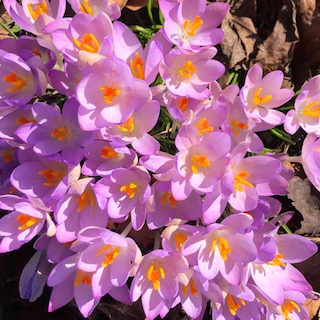 As we crocuses grow in splendor, our faces shine with joy. The fact that Spring sunshine blesses humans with observable appreciation is clear to us.
As weeks pass by we crocuses gain a synergy as we witness a form of gratitude in their eyes.  And more humans become closer to clicking away at us. We seem to recognize some humans as they regularly crouch and absorb our beauty. Not modesty but honesty. We crocuses are beautiful.
And so, the Universe signals departure; once again to hide our beauty below grass and soil.
We continue to engage with one another, reaching out as tree roots; maintaining contact, and exchanging experiences of our world and the joy we seem to have provided for those appreciating Nature's glory.
We seem to give more than we receive, but giving is more precious.
We predate such 'human' beings. We are infinity. Our world, the Universe blesses our gift of giving and receiving glances of awe and beauty.
As with my dear family, I am proud to be a crocus. Even though Wordsworth sees us not.
We are here for all and love the joy we bring. We now await rebirth of next Spring.